Advertising on MidwestWeekends

Advertising on MidwestWeekends is an efficient and cost-effective way to reach people who are interested in exploring the Upper Midwest. If you have a business that caters to vacationers or day-trippers, your potential customers are here, looking for information about where to stay and what to do.
Many of our visitors come to us via search engine with such queries as "best places to visit in the Midwest.'' Most of our stories rank in the Top 10 on Google searches.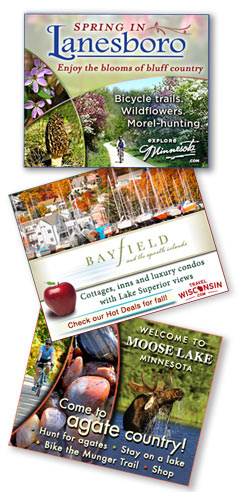 Choosing an ad
We offer banner ads, also known as display ads. They increase awareness of your business, like traditional print ads, and they also allow an immediate customer response, like online search ads.
A business whose goal is to build brand awareness may want to run an ad throughout our site, where many kinds of travelers will see it.
If the goal is to get the highest click rate possible, it's best to use a highly focused message and target your ad in only a few categories.
We feel that the best strategy is to use both approaches. We do not charge extra to run different ads in a single campaign.
In fact, we encourage businesses and destinations to run a series of ads, each promoting a different aspect of the travel experience they can offer.
Targeting
Readership of our web site already is targeted: 77 percent of our visitors come from Minnesota, Wisconsin, northern Illinois, Iowa and Michigan, and virtually all of them are looking for travel tips.

Businesses can target even further by placing an ad with stories in specific categories. For example, a resort on Minnesota's North Shore may want to target in our North Shore and Lodges & Resorts categories.
In winter, it can target in the Cross-country Skiing and Snowshoeing categories and in summer in the Hiking and Biking categories.
It depends on whom you want to attract. A resort in northern Wisconsin also may want to target in the North Shore category, to reach out to travelers who usually go to that area, and vice versa.

Pricing
We charge $8-$24 per 1,000 impressions, depending on the size and placement of an ad. We help you develop your campaign at no charge.
Our minimum order is 10,000 impressions. You can limit how many of your impressions you would like to use per day.

For example, if you buy 30,000 impressions and you would like your ad shown 300 times per day, your campaign will last for 3½ months. At 400 times per day, your campaign will last 2½ months.
We also can give you an exclusive ad on a specific story, many of which are ranked No. 1 on Google searches. Call for pricing.

Designing an ad
We can run the ad you have created or work with you to design an ad, using your existing business identity.

Frequently Asked Questions

What are impressions?
An impression is created every time a person visits a page on which your ad is displayed.
When people click on my ad, where do they go?
Each ad is linked to your home page or to any page you designate.
What kind of results can I expect?
Our ads earn click rates that are 5 to 30 times higher than the travel-industry average of .08.
We have found that when an ad is attractive and offers what readers are looking for, it does very well, earning click rates of 1 to 2 percent and sometimes even better.
We send monthly reports on the number of clicks and impressions your ad has received.
We want you to succeed. If you feel your message isn't working, we will substitute it for another at no extra charge.
How do I create an ad that will work for me?
Internet users like their information short and sweet. You'll want to use as few words as possible and an image that will make people think, "Wow, I'd like to be there.'' Think about what sets you apart from other businesses and destinations.
Many people are looking for value. If you can offer a deal or discount, say so in your ad.
Why does this site exist?
Editor Beth Gauper is a big fan of the Upper Midwest, having spent 14 years traveling around it for her weekly column in the St. Paul Pioneer Press. So is her husband, webmaster and designer Torsten Muller.
We've discovered a lot of great places, many of which deserve to be better known. The Internet allows us to spread the word, and also to update our stories and tips whenever things change.
For more, see the About Us page.
How do I start advertising?
Decide what message you want to communicate and gather your logo and any other image you would like to use. Then contact Beth at 612-216-1201. We'll get you going right away!