A present to the future
Love the land? Then help preserve it for the next generation.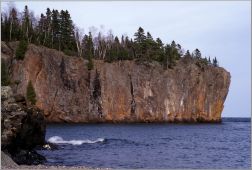 As Will Rogers famously said, the trouble with land is they're not making any more of it.
In the north woods, land previously used by the public for hunting and hiking and by birds and animals for habitat is disappearing fast. When it's gone, it's gone, and the public has that much less land to enjoy --- and around here, we love our open spaces.
In Minnesota and Wisconsin, we think we have a lot of public space. But much of the undeveloped land adjoining state and national forests and parks is privately owned.
In the north woods, much of it is owned by timber companies, which historically have allowed public access to lakes and trails. In the south, much of the land is unused farmland, which has given the public unobstructed views of scenic bluffs and valleys.
But no view or access is guaranteed. And the same view admired by many could also be coveted --- by one.
When the Parks & Trails Council of Minnesota heard the bluff overlooking the Whitewater State Park visitors center had been platted for a housing development, which would give the 300,000 people who visit the park each year an unobstructed view of siding and shingles, it began talks with the owners.
Finally, it was able to buy the land, which it held until the DNR raised the funds to add it to the state park.
The group also prevented the development of Gold Rock Point, the lichen-covered bluff across from Split Rock Lighthouse, site of the 1905 Madeira shipwreck.
Just like the bluffs along Lake Pepin or the lakes adjoining the Boundary Waters Canoe Area Wilderness, it would have been a spectacular site for a million-dollar vacation home.
"It's just human nature," says Wally Abramson, development director for the Minnesota Land Trust. "Golly, we all want to live there, but pretty soon, too many of us are there."
As Abramson says, the people are coming, and they're going to want a place to live.
But all is not lost --- yet. In Minnesota, the nonprofit Parks & Trails Council and Minnesota Land Trust, along with the Trust for Public Land, the Nature Conservancy and dozens of regional trusts, are quietly working to keep the best land open for public enjoyment.
Many states have multiple land trusts and conservancies. Each group fills a different niche, but all work on the public's behalf.
Considering what they're up against, they are amazingly effective, working with each other, private landowners, industry and government to secure easements or to buy and hold threatened land until it can be purchased by an agency that will protect it.
Typically, the deals involve multiple parties and complex financing, often taking years to complete.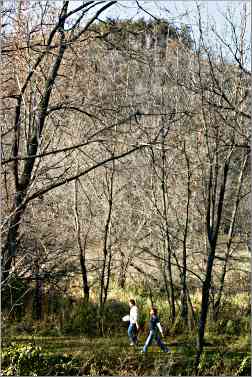 But a nonprofit also can turn on a dime, making purchases much more quickly than a governmental body could.
In Minnesota's Nicollet County, officials wanted to buy a three-acre parcel of land that has a 42-foot waterfall as well as a panoramic view of the Minnesota River Valley.
But when the owner decided to sell, the county didn't have the money. So, it asked for help from the Trust for Public Land, which negotiated with the landowner and bought the parcel to lease to Nicollet County until it could raise funds to buy it.
"Landowners like working with us," says Trust for Public Land project manager Bob McGillivray.
"We keep the discussions in confidence, and we may be able to structure the deal for better tax benefits. We offer one-stop shopping for the landowner --- it can be a bit overwhelming for them, and sometimes they'd rather deal with just one person."
All of the groups depend on members, both to provide financial support and to show policy-makers people are paying attention to land issues.
Here are some of the groups that do a whole lot of good in this region. You can become a member for as little as $10 --- or give a gift membership to the person who has everything and now wants to give some of it back.
Trust for Public Land : This national organization is very active in Minnesota and the north woods of Wisconsin and Michigan.
It's worked with the National Park Service to add more than 2,500 acres to the St. Croix National Scenic Riverway and with Grand Marais, Minn., to acquire a gas-station site on its harbor shoreline and turn it into a park.
In northeast Wisconsin, it secured a six-mile easement along the Wolf River for the Ice Age National Scenic Trail. On Lake Namekagon, near Cable, it secured the historic Forest Lodge estate, including three miles of undeveloped shoreline, for eventual use as an environmental learning center.
The Nature Conservancy : Whereas the Trust for Public Land buys land to convey to others, the Nature Conservancy often keeps the land it buys.
The national organization was started in 1951 by a group of college professors who were using a gorge outside New York City as an outdoor classroom and one day found it for sale as a housing subdivision.
They mortgaged their homes to buy the property and, with help from the New York philanthropic community, formed the nonprofit group.
In Minnesota and Wisconsin, the conservancy owns many of the most beautiful state natural areas, such as the Mink River Estuary in Door County and Felton Prairie in western Minnesota, where it's especially active preserving tallgrass prairie.
In conjunction with the DNR, it keeps the areas open for such uses as hunting, hiking and bird-watching.
In western Minnesota, a 7,000-acre patch of native prairie on which the Nature Conservancy had been keeping its eye grew fivefold under the group's stewardship and became Glacial Ridge National Wildlife Refuge, now operated by the U.S. Fish and Wildlife Service.
Today, it's a mecca for hunters and bird watchers, as well as researchers from seven colleges.
Like the Trust for Public Land, the local chapter is working with timber companies to protect northern Minnesota forests from private development.
Parks & Trails Council of Minnesota : Formed in 1954 by Judge C.R. Magney and other giants of conservation, this group works with many other organizations and agencies to acquire land for parks and trails; its first acquisition became Afton State Park.
Since that auspicious beginning, it has acquired more than 6,500 acres, preventing development on such crucial parcels as Gold Rock Point, across from Split Rock Lighthouse and now part of the state park.
It's unique in that its network of 3,000 members is very active around the state, often identifying important land and lobbying local officials to protect it.
With help from members and a public/private coalition, it was able to acquire  the Whitewater Valley bluffland that was on the verge of becoming a housing development.
It also acquired nearly four miles of land along the Mississippi River that will allow the Paul Bunyan State Trail to continue south from its trailhead in Baxter into Crow Wing State Park.
Minnesota Land Trust : This group doesn't buy land and works primarily with private landowners, though it gives 30 to 40 workshops every year to citizen groups and elected officials around the state, showing them how to "not rubber-stamp any proposal that comes down the pike," says development director Wally Abramson.
"Towns that once were kind of pastoral, scenic and manageable are receiving an influx of development and saying, 'Whoa, if we don't do something, it'll disrupt the character of our community,'" he says.
The group helps developers "build more gently on the land" and counsels private landowners who want to establish conservation easements on their land, protecting it from development.
Once the easements are in place, the Minnesota Land Trust acts as steward, checking each year in perpetuity to make sure the easement is being observed.
Its services are in demand by landowners, many land-rich but cash-poor, who give up a significant portion of their land's value to preserve it from development.
"Most of our landowners are just salt-of-the-earth people who love their land to death and want it to pass on to future generations," Abramson said.
The Minnesota Land Trust has established conservation easements in Bayport, Wayzata and on Lake Pepin, the Rum River and the North Shore.
It also promotes the establishment of buffer areas on private lands outside such protected areas as the Boundary Waters Canoe Area Wilderness.
Western Wisconsin Land Trust : This trust, based in Menomonie, preserves agricultural land as well as forest, lakes, streams and bluff land.
Door County Land Trust : This group has done an excellent job monitoring development and preserving parcels of land on the popular Door Peninsula, which has more than two dozen state natural areas.
Iowa Natural Heritage Foundation : The group has helped protect more than 110,000 acres of Iowa's prairies, wetlands, woodlands, greenways, trails and river corridors.
It's also taken on a big role in building and promoting Iowa's large system of bicycle trails.
Other trusts
Many other non-profit land trusts operate under the umbrella of the national Land Trust Alliance , based in Washington, D.C. It counts more than 1,700 trusts nation-wide.
Last updated on December 15, 2011