At home in a hostel
Feeling adventurous? The dorm-style lodgings are open to everyone, and you can't beat the price.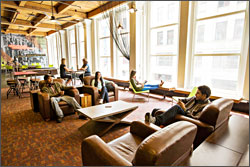 To get a bargain on lodgings, you can try Priceline or Hotwire. You can clip coupons or use AAA or AARP discounts.
You can try every angle, but a single traveler still won't find a bed that's cheaper than those at hostels.
Many Americans think hostels are used only by college-age backpackers in Europe. That's how most of us discover them.
My first stay, at a hostel in the heart of London, was memorable: I made friends with two other college kids, and we celebrated my 19th birthday by going out for fish and chips and then to the theater. As we walked home, Prince Phillip and the Queen Mother drove by.
I still stay at hostels once in a while. On a June hiking trip in the Swiss Alps, my husband and I stayed in one in Grindelwald. And on a July trip to Madison, Wis., I stayed at one two blocks from Capitol Square.
I wasn't the only geezer there, either. At breakfast in Madison, I met Mike and Shelley Buonaiuto, sculptors who had driven up from Fayetteville, Ark., to exhibit at the popular Art on the Square fair. I asked if they often stay at hostels when they travel to art fairs.
"No, but I wish we did," Shelley said. "It's so much nicer than a hotel."
"It's vital; there are other travelers," Mike said. "Last night, I talked with this guy who lives half the year in Crete, and he really got me jazzed about going there."
For four nights in a private room, the Buonaiutos paid $217, not that much less than they would have at a suburban franchise hotel reserved through Priceline, which the couple sometimes use.
But they much preferred the old brick house with a fire escape on the alley and a Costa Rican café in the basement.
"Hotels are so sterile, they're like death," Mike Buonaiuto said.
Of course, many people do stay at hostels because they're cheap. At the Madison hostel, I also met Charlie, a college student from England who had hoped to save even more money by couch surfing but had no references and had been turned down by potential hosts.
He'd narrowly missed sleeping on a park bench that night because his bus was two hours late and he barely made check-in at the hostel.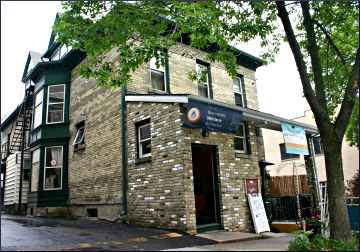 Hostel manager Michelle Vidovic said guests tend to fall into four categories: college students from other countries; visitors to the university; participants in clinical studies at the nearby Covance facility; and a few domestic travelers on road trips, mainly from Chicago or the Twin Cities.
Lately, there's been a new kind of guest, she said: people passing through looking for jobs. When I checked in at 7:30 p.m., I got the last bed in the female dorm.
"Oh, that's so unusual for a Thursday," she said. "Last night we were busy, too."
I got the Frida Kahlo upper bunk, which was in a room for six. Women's beds are named after ground-breaking women, and men's beds after endangered species.
There are common rooms, too, with WiFi and a DVD library for guests. At the computer, Charlie was trying to figure out how to get to Winnipeg by bus; when he was finished, I checked my e-mail.
Outside, salsa music was playing at Café Costa Rica, and I sat at a sidewalk table and ordered a mojito and mango-tilapia salad. At another table, three women were laughing uproariously over margaritas.
I walked toward Capitol Square, inhaling the town's trademark fragrance of curry, ratatouille and patchouli, past sidewalk tables filled with people celebrating a summer evening in Madison.
Under the blue-and-white awning of the Come Back Inn, a crowd was drinking cheap beer, and I saw that a 1967 VW camper van had nabbed the best spot in the parking lot.
Ah, Madison. If you weren't lucky enough to go to college there, spend a few nights in a dorm room at the hostel and pretend you did.
When I climbed into my bunk at 11 p.m., two of the beds still were empty, and I worried that their occupants would stumble in drunk in the early hours.
But with ear plugs and an eye mask, I didn't hear a thing until I woke up at 7:50 and went to feed the meter. All of my roommates were young, and they slept until 9 a.m. and even closer to the 10 a.m. check-out.
A hostel in Chicago
It's not necessarily young folk who make boisterous roommates, anyway. When I toured the hostel in Chicago's South Loop, I chatted with Kate Monahan of New Jersey, who was winding up a four-night stay that had been peaceful until the previous night, she said, when an older woman wouldn't stop talking.
Monahan had recently retired from Princeton University and used a gift of 100,000 frequent flier miles to come to Chicago for a taping of the radio show "Wait Wait, Don't Tell Me."
"I got four nights here for $120; you can't beat that," she said. "I couldn't afford a hotel. And you can fix food in the kitchen."
The Chicago hostel, which has been rated Best Large Hostel in the World by travelers on Hostelworld.com, is posh compared with the Madison hostel.
It has a carpeted great room with ping-pong, foosball and pool tables, and an Internet room and library. It offers free hot cocoa, a pancake happy hour and a breakfast of bagels, muffins, cereal, fruit, coffee, tea and juice.
Local volunteers take guests on outings around town, and the hostel arranges discounts at local attractions and sells transit passes.
There's a café in the building and a Panera down the street. Grant Park, home of Chicago's huge free music festivals, is a three-block walk.
Hostel hospitality
Other U.S. hostels are in lighthouses, dude ranches, ski chalets and old mansions. Some have fireplaces, and a few have hot tubs or saunas. There's an even greater variety in Europe; in Carcasonne, France, I stayed in a castle.
Some are better than others. At their best, hostels are a lot like B&Bs, except cheaper. If their staffs didn't really like people, they wouldn't be working there.
Vidovic loves the mix of people who show up at the Madison hostel. She has worked in Ghana and once ran a former backpacker hostel in Malawi, and she says she learned how to treat travelers from the warm hospitality Africans showed her.
"I like helping people feel grounded and oriented in a new place," she said. "I like making them feel at home."
Trip Tips: Staying at a hostels
What to know : All ages are welcome in hostels. Some hostels have curfews, but most don't. Guests are expected to clean up after themselves. Some hostels (in Europe, nearly all) provide breakfast.
When to go : Hostels are like any other lodgings --- they book up in advance for festivals and summer weekends. So call ahead; you can use a credit card to reserve and also to pay.
Winter is quiet, and if you go on a weekday, you may have a room to yourself. Most hostels have private rooms, and often they don't cost that much more per person.
What to bring : Each hostel is different, so ask questions when you reserve. Most provide blankets and pillows. Some provide linens and towels (guests are expected to strip their beds before leaving); if they don't, most rent them for a small fee. Nearly all have fully equipped kitchens for guests to use.
If you'll be sleeping in a room with other people, bring ear plugs and an eye mask. If you want to read in bed, bring a reading light.
Cost: The per-person rate structure favors the single traveler and groups. For families, the cost can approach that of a basic motel room, though access to a kitchen can mean big savings. Membership in Hostelling International reduces nightly costs. It costs $18 per year for adults and is free for youths.
How to choose : Read reviews at Hostelworld.com and Hostels.com , but take them with a grain of salt. These sites also include private hostels.
Wisconsin
The Hostelling International Madison hostel is at 141 S. Butler St., two blocks from Capitol Square, where the famous Dane County Farmers Market is held Saturdays, and Lake Monona, where guests can ride the Capital City State Trail, hear a free concert at Monona Terrace or see a free water-ski show at Law Park on Sunday evenings.
The house has 31 beds in smaller rooms, including five private rooms that sleep two to five people in a mix of full and twin beds. It's not air-conditioned, so rooms can get warm.
Linens and towels are provided. It's very environmentally sensitive; in the bathrooms, there's a small bin of clean rags for guests to use instead of paper towels, and a sign announces, "Here at the Madison hostel, every day is Earth Day."
Guests can check in until 9 p.m. Call 608-441-0144 to reserve.
In the winter, the hostel is quiet; many guests are foreign students who stay for several months at a time. Hotel rates are very high on weekends when University of Wisconsin football and basketball teams play home games, so a stay at the hostel is a good alternative.
In southern Wisconsin, just off I-94 west of Milwaukee, the Eagle Home Hostel is very well located, right in the Kettle Moraine State Forest-Southern Unit , three miles west of Eagle and Old World Wisconsin.
There's hiking and snowshoeing on the Ice Age National Scenic Trail, which adjoins the property, and the Emma Carlin mountain-biking trail is a mile away.
In state forest, there's excellent skiing. The Kettle Moraine State Forest Lapham Peak Unit has 17 miles of trails, three of them lighted daily, and the Southern Unit has more miles on the Nordic, McMiller and Scuppernong trails.
The 1890s brick farmhouse has three bedrooms with eight beds. Guests can use the large living room, dining room and kitchen. To make a reservation, call manager Bill Livick at 262-495-8794, or 262-442-6360, eaglehostel@gmail.com.
Just north of Milwaukee, Wellspring retreat center and organic farm in Newburg, near Riveredge Nature Center, also is a member of Hostelling International. 262-675-6755.
Chicago
The Hostelling International J. Ira and Nicki Harris Family Hostel in the South Loop, at Congress and Wabash three blocks from the Art Institute, is quite posh, with pancake happy hours, an Internet room and a carpeted great room with foosball, ping-pong and a pool table. Volunteers takes guests on forays around town.
Area residents (who have zip codes that begin with 606) are not allowed to stay unless with a group of 10 or more that has reserved in advance.
The rate includes a breakfast of bagels, muffins, cereal and fruit, and there's a kitchen where guests can cook for themselves. There's also a cafe in the building. Reserve in advance for the big summer festivals in Grant Park. 312-360-0300.
For more, see Cheap Chicago .
Everywhere else
Hostelling International has more than 4,000 hostels in 80 countries.
In the United States, Hostelling International USA has nearly 70 hostels. Both organizations are non-profits.
Last updated on November 20, 2019