Fountain City oddities
A Wisconsin village on the Mississippi River is the capital of the offbeat and unexpected.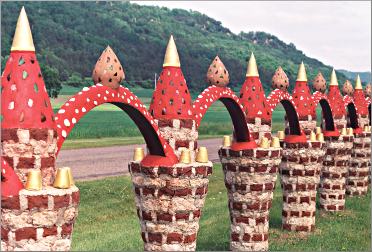 It's easy to speed right through the river town of Fountain City, on the way to someplace else, but that would be a mistake.
In Fountain City, all is not as it seems. A Hindu temple sits amid hay fields. One of the world's largest collections of toy pedal cars occupies five barns on a bluff. Dreamlike Santas ride fish in a riverfront studio, models for copies sold around the nation.
On this seemingly ordinary stretch of the Mississippi, people have been inspired by . . . something. Perhaps it's the dramatic bluffs that loom above town.
One morning in 1995, they sent a 55-ton boulder slamming into a house, which, overnight, became a tourist attraction. That's the kind of thing that makes a person look twice at his surroundings.
If you're coming from the north, go past Pepin, past Alma, past Cochrane — but not too far past Cochrane. For there is the first sight to be seen.
One of Wisconsin's many folk-art savants left his legacy here, within view of the highway. Herman Rusch was a retired farmer who, looking for "a good way to kill old-age boredom," began fashioning sculptures out of concrete, stone and broken glass.
By the time he died in 1985 at age 100 — "Beauty creates the will to live," he said — he'd fashioned nearly 40 sculptures, including a Hindu temple, three dinosaurs, a crenellated stone watchtower and a beautiful arched fence, with conical red posts tipped with gold.
Today, they've been restored and still sit on the grounds of the old Prairie Moon Dance Pavilion, which Rusch filled with curios and where he once lived in a trailer.
There's a self-portrait in concrete, but it's a poor substitute for the real Rusch, who often played his fiddle for visitors.
"I met Herman Rusch when he was almost 100," said Leo Smith, a renowned carver. "He was a little bitty guy who was always smiling, and when he played the fiddle, he exuded joy."
Smith and his wife, Marilyn, lived in Fountain City for more than 30 years, and they, too, are folk artists. Collectors will recognize them as the creators of colorfully detailed Santas, which, like Rusch's works, convey an infectious mirth; reproductions are sold in Winona at the Minnesota Marine Art Museum.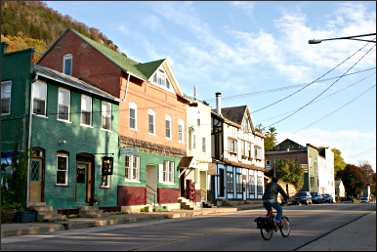 But they make many other pieces, too, often incorporating what they see around them — water lotuses from the sloughs, fish, even neighbors and figures from local Indian mythology.
"There's a lot of magic here, a lot of wonderful totems  — eagles, wild turkeys, deer up in the hills, lots of fishing — and they're an inspiration every day," Leo Smith said.
There's a whole shelf full of Leo Smith pieces in the family room of Elmer and Bernadette Duellman, 2½ miles above town on a ridge overlooking the river. There's also a 1929 Ford Phaeton and an alcove of antique metal toys, any one of which would cause a stampede at a flea market.
And that's just the house. In another building, there are shelves and shelves of toys — a Tom Corbett Space Cadet, a Cocoa Puff train, a Popeye, hundreds of vehicles of all kinds.
In four other buildings, there are real cars — a 1929 Olds woody, a G-Man Cruiser, a 1955 Packard and the 1958 Chevy in which he met his wife, Bernadette.
Elmer Duellman, who died in 2019, was the kingpin of pedal cars. And pedal tractors. And pedal helicopters.
Anyone who looks at this armada of antiques may guess that the little Elmer Duellman didn't have many toys growing up, and he'd be right. Although according to Duellman, no one around Fountain City had anything fancy.
"I bought my first pedal-car in 1971; I'd never seen one before," he said. "I thought it was pretty neat, so I bought it. Then I started buying a couple more, then more than more."
Soon, he had hundreds of pedal cars and pedal tractors, and he and Bernadette opened Elmer's Auto & Toy Museum.
Not long after that, a different kind of tourist attraction came to town in the form of a 55-ton boulder.
It hurtled into the recently redecorated bedroom of Dwight and Maxine Anderson, just as Maxine had walked out of it. The badly shaken Andersons quickly sold the house to John and Frances Burt, who opened it as The Rock in the House.
For years, Frances Burt showed tourists the rogue rock, still hunkered down in the pink floral bedroom, and, in "Believe It or Not!" style, told about the woman next door who, in 1901, was killed by a boulder.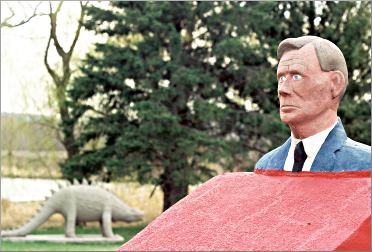 "She was crushed in bed, while her blind husband beside her escaped with barely a scratch," she says.
Everyone gets a kick out of the Rock. These days, entrance is usually by honor system; once inside, guests can see the rock and read the displays.
Fountain City was the first town to be settled along this scenic stretch and was called Holmes Landing, after a fur trader who set up shop there in 1839. In 1842, a group of Swiss arrived, making their living cutting wood for the steamboats going by.
The town grew into three streets, set into the steep bluff, and eventually was renamed for its many springs.
Today, it's a pleasure to walk its streets, lined by sturdy old brick buildings still occupied by shops and offices.
On Main Street, the Monarch Tavern and Preservation Hall, built by the Odd Fellows society in 1894, has its original pressed-tin ceilings, hand-carved oak bars and German-style beer tables with pockets in the corner for glasses.
Down the street, the Historical Society Museum occupies an 1867 brick building.
On the bluff, the treehouse-like Hawks View Cottages & Lodges were the newest things to be built in a long time. Contractor Brad Nilles, who grew up across the river in Rollingstone, got to know Fountain City while he was building them.
"As a renovator, I'm struck by how old and well-preserved the downtown is," Brad Nilles says. "It hasn't been tinkered with much, and that's very rare nowadays."
In Fountain City, of course, the rare is commonplace.
Trip Tips: Fountain City, Wisconsin
Getting there: It's across the Mississippi from Winona, Minn., and six miles north.
Elmer's Auto & Toy Museum: The family opens it one to three weekends a month from May through October. Groups of at least 10 can arrange to come other times.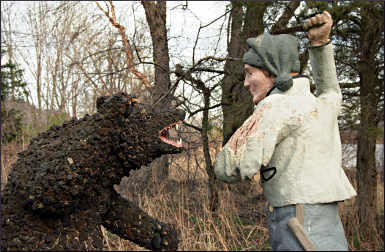 Admission is $10, $5 for children 6-17. Take Wisconsin 95 to County Road G and follow signs. 608-687-7221.
Rock in the House: It's on the north side of town, at 440 North Shore Drive.
Prairie Moon Sculpture Garden & Museum: Open daily. Nine miles north of Fountain City on Wisconsin 35, take County Road OO to Prairie Moon Road. Donations go toward maintenance.
For more, see Road trip: Wisconsin's concrete art.
Merrick State Park: This 320-acre park, along the backwaters two miles north of town, has camping, hiking and boat launches. It rents canoes, 608-687-4936.
Dining: The Monarch Public House serves pizza and sandwiches and serves its own brew, including Prairie Moon Red, in a great beer garden facing the river, with deck and patio amid a butterfly garden.
Accommodations: Hawks View Cottages & Lodges sit on a steep hillside above town, each with two stories, a double whirlpool, fireplace, full kitchen, one or two decks and a pull-out sofa on the first floor; one cottage is wheelchair-accessible.
Two lodges, one with two bedrooms and one with four bedrooms, each have a double whirlpool, decks and fireplace stoves. 651-293-0803 or 866-293-0803.
On Main Street, the Joseph Fugina House is an 1898 Victorian inn with three suites.
Information: Fountain City tourism.
Last updated on January 19, 2022