Rah Rah Rochester
The quiet medical giant may be sterile, but it's also engaging.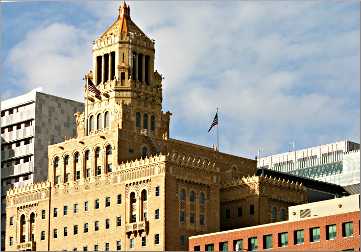 In Rochester, a tourist from the Twin Cities is a novelty.
Tourists from anywhere are a novelty, though patients and medical professionals come from around the world.
"This week, I had customers from Guatemala, Panama and India in just a few hours," said Kathy Barnes, a fourth-grade teacher working part-time at the apparel shop Collections.
"People from all over were coming to Mayo for a study on chewing tobacco. That's why I always ask people where they're from — you hear the greatest stories."
The Mayo Clinic is interesting; we've all heard about the sheiks and kings who get treated there. But Rochester?
It's the third-largest city in Minnesota, after Minneapolis and St. Paul, and still growing.
Yet it barely has a downtown. Its big festival, Rochesterfest, is little known outside the area. It doesn't have much street life. It didn't have a four-year university until 2007.
Some Twin Cities tourists consider Rochester the gateway to Lanesboro, pop. 767. In 2006, the city decided to change that, introducing a new slogan: "Rah Rah Rochester: More Than You Know."
It didn't say what.
There's Mayo, of course. Rochester would have been just another small town if the U.S. Army hadn't assigned Dr. William Worrall Mayo to Rochester in 1863; his wife was tired of moving around, so they stayed.
In 1883, after two destructive tornadoes, a Franciscan nun persuaded Mayo to be medical director of a new hospital; in 1892, he and his two physician sons invited other doctors with specialties to become their partners.
It was one of the first group practices, and it blossomed into the Mayo Clinic, which now occupies 40 buildings and employs more than 26,000 people in a city of 115,000.
IBM has a big plant in Rochester, too. With its 4,500 employees and those of other high-tech industries, you can assume there are a lot of smart people around.
Rochester often ranks highly on "Best places to live" lists. But is it a good place to visit?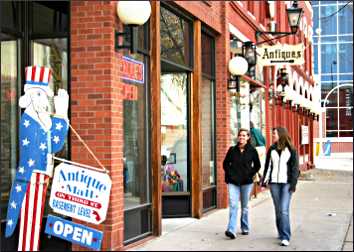 Well, it's a little buttoned-down. But yes, it can be a lot of fun.
We spent a weekend there one November and started with a holiday tour of Mayowood, the country manor built by W.W. Mayo's younger son, Dr. Charlie, and later inhabited by Dr. Charlie's son Dr. Chuck, who raised Young Dr. Charlie and his five other children there.
Built at the same time as Duluth's Glensheen, the 38-room house is the same size but much less ornate. It was a retreat for Dr. Charlie, who loved nature. He built water gardens, stocked ponds with fish and brought in elk, Japanese deer and English pheasants.
He also built greenhouses and, being frugal, used old glass X-ray plates for the panels: "For years, one could walk through the greenhouses and see the outlines of a stomach here, a gallbladder there, a fractured tibia over the petunias," Dr. Chuck recalled later.
Over the years, Franklin Delano Roosevelt, Helen Keller and the king of Nepal were among those who visited Mayowood. In 1965, when Dr. Chuck's children were grown, he and his wife, Alice, donated the house and 10 acres to the Olmsted County Historical Society.
Most of the contents remain, including childhood portraits of Dr. Chuck's six children.
They had an artistic streak: Young Dr. Charlie became an expert in Scandinavian birch-bark weaving and helped found the North House Folk School in Grand Marais.
After exploring the wooded grounds, we drove back to town on U.S. 52, exiting on Second Street.
It was a medical alley, lined with Mayo's St. Marys Hospital campus, motels for patients, a Ronald McDonald House and houses for the Transplant Foundation and the Restless Legs Syndrome Foundation.
Then we were in Mayo's downtown campus, including the modern, wavy-glass Gonda Building and the 1928 Plummer Building, oldest and once tallest, with a beacon for airplanes in its four-story bell tower.
The downtown is mostly Mayo, remarkable for its dearth of storefronts. We came to the Mayo Civic Center and the new Rochester Art Center, and around the corner found Historic Third Street, which did have shops, bistros and wine bars.
At the Antique Mall on Third, I found a 95-year-old postcard of Minnehaha Falls.
At John Kruesel's General Merchandise, I found a whole case of souvenirs from Imperial Russia, including a 1913 lunch pail celebrating the tercentenary of the Romanov dynasty and an 1896 "blood cup" from the coronation of Nicholas II, where more than 1,000 people were crushed to death in a stampede.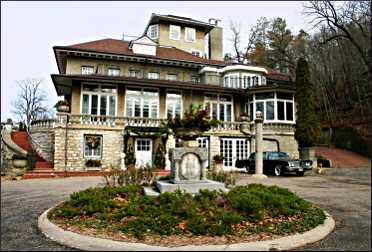 Proprietor Kruesel has put quotations onto the facade of his store that reflect his views.  One is by Dr. Charlie Mayo — "The greatest contribution we can make is to prepare the oncoming generations to think for themselves" — and one is by Mayo's brother, Dr. Will: "This country rightfully has based its idea of a safe democracy on education."
We had a lot of choices for dinner — contrary to common wisdom, Rochester does have interesting restaurants and breweries, too.
It also has nightlife. At the Mayo Civic Center, the popular Louisiana Cajun band Beausoleil was playing.
Ticket-takers handed out strands of Mardi Gras beads at the door, and as soon as the band launched into its fast, blues-laced Cajun and zydeco songs, the crowd filled  the auditorium's dance floor.
Only a few people knew the Cajun two-step, but older folks did the polka and a cluster of young people bounced up and down, waved their hands and formed a conga line.
"Is this a rowdy Minnesota town?" teased band leader Michael Doucet. "This has never happened before. Is this a normal crowd? This is a part of Minnesota we haven't been in yet. We love it."
On Sunday, we explored downtown Rochester. At the Kahler Complex, a man was pacing back and forth past shops, speaking loud Arabic into a cell phone; the Kahler hotels have long catered to Mideast royal families at its hotels, "Where the Wealthy Get Healthy."
The Kahler always has been tied to the Mayo Clinic. The first Kahler in 1907 catered to convalescents and had a hospital unit, and the new Kahler, opened in 1921, operated as part hospital, part hotel until 1954.
Now, the Kahler Complex sticks to hotel guests, offering a spa, boutiques, coffee shops, antiques galleries and a restaurant,  all under one roof.
Skyways and "subways" link it to clinic buildings and to the Shops at University Square, another indoor shopping complex.
There are lots of nice things there — handmade shoes, Norwegian sweaters, Austrian boiled-wool jackets. And nearby on Peace Plaza is the SEMVA Gallery, a co-op that shows pieces from 70 local artists.
The most impressive building on Peace Plaza, however, is the 1927 Historic Chateau Theatre, it has a lighted marquee, a vaulted midnight-blue ceiling and walls lined with medieval-style parapets, turrets and balconies.
The only thing we missed was the free weekday art tour of the Mayo Clinic. Then, as we were peering at a Dale Chihuly installation through the locked doors of the Gonda Building, we lucked out.
The security guard let us inside to see the Chihuly, a golden froth of glass bows and ribbons, then took us down marble stairs to see Chihuly's "Waterfall Blue Persian Set," donated by Mayo staff.
"You'll see stuff like this in alcoves on every floor," he said.
He showed us a display of White House china, a massive Rodin figure and bronze sculptures from Tibet. Then he took us across the street and through the ornate doors of the Plummer Building, designed by one of the Mayos' original partners.
The interior was an eyeful, with decorative elevator grilles, iron chandeliers and wood paneling, and the doors were museum-quality, with inner gates topped by a row of 16 small bronze knights.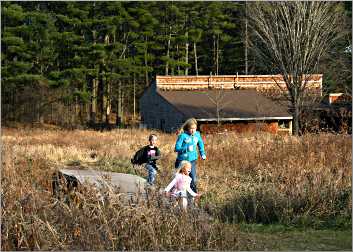 We had hoped to catch the bird-banding program at Quarry Hill Nature Center, but the art tour was worth it.
Quarry Hill Park was crawling with families, hiking, biking and exploring the nature center, where the naturalist lifted a rock to show us a giant water bug, which glides up under frogs, injects a toxin and liquifies their flesh.
There was a live timber rattlesnake, a kestrel with a half-eaten mouse and a reproduction of Stan, the most complete Tyrannosaurus skull ever found.
Our last stop was Silver Lake; if we'd had our bikes, we could have ridden there from Quarry Hill, on part of the town's 60-mile network of paved trails.
Rochester doesn't feel like other towns. But there's plenty to explore. It has theater, art, dance and a symphony, like any other decent-sized town, plus attractive parks and trails.
So go ahead and be wild — get off U.S. 52 for once and look around. Rochester may surprise you.
Trip Tips: Rochester, Minnesota
Getting there: It's about an hour south of the Twin Cities. To get downtown, take the Second Avenue Southwest exit off U.S. 52.
Getting around: Downtown, there are two First Streets, two First Avenues, two Second Streets and so on; use the maps in the visitors guide to negotiate them. There's an extensive network of skyways and underground corridors, or "subways," linking buildings.
Mayowood: Regular tours run from May through the third weekend in October. Christmas tours are held in November. Reservations are required, 507-282-9447.
Mayo Clinic tours: A free one-hour guided Art Tour is held at 2 p.m. Mondays through Fridays from Judd Auditorium in the lower level, or subway, of the Mayo Building at 200 First St. S.W.
There is also a variety of self-guided tours.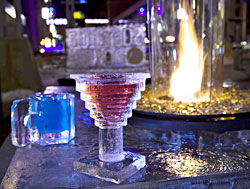 Rochester Art Center: It's open Wednesday to Sunday.
Shopping: On Peace Plaza downtown, visit the Galleria at University Square. For antiques, visit the shops on Historic Third Street.
Quarry Hill Nature Center: This large wooded park is on the east side of town is a pleasant place to hike, and children like exhibits in the visitors center.
Nightlife: The Mayo Civic Center books many well-known musicians.
The Rochester Repertory Theatre and Rochester Civic Theatre stage plays. For dance, the Rochester Dance Company. For classical music, the Rochester Symphony Orchestra.
Craft breweries: There's a good selection, including Kinney Creek, Forager, Little Thistle, LTS and Thesis Beer Project.
Dining: For dining before a show at the Civic Center, the nearby Chester's Kitchen and Bar or Terza Ristorante.
For fresh fish, salads and small plates, Pescara in the DoubleTree Hotel next to University Square. For pizza, pasta and live jazz, the Redwood Room. For fine dining, Prescott's Grill.
Accommodations: The Hampton Inn is a good value and has a pool and exercise room. Room rates include a hot breakfast. It's two miles south of downtown on U.S. 63; there's a free shuttle to Mayo Clinic.
Downtown hotels are utilitarian, unless you can afford The Towers at Kahler Grand.  The Hilton Garden Inn is most convenient to Historic Third Street and the Mayo Civic Center, 507-285-1234.
The Holiday Inn Express also is near the Civic Center. The Kahler Grand includes shopping under the same roof and often offers packages. The Kahler Inn & Suites is two blocks away.
Information: Rochester tourism, 800-634-8277.
Last updated on January 21, 2022