A jolly holiday in Minneapolis
Christmas draws tourists and locals alike into the lively heart of the city.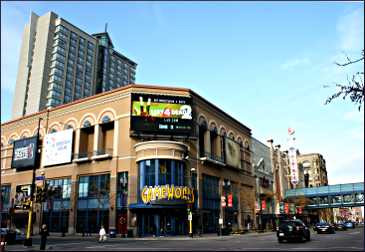 During the holidays, there's no place like home. In fact, it's the perfect getaway.
Every year, I go to downtown for the festivities. I go to a holiday show at the Dakota nightclub and Handel's "Messiah" at Orchestra Hall. I stop by the Holidazzle holiday village in Loring Park.
I don't stay overnight. I live here, after all.
But looking around, I found a deal for a room at a sleek luxury hotel across from Target Center. I got a two-for-one deal for a holiday ballet. I heard about a great happy hour on Nicollet Mall.
That's how I realized I could be a tourist in my own hometown.
Minneapolis might not be Chicago, but you can park here for less than the price of a fancy dinner. Cruising into the LaSalle ramp, I parked, hoisted my tiny bag and walked to Block E on Hennepin Avenue.
I found Loews Minneapolis Hotel on its back flank, as far from the suburbs as Samoa. Until the Chambers opened two blocks away, it was as hip as Minneapolis got.
It has chilly expanses of marble, glass and empty space at the street entrance and fourth-floor reception desk. But beyond the backlit martini lounge and up another set of elevators are the rooms, cozy nests of understated urbanity.
I was staying there with my friend Grace, who awaited me on Nicollet Mall. As I headed there on Sixth Street, I was struck by the abrupt change in atmosphere on that single block — from the boozy insouciance of the Warehouse District to the 1950s aura of Murray's steakhouse and the family hubbub on Nicollet Mall.
First we walked over to Hennepin, where three restored vaudeville houses provide beautiful venues for local and traveling productions.
In the State Theatre, the James Sewell Ballet was performing a dance version of Gian Carlo Menotti's opera "Amahl and the Night Visitors."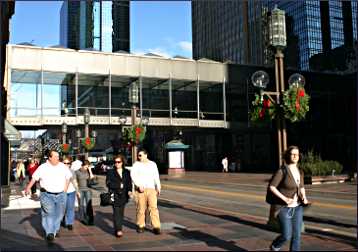 We settled in under the beaded chandeliers and frolicking cherubs to watch the story of a boy and his mother who are visited by the Three Kings on their way to Bethlehem.
It was short and sweet. Afterward, we walked down the hall from the theater's lobby and returned to Block E.
It was time to leave the world of pigtailed little girls in red-velvet dresses. Up in our room, elves had lowered the blinds and turned down the covers.
Downstairs in Cosmos, a young crowd was starting to trickle in from the Dave Matthews Band concert from Target Center across the street. At the bar, bottles glimmered in a wall of lighted cubes.
We went for another drink next door, where Kieran's Irish Pub attracts crowds who enjoy a pint or two.
Our bar crawl was fun, but in the morning, we realized we had skimped on time spent in the cloud-like bed, with its custom-designed pillowtop mattress.
The Sunday paper was outside our door, and we read it over cappuccino from the Starbucks downstairs. Then, we had to hustle to make our reservation at Hell's Kitchen, where a hopeful crowd was waiting for tables.
In the sunny back room, a waitress in flannel jammies brought us fantastic huevos rancheros, plus fresh fruit and freshly squeezed orange juice.
But then, we had to be regular people again. We shopped for a while before going home, but the mood was broken.
Anyone can live in Minneapolis — but only the lucky ones get to be tourists there.
Trip Tips: Christmas in downtown Minneapolis
Getting there: The Green Line from St. Paul and the Blue Line from the airport or the Mall of America go straight to Nicollet Mall. Rides are free along Nicollet Mall on buses marked Free Ride.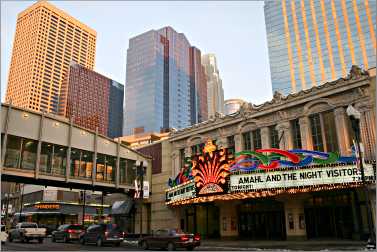 Parking: Some hotels offer weekend packages that include free parking. If not, try the LaSalle Ramp, on LaSalle Avenue between 10th and Ninth streets south.
Holidazzle: This free holiday village in Loring Park, on the western edge of downtown, is Nov. 25-27 and Dec. 2-4, 9-10 and 16-18 in 2022 and includes fireworks at 7:15 p.m. Saturdays.
Shopping: The light rail Blue Line delivers weekend shoppers from downtown to the door of the Mall of America. For more, see Shopping at the Megamall.
In the former Dayton's building on Nicollet, there's a Makers' Market with local vendors.
Holiday stage shows: Check the State, Orpheum and Pantages theaters for shows.
On the river side of downtown, the Guthrie Theater 's annual production of "A Christmas Carol" runs from mid-November through December.
On the south edge of downtown, Orchestra Hall offers holiday-themed concerts as well as Minnesota Orchestra classical concerts.
Buying tickets: To avoid a hefty per-ticket fee, buy tickets in person at the State Theatre, box office for Hennepin Avenue theaters.
Accommodations: Many hotels advertise holiday packages, such as at the Hilton, two blocks from the start and  connected to Orchestra Hall by skyway.
Loews Minneapolis Hotel is stylish and comfortable.
The Chambers Hotel is across from the Orpheum and a block from the State Theatre on Hennepin. It calls itself the nation's first luxury art hotel for more than 200 pieces of contemporary and often edgy art. It has 60 rooms and suites.
There are other stylish hotels to try out in downtown Minneapolis.
The Emery, formerly Hotel Minneapolis, is in the middle of downtown, a short walk to shops and theaters, 612-340-2000. Hotel Ivy is next to Orchestra Hall, 612-746-4600.
The art-deco W Minneapolis in the Foshay Tower, a block from Macy's and Nicollet Mall, 612-215-3700. On the north edge of downtown, Aloft is closest to the Mill District and Guthrie Theater, 612-455-8400.
In the Warehouse District near Target Field, Element is a good place to stay if you're attending a concert at The Fillmore, next door.
Dining: Hell's Kitchen, half a block from Nicollet on South 9th Street, is a fun place to have fantastic huevos rancheros and freshly squeezed orange juice. It's always busy, so call for reservations at 612-332-4700.
The southern end of Nicollet Mall is crammed with good restaurants — Brit's Pub, the Dakota, Barrio.
In Loews, the hip Cosmos serves steaks, chops and seafood with global accents, 612-312-1168.
If you want to eat well but cheaply and don't care about atmosphere, try Panera on Nicollet between Ninth and 10th.
Nightlife: Next to Loews, Kieran's Irish Pub hosts Irish bands. Across the street, Target Center hosts touring shows and Minnesota Timberwolves games.
On Nicollet, the suave Dakota is a very pleasant place to listen to live jazz, 612-332-1010.
On First Avenue, the Fine Line Music Cafe programs a variety of music, 612-338-8100.
Near Target Field, The Fillmore is an 1,850-seat venue that hosts touring bands.
Last updated on December 3, 2021