Sightseeing in St. Paul
A cluster of family attractions make the city's unsavory origins a distant memory.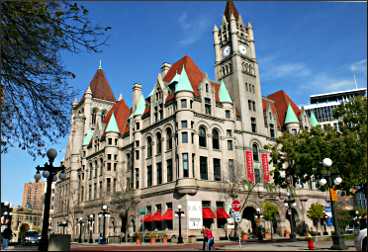 It's ironic, considering its past, that St. Paul is such a wholesome destination.
Liquor brought the first white resident to Minnesota's capital; he was Pierre Parrant, a swinish, one-eyed former voyageur named Pig's Eye. He set up his first tavern near Fort Snelling, but was rousted in 1837 by officers who were tired of the trouble it caused.
The hovel he built in a cave down river was St. Paul's first building, and the area around the tavern he built later, in the future downtown, was known briefly as Pig's Eye.
But missionaries were close on the heels of sin. One of them, French-speaking priest Lucien Galtier, was able to rename the little settlement after his log chapel, St. Paul's.
The town grew along the river as a transportation center, at first faster than its flour-milling rival across the river, and was made the state capital.
Its most impressive buildings went up on the hills around downtown. The marble-domed Capitol, modeled after St. Peter's Basilica in Rome, was finished in 1905.
In 1915, the copper-domed Cathedral of St. Paul went up on the opposite (and higher) hill, across the street from railroad baron James J. Hill's 1891 mansion on Summit Avenue.
Sin made a memorable reappearance in the 1920s and '30s, when corrupt police officials allowed St. Paul to become a haven for gangsters, including John Dillinger, Alvin "Creepy" Karpis, Ma Barker, Baby Face Nelson.
Today, St. Paul is known as the friendlier, less glamorous of the Twin Cities, perhaps because of its strong neighborhoods and quieter downtown. For tourists, especially those with children, it's a good base for explorations.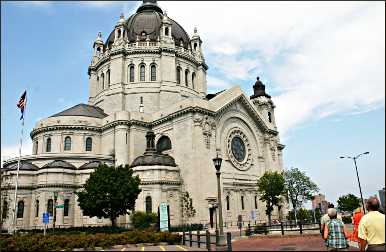 Many of St. Paul's prime attractions are within a few blocks of each other. The Science Museum of Minnesota, at the top of the bluff, overlooks the Padelford Riverboat landing, from which paddlewheelers cruise up and down the Mississippi, and the picnic areas and playgrounds of Harriet Island.
Two blocks away, on Rice Park, the turreted stone Federal Courts Building where FBI agents once stood with machine guns now is the Landmark Center, home of many arts organizations and cultural festivals honoring the city's many ethnic groups.
Rice Park is an intimate, European-style square, ringed by impressive buildings: the elegant, contemporary Ordway Center for the Performing Arts; the 1916 Beaux Arts central library; and the elegant 1910 Saint Paul Hotel.
A bronze statue of F. Scott Fitzgerald stands there, coat over arm, as well as a pigtailed girl in a fountain. Ice sculptures fill the park.during Winter Carnival, a huge city celebration started in 1886 in response to a New York City reporter's gibe that St. Paul was "the Siberia of North America."
On the other side of the Ordway, home of the St. Paul Chamber Orchestra and host of touring Broadway shows, are a trio of venues that bring thousands to downtown.
The Roy Wilkins Auditorium is a mid-size concert hall; Riverfront Centre is a convention center that hosts many crafts and hobby shows; and the glass-lined Xcel Energy Center is a state-of-the-art concert arena and home of the Minnesota Wild hockey team.
On a nearby hill, between the Capitol and the Cathedral, the imposing 1993 Minnesota History Center holds all kinds of hands-on exhibits for kids. Costumed History Players - children's-book author Wanda Gag, musher and mail carrier John Beargrease, teacher Harriet Bishop — give regular programs.
On the other end of downtown, the History Theatre stages original plays and musicals, and the purple-and-red building of the Minnesota Children's Museum occupies a block nearby.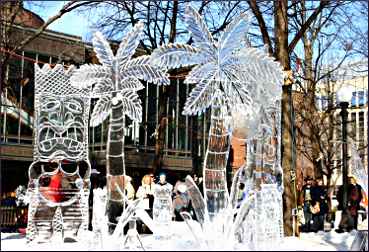 There still are saloons in St. Paul, where, in 1882, Mark Twain observed that whiskey is "the earliest pioneer of civilization."
But St. Paul, especially for families, has come a long way since then.
Trip Tips: Downtown St. Paul, Minnesota
2023 events: Jan. 27-Feb. 4, Winter Carnival. March 17, St. Patrick's Day parade. June 23-24, Twin Cities Jazz Festival. July, Lowertown Blues & Funk Festival. Aug. 11-13, Irish Fair of Minnesota on Harriet Island.
Accommodations: The elegant 1910 Saint Paul Hotel is steps from the Ordway and Riverfront Centre.
Three blocks from Rice Park, the 1917 Hotel 340 is an extended-stay boutique hotel that occupies the top three floors of the University Club of St. Paul and includes a fitness club.
Next to the Fitzgerald Theater on Exchange Street, Celeste of St. Paul hotel is a former convent with elegant rooms.
The most unusual place to stay is across the river, where the Covington Inn, built in 1946 as a towboat, is moored on Harriet Island. Four elegant rooms have fireplaces and superb views; the two-story Pilot House suite includes the pilot house as a sitting room and has a private deck.
Dining: Many fine restaurants are within a block of the Ordway and Riverfront Centre, including Meritage, a sophisticated French brasserie; Kincaid's, a steak and chop house with windows facing Rice Park; the St. Paul Grill, a clubby classic in The St. Paul Hotel; and Sakura, a good place for sushi.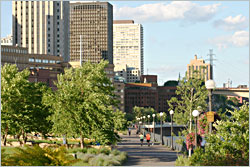 Restaurants on the other side of the Xcel Energy Center, on West Seventh Street, include Cossetta Alimentari, a beloved pizza palace and market; and Downtowner Woodfire Grill.
Lowertown, on the other side of downtown, has a cluster of restaurants around Mears Park and also is home of the weekend Saint Paul Farmers' Market, which includes only locally grown and produced goods.
Nightlife: The beautiful Ordway Center for the Performing Arts on Rice Park is the home of the St. Paul Chamber Orchestra and hosts national touring musicals and musicians in two theaters.
The castle-like Landmark Center, across from the Ordway, hosts many free concerts and cultural events.
Nearby, on West Seventh Place, the professional Park Square Theatre puts on fine plays, as does the History Theatre on West 10th Street, which specializes in musicals and new works with a local emphasis.
The Fitzgerald Theater is an intimate venue that hosts many concerts and author programs.
Lowertown has music and dance clubs and hosts the Twin Cities Jazz Fest in June.
St. Paul Saints baseball: The entertaining games are held in CHS Field in Lowertown.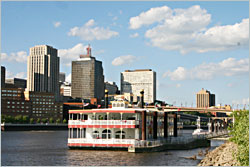 Professional hockey: The Minnesota Wild play at Xcel Energy Center.
Science Museum of Minnesota: Built into the bluff overlooking the river, the museum is stuffed with exhibits and hands-on activities. Admission is $9.95-$34.90, $9.95-$24.90 for children 4-12, depending on Omnitheater shows.
Minnesota Children's Museum: This colorful museum, with many special exhibits, is geared to children ages 6 months to 10 years.
Minnesota History Center: This large center between the Capitol and Cathedral has lots of permanent and changing exhibits and activities geared to children. Admission is $12, $8 for children 6-17.
In summer, it holds free Tuesday-night concerts on its lawn, generally with free dance lessons.
Minnesota State Capitol: Admission is free. Guided tours are given 10 a.m. to 2 p.m. weekdays.
River cruises: From Harriet Island, Padelford Riverboats gives 1½-hour narrated sightseeing cruises up the Mississippi. Check for meal and specialty cruises.
Gangster tours: Across the river from downtown, Wabasha Street Caves offers two-hour Saturday motorcoach tours of kidnapping sites, speakeasies and the apartment building where John Dillinger and police traded machine-gun fire. A costumed gangster character acts as guide.
It also offers cave tours and swing dancing. In October, it offers ghosts and graves tours.
Information: St. Paul tourism, 800-627-6101.
Last updated on January 31, 2022