Join the club
When you travel with a group, you'll make friends and save money.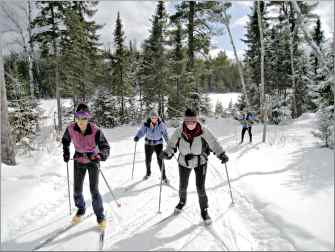 Collectively, no one knows more about traveling in the Upper Midwest than its outdoors clubs.
Club members organize dozens of excursions year-round — hiking, paddling, skiing — and they know all the best places. Once, I thought I'd made a real discovery — High Point Village, an appealing little resort with 10 miles of hiking and skiing loops around  the foot of Timm's Hill, Wisconsin's highest point.
It turned out the Twin Cities-based North Star Ski Touring Club already had found it and reserved it for one of their trips.
When you can't beat 'em, join 'em. So I did.
My first trip with the North Stars was to Bemidji in northern Minnesota. After everyone arrived, we played an ice-breaking game in which each person had to tell two truths and a lie about himself, and the others had to guess the lie.
The most outlandish claims - beaten in Egypt and left for dead? Mistakenly arrested in Guatemala for drug trafficking? Hiking in the Himalayas, riding camels in Tunisia, kayaking in the Yukon? — turned out to be the truths.
I probably should have been intimidated right then by these well-traveled people, but they were so darn friendly. They turned out to be ringers on the ski trails, too.
Over the weekend, we skied three cross-country trails and downhill, too. John Driscoll, the trip coordinator, had skied all the trails and knew which were appropriate for beginners and which would be safest to ski under icy conditions.
With the North Stars, I've skied in Mille Lacs Kathio State Park when a hoarfrost and a full moon put an extra layer of magic on the park's annual candlelight ski.
I've skied in Duluth right after a March blizzard dumped 30 inches on the town, and I've bicycled with them around the Wisconsin town of Bayfield.
I'm also a member of the Twin Cities-based Minnesota Rovers Outdoors Club.
With the Rovers, I've snowshoed from waterfall to waterfall on the Black River in Michigan's Upper Peninsula, canoed the Upper Iowa River near Decorah and hiked the Ice Age National Scenic Trail from Devil's Lake State Park in Wisconsin.
The trips rarely cost more than $100. But the camaraderie is priceless.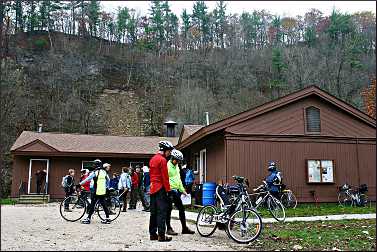 You can join right away or you can try out the clubs on day trips. The Rovers offer an ongoing Beginners Series that includes introductions to cross-country skiing, alpine skiing and snowshoeing in winter and, in summer, backpacking, Boundary Waters canoeing and rock-climbing.
The North Stars offer ski clinics and, like most clubs, make sure beginners and newcomers are paired with a more experienced member who will go at a slower pace.
"It's tempting to look into a room of Spandex-covered butts and think, 'Gee, I don't belong here,' " says Jean Iwen of St. Paul, a former president of the North Stars' singles division.
"But when I started, there was this older couple who said, 'Oh, ski with us, we wanted to take it easy today,' even though both of them can ski circles around me. They were just incredibly nice; the feeling of intimidation was in my own head, not something put upon me."
The North Stars like running water and roofs over their heads, but they still manage to keep most weekend costs around $100.
The Rovers are known as penny-pinchers, and their trips cost even less because they camp or stay in rustic cabins and prepare their own meals. Camping and backpacking trips generally cost $15-$25.
In late October, their annual Halloween party/hiking and biking trip to Minnesota Whitewater State Park costs $65, including food and three nights in heated cabins.
Of course, everyone pitches in. When Pat Ryan of St. Paul was co-coordinator for the Whitewater trip, other people took deposits, planned menus, bought food and put up decorations for the Halloween party.
"The good thing about going with a group is that other people take a chunk; you don't have to do everything," she said. "That's the beauty of it. "
Each club has a distinct personality. The North Stars are known as a mellow group that doesn't drink much but likes good food and a dance; they're also meticulous trip planners.
The Rovers are more spontaneous; many of their trips are proposed at the last minute on the club's Yahoo group.
Many members like a good party, but preferences are varied; on the Whitewater trip, cabins were designated for night owls, early risers and light sleepers.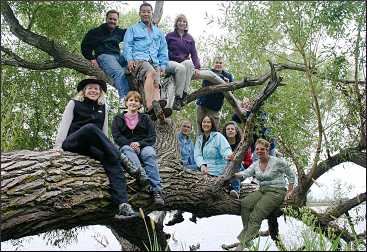 The primarily downhill ski clubs have a more party-loving reputation, though most have calmed down from the hard-drinking days in the 1970s and '80s.
Though cost savings are a good reason to join a club, most do it because they like the society of others. Linda Flick of Woodbury, Minn., joined the North Stars when she was new to town and wanted to meet people.
"I like to ski, and I like to ski with friends," she says. "You have to go on a number of trips to kind of know who you're comfortable with. But even if you don't see a friend, you'll find people to ski with."
Trip Tips: Traveling with clubs
All of the clubs below welcome new members. Those who don't live where the group is based can join the group at trip destinations.
Many have e-mail groups on Yahoo, and members can send and receive notices for last-minute day trips and social outings. Many groups offer free lessons and keep equipment cages from which members can borrow gear for trips.
Many clubs also offer trips to Europe, Canada, the Rockies and New England.
If you're looking for a club near you, ask at local bicycle, ski or outdoors stores, which also are likely to stock club brochures.
And check for local Meetup groups. These loosely organized groups focus on many outdoor interests, including backpacking, hiking, walking, cross-country skiing and general adventure.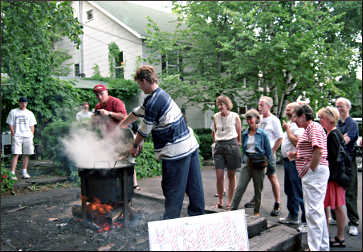 General outdoors clubs
Minnesota Rovers Outdoors Club : This Twin Cities-based club was founded in 1954. Membership is $25, and members meet every Tuesday evening, in winter at Macalester College in St. Paul and in summer at Como Park in St. Paul.
Summer trips are mostly camping, and weekend costs generally are $25-$100. The club maintains the Border Route Trail in northern Minnesota and holds many trail-clearing trips.
North Star Ski Touring Club : This year-round Twin Cities club was founded in 1967 and is North America's largest cross-country ski club. The annual sign-up for winter trips is in early November.
Membership is $20-$25 and includes a bimonthly newsletter. Members meet monthly at University Lutheran Church of Hope in southeast Minneapolis.
They don't camp much, but weekend-trip costs still are low, most in the $75-$125 range. The North Stars help maintain trails on the North Shore, near Ely and on the Gunflint Trail.
Outdoors Meetup groups : The Twin Cities-based Outdoor & Snow Lovers group is active year-round and organizes hiking, biking, paddling, snowboarding and skiing trips.
Madison also has a large Outdoor Meetup group, Milwaukee has a Campers, Backpackers and Hikers Meetup group and Chicago has many groups, including the Hiking, Outdoors and Social group.
Outwoods : This is a Twin Cities-based year-round outdoors club for the GLBT community and their friends. Membership is $15-$25 and includes a monthly newsletter.
Activities include biking, backpacking, birding, hiking, paddling, camping, rock-climbing, skiing and inline-skating.
Wisconsin Hoofer Outing Club : This year-round outdoors club is based at the University of Wisconsin-Madison but is open to community members as well as students, staff and faculty.
Members can join the Wisconsin Union for $45 annually, $30 for summer or spring/fall, and use the group's kayaks, canoes, skis, bikes and climbing equipment. Call 608-262-2263.
There are also Hoofer clubs for mountaineering, horseback riding, sailing, scuba diving and skiing and snowshoeing.
Nordic Ski Club of Milwaukee : This is a year-round outdoors and social club that offers overnight camping, biking, hiking and ski trips. Membership is $28, and there are monthly meetings.
LakeShore Ski and Sports Club of Chicago : This year-round club of 550 members offers trips featuring cross-country and alpine sking, hiking and bicycling.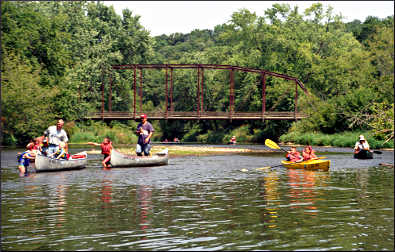 Members meet the first and third Wednesdays from fall through spring at Dapper's East, near West Addison and North Kedzie in Chicago. Membership is $35-$45.
Four Winds Ski and Social Club : This year-round family club in west-suburban Chicago plans alpine ski trips in winter and social outings in other seasons.
Members meet monthly in Elk Grove Village. Membership is $30, $40 for families.
Iowa Explorers Club in Des Moines . This meet-up group hikes, paddles, camps and climbs.
Ski clubs
The Chicago Metropolitan Ski Council lists dozens of ski clubs in the Chicago area alone and also nordic and alpine clubs around the Upper Midwest.
For clubs in Minnesota and western Wisconsin, check the site of the Twin Cities-based Midwest Sport/Ski Council.
Bicycle clubs
The Twin Cities Bicycling Club holds dozens of day rides around the Twin Cities, weekend rides in the Midwest and, in winter, weeklong trips to Texas, New Mexico and Arizona. It's large, with 1,000 members. Memberships are $25.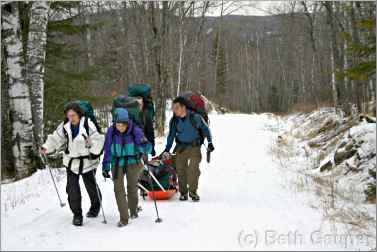 In Madison, the Bombay Bicycle Club holds weekly rides around town.
In Milwaukee, it's the Cream City Bicycle Club.
The Chicago Cycling Club offers rides from 15 to 100 miles at all paces; some are for families, and some are overnight camping tours.
In the western Milwaukee suburb of Waukesha, the Spring City Spinners Bicycle Club hosts frequent day rides.
And Couples on Wheels, or COWs, is a tandem bicycle club that hosts rides in Wisconsin and around the Midwest and holds rallies in spring and fall.
Paddle clubs
Many clubs offer pool training in winter.
The Minnesota Canoe Association promotes kayaking as well as canoeing, flat and whitewater.
From the Twin Cities, the River Ramblers offer leisurely paced day and weekend trips in Minnesota and Wisconsin from April through September, $2 per trip or $5 per year.
The Minneapolis-based Inland Sea Kayakers offer day and overnight trips for paddlers of all skill levels on Lake Superior and Voyageurs National Park as well as the Mississippi and St. Croix rivers. Membership is $15.
The Twin Cities-based Rapids Riders is a whitewater paddling group and sponsors Canoe U whitewater classes on the St. Croix River in spring.
The Twin Cities-based Superior Kayak and Outdoor Adventure Club offers kayaking trips to Lake Superior as well as hiking on the North Shore and winter camping in the Boundary Waters. Membership is $20.
In Madison, the MadCity Paddlers hold day and weekend trips around Wisconsin.
In northwest Michigan, the Traverse Area Paddle Club plans many trips.
The Chicago Area Sea Kayakers Association holds day and weekend trips on Lake Michigan and on waterways in Illinois, Wisconsin and Michigan. Membership is $12.50.
Also in the Chicago area, Prairie State Canoeists offers dozens of day and weekend trips on rivers in northern Illinois and southern Wisconsin, plus northern Wisconsin, Michigan, Iowa and Indiana. A family membership is $20.
For other clubs, see the list at Paddling.net.
Hiking clubs
Forest Trails Hiking Club, Chicago area : This club, founded in 1942, holds weekend day hikes in northeast Illinois and beyond, typically of 10 to 12 miles.
NorthStar Trail Travelers, Minnesota : Part of the American Volkssport Association, it holds hikes in Minnesota state parks.
Dairyland Walkers, Madison area : This club is a chapter of the American Volkssport Association and holds hikes in and around Wisconsin.
Wisconsin Go Hiking Club, Milwaukee area : This club plans four hikes a week in southeast Wisconsin and beyond.
Trail associations
In Wisconsin, the Ice Age Trail Alliance coordinates the many local chapters that maintain and hold hikes along the 1,000-mile trail from the St. Croix River and Lake Michigan.
On Minnesota's North Shore, the Superior Hiking Trail Association maintains the trail along Lake Superior, between Duluth and the Canadian border, and hosts hikes year-round.
In Minnesota canoe country, the Border Route Trail Association maintains the 65-mile trail that loosely follows the Canadian border, connecting to the Kekekabic Trail in the west and the Superior Hiking Trail in the east.
The Michigan-based North Country Trail Association coordinates the chapters that are building this trail from Montana to New York.
Many of the stretches developed so far are in northern Wisconsin, the Upper Peninsula of Michigan and along the eastern shore of Lake Michigan.
Last updated on November 20, 2019