For football fans, a preview
Watching is free and festive at training camps for Vikings, Packers and Bears.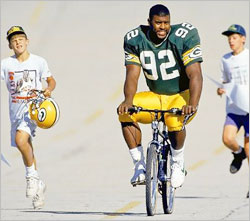 From late July through August, die-hard football fans can get a head start on the season.
If you're wondering how the Vikings, Packers or Bears will do this year, you can get a preview by watching the players gear up for the season at training camps.
Make a day of it, because all of the camps offer festivities, games of skill, fan giveaways and autograph sessions for kids. Admission is free.
Here are the highlights.
Green Bay Packers in Green Bay, Wis.: The Packers, whose camp Sports Illustrated calls one of the best and most fan-friendly (kids bring bikes that players ride, often toting the kids, to the field), practice across from Lambeau Field.
Special events include Family Night. Fans also can tour Lambeau Field and the Packers Hall of Fame. The complex is in the middle of Green Bay, at Lombardi Avenue and South Oneida Street.
Fans also can follow the Packer Heritage Trail and visit Heritage Plaza.
For more about visiting Green Bay, see Packer country.
Minnesota Vikings in Eagan, Minn.: The Vikings will hold practices at their training center in this suburb south of St. Paul.
Daily fan attendance is capped; fans can reserve four free tickets for a maximum of two days. Parking is $10 in advance, or $20 at camp.
There's a Kids Zone and a daily autograph session for youths. At the Vikings House, fans can buy team souvenirs, food and beer and play video games.
The center is just south of Interstate 494 off Minnesota 149/Dodd Road.
Chicago Bears in Bourbonnais, Ill.: The Bears will hold practices on the campus of Olivet Navarene University, about an hour south of Chicago.
At Family Fest, they'll practice at Soldier Field in Chicago. There will be games, music, giveaways and a fireworks show after practice.
Other special events include Kids Day/Run With Staley, Vamos Bears Dia, Ladies Day, Bears Blue & Orange Friday, Armed Forces Day and Youth Football Day.
Kids can play games in the Kids Zone and visit the mascot at Staley's Corner. On many days, they can get a pass for autograph sessions.