Packer country
Like Oz, Green Bay glows green and gold.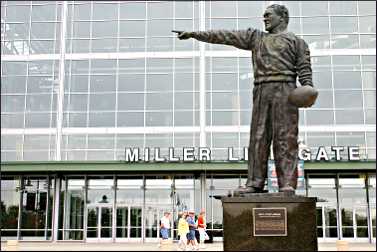 The man with the big, Dentyne smile and Marlboro voice slammed his fist into his palm.
"Okay, here's the game plan," he bellowed. "No. 1! You WILL see Lambeau Field. You WILL see the press box. You WILL see the executive skyboxes. You WILL sit in the club seats and see a video.
"So where are you all from? How many of you are not Packer fans? Ma'am, you have my condolences. The rest of this group, we know the Packers are the best team in the NFL this year.
"OK now!" he shouted. "Gene and I have fine-tuned this tram. When it hears the words 'Go Pack Go' it'll turn over, but it can't just be 'Go Pack Go.' It has to be . . ."
"GO PACK GO!" we screamed.
The indomitable spirits of Curly Lambeau and Vince Lombardi were at full force in Grant Turner, who should have been portraying coaches in Hollywood but instead was leading tours of Green Bay's Lambeau Field after retiring from — what else? — coaching high-school football.
Green Bay, Wis., is not just the home of the Packers, it's the throne of the Packers. The city motto is a double-entendre: "We Know How to Play."
The Pack is in the supermarkets, the schools, the bars and, especially, on the pages of the Green Bay Press-Gazette, in whose newsroom the team was organized in 1919.
"Green Bay would survive without the Packers," associate editor Tom Perry mused in one column. ". . . Green Bay would continue to exist without the Packers about the way a junkie continues to exist on skid row."
Green Bay is not much bigger than some big-city suburbs. But it's the oldest city in Wisconsin and occupies a choice spot, at the foot of Lake Michigan's Green Bay and around the mouth of the Fox River.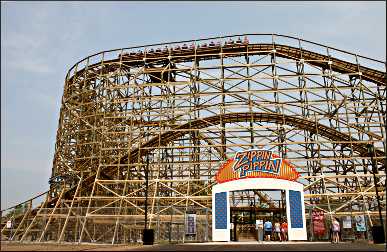 It was a base for fur traders in the 17th century and later became a thoroughfare for industrialists.
For tourists, it's the gateway to the northwoods and to the Door Peninsula.
Those who spend time in Green Bay itself will find a modest but pleasant town with a college campus and restaurants, craft breweries and shops springing up in the old port, railroad and tavern districts.
It has bona-fide attractions: the National Railroad Museum, the Neville Public Museum, Weidner Center for the Performing Arts and one of Wisconsin's favorite family destinations, the old-fashioned Bay Beach Amusement Park, where most rides cost 25 or 50 cents.
But mainly, Green Bay is Titletown USA. That refers to the Packers, who have won more national championships than any other NFL team. But townsfolk have claimed a title of their own — Best Fans in the NFL.
The proof is in the numbers. Tickets to games in Lambeau Field have been sold out since 1960, and there are more than 100,000 names on the waiting list. That's about the population of Green Bay, where TVs everywhere, even in supermarkets, tune in on game days.
In fact, more people own the Packers than can go to games. The team, publicly owned since 1923, increased its shareholders to 111,031 during a 1997-98 offering of $200 shares.
They don't appreciate in value or pay dividends, and they can't be sold. But each one is a piece of the Packers, and they were snapped up by people in all 50 states.
We had more fun with numbers after Coach Grant delivered us to the big, green sheet-metal doughnut of Lambeau Field and turned us over to another guide, Sara. How much did the Packers pay to join the NFL in 1921? $50. How much does it cost to buy an NFL franchise today? At least $1 billion.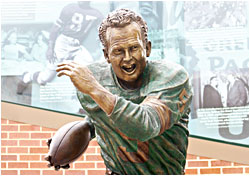 When Sara found out some of us were from Minnesota, she held out her bare fist. "What's this?" she asked. "It's a Vikings Super Bowl ring! Ha! They don't have one!"
A tour of Lambeau Field is fascinating for its window into Packermania. And the Green Bay Packers Hall of Fame is a window into the team that inspired it.
Colorful exhibits tell the story of the team, first sponsored by a meat-packing company. Founder and pioneering coach Curly Lambeau led it to four of its  national championships, 1929-31 and 1944, but it's Vince Lombardi's famous gap-toothed grin that is seen everywhere.
His tenure, between 1959 and 1967, is considered the glory years, during which he led the Packers to five national titles, including the first two Super Bowls. The highly quotable Lombardi is best known for his motto "Winning isn't everything; it's the only thing."
But it was his never-say-die spirit — "You are never beaten, time just runs out on you" — that made him patron saint of Packers fans, who endured a long dry spell until quarterback Brett Favre led the team to a Super Bowl victory after the 1996 season.
The Favre era ended after the 2007 season, and quarterback Aaron Rodgers led the Pack to another Super Bowl victory after the 2010 season.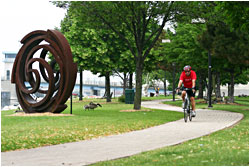 There's much more in the museum — Vince Lombardi's office, a replica of the team locker room, greatest-games highlights and enough trivia and statistics to keep a Packers fan supplied with bar talk year-round.
But only one number is really important, and it's the envy of every other city with a major sports franchise.
And that's the odds that the Packers will leave Green Bay. The answer is a big, fat 0, because no shareholder can own more than 4.2 percent of the team, and if it ever were to be sold, profits would be turned over to charity.
To the townsfolk, all other numbers are just gravy.
Trip Tips: Exploring Green Bay, Wisconsin
Getting there: It's two hours north of Milwaukee.
Annual events: March, Artigras arts festival. May, Green Bay Marathon. July 4, Fire Over the Fox. July, Restaurant Week. Late July-August, Packers training camp. Late August, Artstreet.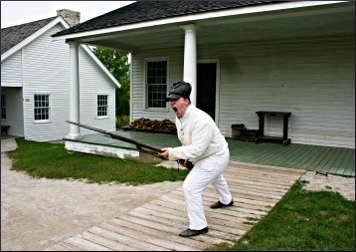 Packers Hall of Fame: The museum at Lambeau Field features two stories and nine galleries. Admission is $18, $12 for youths 14-17 and $9 for children 6-13.
Lambeau Field Tours: They're offered year-round.
Training camp: The Packers, whose camp Sports Illustrated calls one of the best and most fan-friendly (kids bring bikes that players ride, often toting the kids, to the field), practice across from Lambeau Field in August.
The Tundra Tailgate Zone, in the stadium's parking lot, features autograph sessions for kids, music, comedy shows, skills games and jersey giveaways. The complex is in the middle of Green Bay, at Lombardi Avenue and South Oneida Street.
Packers Heritage Trail: Follow a trail of 22 plaques at significant sites around town, including City Stadium, Curly Lambeau's birthplace home and Heritage Plaza downtown at Cherry and Washington streets. Pick up a map at the Neville Museum.
Bay Beach Amusement Park: It's open weekends in May and daily from Memorial Day weekend to Labor Day, then weekends only through September. To get there, turn off I-43 at Webster Avenue and head north.
Fox River cruises: The River Tyme riverboat offers public cruises from De Pere.
Heritage Hill State Historical Park: This 50-acre living-history museum on the banks of the Fox River includes a frontier fort, a fur trader's cabin, and many historic town and farm buildings.
It offers many concerts, theatrical productions and special events. Admission is $10, $8 for children 3-15.
Neville Public Museum: Permanent exhibits at this museum of art, science and history include "Hometown Advantage: The Community and the Packers," with seven short videos.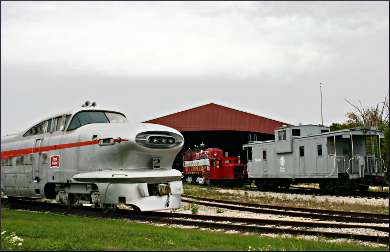 It's on the west side of the Fox River, near the U.S. 141 bridge. Admission is $9, $6 for children 3-15.
Weidner Center for the Performing Arts: It hosts touring shows, nationally known performers and the Green Bay Symphony Orchestra. It's on the campus of the University of Wisconsin-Green Bay, on the bay shore east of town.
National Railroad Museum: This 33-acre complex on the Fox River is open year-round. Admission is $10, $7.50 for children 3-12, plus $2 for a 25-minute ride on a vintage train, May through September and October weekends.
Children's Museum of Green Bay: There's a climb-through digestive system, a climb-up Mighty Oak, a fire house with truck, a 1950s diner and a Water Gallery with sailboat, lighthouse and beach. Admission is $8.
Accommodations: Lodge Kohler is next to Lambeau Field and has a spa, lap pool and rooftop bar. 855-395-7638.
The Tundra Lodge is just down the street from Lambeau Field and has a 30,000-square-foot indoor water park. 877-886-3725.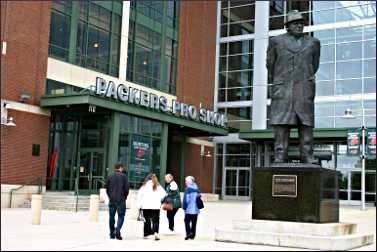 Not far from Lambeau Field, the Bay Motel on Military Avenue is a mom-and-pop with simple but pleasant rooms. Guests get an AAA discount as well as a discount at the attached family restaurant. 888-775-7590.
Downtown, the Hotel Northland, across the river from the Neville Public Museum, is a newly restored 1924 grand hotel.
St. Brendan's Inn, on the Fox River in the downtown historic district, is an Irish boutique hotel with 28 rooms, a restaurant and a pub that often has live music. A patio faces the river. 866-604-7474.
The 1888 Astor House B&B is five blocks from downtown and has five rooms, four with whirlpool and fireplace. 888-303-6370.
In neighboring DePere, Apple Creek Campground rents out a yurt and sleeping cabins. There's a heated swimming pool, playground, pond and ball courts. 920-532-4386.
Dining: Green Bay now has a big selection of excellent places to eat.
Craft beer: There are quite a few breweries with taprooms, including Stillmank, Badger State, Noble Roots, Copper State, Titletown, Zambaldi and Hinterland.
Information: Green Bay tourism, 888-867-3342.
Last updated on February 9, 2022