Troll-hunting in Mount Horeb
A little town near Madison wins friends with a mix of old and new attractions.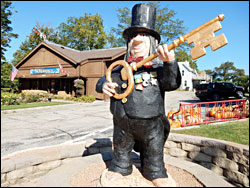 In Mount Horeb, Wis., trolls are revered, not reviled.
The little town west of Madison calls itself the Troll Capital of the World, for its many mascots — most wooden, but one live — and Norse traditions.
It doesn't have the medieval Norwegian stave church that has been the town's pride and joy since 1937. The ornate wooden building has gone back to Orkdal, Norway, whose residents built it for the 1893 Columbian Exposition in Chicago and have reassembled it as an attraction for Orkdal.
Many of the original trolls also have retreated, having turned black with age. But new ones are appearing, along with new wineries, galleries and artisan farms.
Today, Mount Horeb is a 21st century town for 21st century tastes.
Little Norway, the picturesque open-air heritage museum that included a replica stavkirke from Norway, has closed. But it's not the only attraction that has made Mount Horeb, just half an hour from Madison, a favorite getaway.
The 40-mile Military Ridge State Trail goes through town, connecting the Madison suburb of Fitchburg to Dodgeville. Just west of Mount Horeb, it skirts Blue Mound State Park, a magnet for its observation towers and swimming pool.
The bike trail uses a former rail corridor and is fairly flat. But Blue Mound is the highest point in southern Wisconsin, on the edge of the Driftless Area.
The country roads south of the park would have been the cycling course for the 2016 Olympics, if Chicago had won its bid.
Bicyclists tear up and down them every June on the Horribly Hilly Hundreds bike tour, "the toughest one-day challenge ride in the Midwest." Despite the difficulty — it's been called a "sufferfest" — it's so popular that it fills by lottery.
The tiny village of Blue Mounds was the first settlement in Dane County, and in 1939, descendants of its first settler made an astonishing find: caverns cut by underground streams.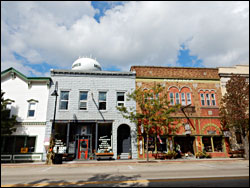 Today, Cave of the Mounds is open every day, taking visitors through winding passageways to see fanciful stalactites and stalagmites, including 17-foot Onyx Ridge, on which ancient rivulets created the veiled-lady effect used by marble sculptors.
Artisan dairies, orchards and farms also are tucked into the valleys around Mount Horeb and Blue Mounds, supplying farm-to-table restaurants and weekly food baskets, or CSA shares, to people in Madison.
South of town, Campo di Bella raises heritage pigs and lamb and grows grapes for its own wine, which it serves at the farm-to-table dinners it hosts throughout the year. Its wine bar is open on weekends so visitors can sample them with Italian appetizers.
Along Main Street, Mount Horeb's brick storefronts are filled with shops and galleries.
Sjölinds Chocolate House is a treasure trove of European goodness, all homemade: chocolate-dipped Lebkuchen, the German gingerbread; Finnish pies, filled with beef and vegetables; French macarons; rusk, the Norwegian biscotti; and Swedish potato sausage and meatballs, served with limpa bread and lingonberries.
Artisan Woods Gallery occupies the 1898 opera house, and owner Guy Gibson says he tripled his business when he moved from Madison. His most popular item now are lightweight clasp purses made of exotic woods.
"This is a great place to be," he says. "We get people from all over the country."
The best-known stops in Mount Horeb have been around for a while. Grumpy Troll Brewpub, housed in a 1916 creamery on a side street, was in the vanguard of the craft-beer movement when it opened in 1998. It's still packed every night.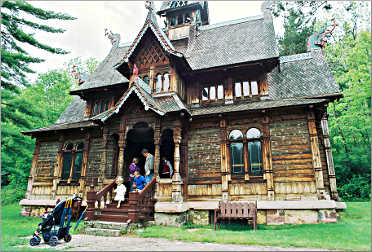 And Open House Imports, selling fine Scandinavian imports out of a Victorian house since 1966, still is delighting visitors.
One day in fall, Kathy Tapken of Creston, Iowa, was combing through its maze of rooms.
"I've never seen so many trolls in my life," she said, as she bought two indoor trolls to add to her yard gnomes. At Olson's Christmas House next door, she bought an Irish Santa figure.
"We love these old towns, where you can poke around at your own speed," said her husband, John.
It was Open House that put the first trolls on its lawn in 1976. Now it also has a stabbur, a replica of the raised, top-heavy wooden storehouses built in Norway since the Middle Ages.
Once, the whole town got together to stage Edvard Grieg's operetta "Song of Norway," said Carol Johnson of the welcome center. But it "took up everybody's summer," she said, and no one has that kind of time any more.
But there are still plenty of folks who appreciate Norwegian traditions. They learn rosemaling, the distinctive Norwegian painting style, or they take one of the Norwegian baking classes offered by the Sons of Norway.
And at festivals — Scandihoovian Fest in winter and Thirsty Troll beer fest in September &mdash they love to pose with the real-life Jorgen the Troll.
"It's been a long time since we had many Norwegians in town," Johnson said. "But that's still our heritage."
Trip Tips: Mount Horeb, Wisconsin
Getting there: It's half an hour west of Madison off U.S. 151.
2023 events: Feb. 10-12, Scandihoovian Winter Festival. June 2-4, Spring Art Tour. June 8-11, Summer Frolic. July 15-16, Art Fair. September, Thirsty Troll Brew Fest.
Cave of the Mounds: One-tour guided tours are given daily year-round. Cost is $21.99, $12.99 for children 4-12. In October, it offers Hollow-een tours.
Bicycling: The crushed-limestone Military Ridge State Trail connects Dodgeville and Fitchburg, where it connects with the Capital City State Trail.
The Horribly Hilly Hundreds tour in June, a fundraiser for Friends of Blue Mound State Park, is very popular.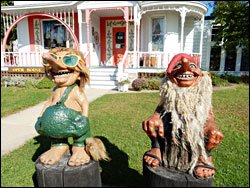 Blue Mound State Park: The park includes more than 20 miles of hiking, mountain-biking and ski trails. In the winter, it hosts popular candlelight skis.
It has bike-in campsites as well as a family campground and a cabin for people with disabilities. A swimming pool and splash pad are open from Memorial Day to Labor Day.
Shopping: Open House Imports has an excellent selection of Scandinavian gifts.
The Bargain Nook is a resale store that carries a large proportion of Lands' End catalog returns. Deals include cashmere sweaters, swimsuits and shoes.
Wineries: In the countryside, Campo di Bello wine bar is open weekends, and the farm also hosts frequent dinners.
Near Barneveld, Botham Vineyards is open for tastings from Wednesday through Sunday from April through Christmas.
Dining: Sjölinds Chocolate House serves soup, sandwiches, salads and quiche as well as delectable homemade pastries, cakes, cookies and chocolates.
The Grumpy Troll Brew Pub is a popular place to eat, and you can get 4-ounce samples of its beers.
Bistro 101 serves a seasonal menu of produce and meat largely sourced from nearby farms.
Accommodations: The Prairie School Clarence Gonstead Guest Cottage, part of the home of a chiropractic pioneer, was built in 1952 by an architect who worked under Frank Lloyd Wright. It's four blocks south of Main Street.
The Sunniva Inn is a 1903 Victorian B&B with four rooms.
On the east edge of town, The Little Village motel has 12 rooms.
In the countryside south of Blue Mounds, Prevailing Winds Lodge has five guest rooms.
Information: Mount Horeb tourism, 888-765-5929.
Last updated on November 18, 2021