Bazaar on the prairie
To see the world, just head north to multicultural Winnipeg.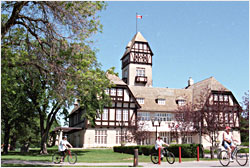 On a single day in Winnipeg, a tourist can learn a few words of Cree, dine on curry and conch, and come face to face with Queen Victoria.
The empire on which the sun never sets has come to the Canadian prairie, and so have a whole lot of other countries.
The Cree and Assiniboine-Aboriginals, they're called here-came first. Then a French explorer arrived at the juncture of the Red and Assiniboine rivers, and a Scottish lord brought in Scottish and Irish settlers.
In the 1870s and 1880s, immigrants from Eastern Europe poured in, followed in the next century by Asians, East Indians and Caribs.
French is as visible as English; it's printed on every cereal box, handbill and street sign. There are bilingual Ukrainian schools as well as French ones, and Hebrew is taught as well as Spanish and German.
Naturally, this is the place to find great ethnic cuisine.
The gelati is the best outside New York or San Francisco and is scooped by Italians who made it themselves. Pierogies are sauteed in butter and served with horseradish-laced sour cream; Ukrainian has no word for "low-fat."
In short, they're the real thing.
"In Canada, it's very important to the ethnic groups to not lose their identities," says Sylvia Todaschuk, who runs a Ukrainian gift shop and is on the board of the ethnic festival Folklorama. "Canada is not a melting pot; that's an American term. You'll never hear 'melting pot' from a Canadian."
In July, the renowned Winnipeg Folk Festival brings in musicians from around the world. In August, Folklorama taps local citizenry for one of the biggest ethnic festivals in North America.
Over two weeks, 20,000 volunteers from 45 ethnic groups dance, sing, demonstrate crafts and prepare the specialties of their countries at pavilions all over the city.
But the city's polyglot character can be seen any time of the year. Todaschuk says all 45 cultures-Korean, Filipino, Hungarian, Paraguayan, Belgian, Portuguese, Aboriginal-are represented on the eight-block stretch of Selkirk Avenue around her shop, the starting point of walking tours.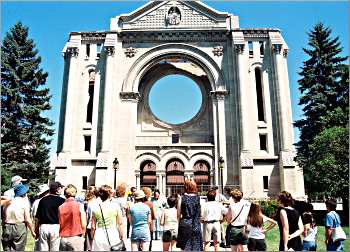 "We're a very huge ethnic city," she says. "For a small city, we're not lacking for anything."
The French, who had their foot in the door first, are most ferocious about keeping their culture. They have a platform in the theatrical walking tour "In Riel's Footsteps," held in the cemetery of St. Boniface Cathedral, in the French quarter.
Offered regularly in summer, it brings French-speaking heroes to life -especially the still-controversial Louis Riel, who championed the rights of the original French-Aboriginal residents and is known as the father of Manitoba.
"Louis Riel was a proud leader of the Metis," an actress portraying teacher Angelique Nolin proclaims. "If it weren't for him, there wouldn't be any Francophones left in Manitoba."
St. Boniface Cathedral, with stone ruins framing a newer church, is just across the Red River from the Forks National Historic Site, the rendezvous point for Winnipeggers.
This is the spot to which Pierre de la Verendrye walked in 1737 and built a small fur post; it was a run-down rail terminal until 1989, when shops and a European-style market opened in the old rail buildings.
Now, the Forks is the city's hub in summer, when locals waste no time making up for the long, raw winters. Performers set up at "busk stops," water taxis troll the river and people stroll along shaded walkways.
From the Explore Manitoba Centre, Parks Canada sends out costumed interpreters who talk about early days, when life turned, often tragically, on decisions made by Hudson Bay and government officials far to the east.
But winter also exacted a price. In the 1870s and 1880s, when immigrants had just arrived to work the land, temperatures sank to record lows that still stand.
"They went through unbelievable hardships while trying to survive," said guide Everett Olson on a "Beaver Tales and River Trails" walk.
Assiniboine Park, just beyond Little Italy along Corydon Avenue, is another summer hub. Free concerts are held in the Leo Mol Sculpture Garden and at the Lyric Theatre bandshell.
Bicycle paths weave around the imposing, 1930 Tudor-style Pavilion, a zoo, a golf course, a conservatory and the English Gardens, ruled by a stone Queen Victoria.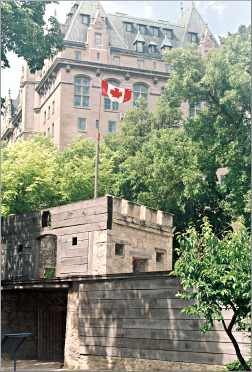 On the hottest days, the crowds head north, to the long, white-sand beaches on vast Lake Winnipeg, the sixth-largest lake in Canada, and to Lake Manitoba, to the west.
Life is much cushier around Winnipeg these days. And for visitors from the United States, it's a quick way to circle the globe without getting on a plane.
Trip Tips: Winnipeg
Getting there : You'll need a passport. Children also need notarized consent from parents if they're traveling with friends or relatives. Check requirements at travel.state.gov.
At the Manitoba welcome center, pick up a city map and the current Where Winnipeg and other guides. It's also a handy place to exchange money.
Winnipeg Folk Festival : It's four days over the second weekend in July in Birds Hill Provincial Park, where many people camp either in the Quiet Campground or the Festival Campground.
Tickets are considerably cheaper if bought by May 31. The event is very family-friendly, with children's activities and excellent ethnic-food stands.
Folklorama : It's the first two weeks of August, held in pavilions around the city.
Other events : February, Festival du Voyageur, western Canada's largest winter festival. March-April, Festival of Fools at the Forks.
June, Jazz Winnipeg Festival and International Children's Festival. July, North America's second-largest Fringe Festival. September, Manitoba Dragon Boat Festival at the Forks. October, Irish Festival at Canadian Mennonite University.
Tours : " In Riel's Footsteps " is held at St. Boniface Cathedral in July and August, 204-233-8343 or 866-808-8338, Tourisme Riel. Walking tours of the Selkirk Avenue cultural mosaic are held Tuesday through Saturday from May through August, 204-586-3445.
Walking tours of the downtown Exchange District are held daily.
Accommodations : Reserve in advance for summer weekends.
The boutique Inn at the Forks is right at the Forks, at the confluence of the Red and Assiniboine rivers, and includes a spa and bistro. 877-377-4100.
The 1913 Hotel Fort Garry, is next to downtown and The Forks, has nice rooms and is surprisingly reasonable, 800-665-8088.
Dining : The Forks serves some of everything-pierogies, sushi, souvlaki, samosas-at unbeatable prices.
Corydon Avenue has many Italian and continental restaurants, most with patios, and don't pass up the gelati at GG's and Nucci.  For dim sum, try Kum Koon Garden and other restaurants on Chinatown's King Street. For pierogi, try Mom's Perogy Factory at Jefferson and Sinclair (or a church fundraiser, if you can find one).
For a step back into the 1950s, try the huge burgers at Mrs. Mike's, on Tache Avenue off St. Mary's Road, and the ice-cream treats at the Bridge Drive-In on Jubilee Ave., between Pembina Highway and Osborne Street (Route 62). It's next to a pedestrian trestle bridge over the Assiniboine.
Assiniboine Park : In summer, there are many free concerts and plays in the park's Leo Mol Sculpture Gardens and outdoor Lyric Theatre.
Information : Winnipeg tourism, 855-734-2489.
Last updated on August 16, 2018