Still fighting the Civil War
At historic sites, battle reenactments turn history into flesh and blood.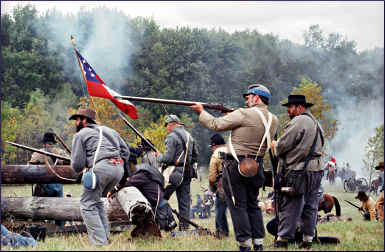 After more than 150 years, the Civil War still inflames imaginations. What was life really like then, at home and on the battlefield?
You can find out at the annual encampments hosted by historic sites, where reenactors offer artillery drills, medical demonstrations and shopping at Sutlers' Row, where vendors sell period goods.
Many feature appearances by President Lincoln and include period balls, concerts and church services.
But some encampments also include battle reenactments, which give spectators an incredible opportunity to see history in all its sound and fury.
Some feature thundering cavalry and dozens of cannons; others are more intimate, with affecting human dramas woven into the smoke of battle.
The states farther north were spared the carnage at home. But everyone suffered, and Civil War encampments at historic sites in Illinois, Iowa, Wisconsin, Minnesota and Michigan bring the war home to modern-day spectators.
Here are many of the Upper Midwest's best Civil War events with battle reenactments.
April, Grant's Home Front and Reenactment in Galena, Ill. This event in Ulysses S. Grant's hometown includes battle re-enactments plus a Sanitary Fair, bazaar and living-history stations.
June, Civil War Experience in Elgin, Ill. At the Elgin History Museum, there are Union and Confederate encampments, a medical operation and old-fashioned baseball as well as skirmishes.
June, Civil War Reenactment in Green Bay, Wis. On the Fox River, Heritage Hill State Historical Park is transformed into a battleground, this year for the battles of 1865. There's a battle each day, and youths can become a soldier for part of the day.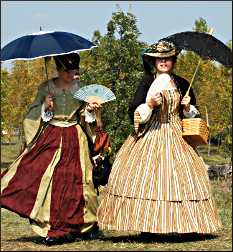 July, Civil War Encampment and Battle in Menomonee Falls, Wis. This event at Old Falls Village features Lincoln's Gettysburg Address, a soldier encampment with medical and cooking demonstrations and storytelling.
General Grant narrates the Battle of Cedar Run, 2 p.m. both days.
August, Galesburg Heritage Days in Galesburg, Ill . This living-history festival in Lake Storey Park includes a Civil War component with two battle reenactments, appearances by President Lincoln and a sutlers' row, military ball and pie and cake auction.
August, Civil War Muster in Jackson, Mich . There's a live-music festival and sutlers' row, and the 5th Michigan Volunteer Infantry reenactors stage battles.
September, Civil War Muster in Holland, Mich. The Holland Museum's Van Raalte Farm Muster will reenact a battle.
There also will be re-enactments of the Lincoln-Douglas debate, medical scenarios, a fashion show and period church services.
October, Civil War Experience at Norskedalen near Coon Valley, Wis. The skirmishes on this atmospheric pioneer homestead in the coulees southeast of La Crosse, Wis., don't have horses, but they feature living-history actors whose performances can leave onlookers in tears.
For more, see Civil War, up close.
October, Shadows of the Blue and Gray in Princeton, Ill. The event in this town off I-80, half an hour west of Starved Rock State Park, includes battle re-enactments at 3 p.m. Saturday and 2 p.m. Sunday.
There will also be appearances by President and Mrs. Lincoln and General Grant as well as medical demonstrations and evening cannon fire.
October, Civil War Encampment and Battle in Hainesville, Ill. In this village west of Waukegan, reenactors will re-create the 1862 Battle of Shiloh, which will be narrated for spectators.
There will also be appearances by President Lincoln, Gen. Grant and village founder Elijah Haines, as well as food and period music. Admission is free.
Last updated on January 7, 2022