Lumberjacks and legends
Grand Rapids may not be the Emerald City, but its trees are green, and its lakes glitter.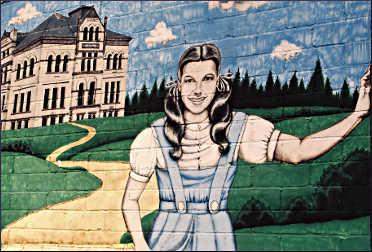 In northern Minnesota, the logging town of Grand Rapids has produced many legends: prize lumberjacks, such as Gunnysack Pete and Tamarack Joe, but also an adorable little girl who became famous for her ruby slippers.
Loggers came first, and that era is re-created on the edge of town, on the wooded grounds of Forest History Center. On a summer day there, it may feel 80 degrees and sunny, but really it's a freezing day in December 1900.
Miss Minnie the "cookee," or cook's assistant, is showing us around the logging camp under the baleful glare of her boss, Miss Rebecca. We walk by a giant rut cutter, used to make grooves in the ice roads for the logging sleighs.
We visit Miss Nettie in the clerk's cabin, where loggers buy socks and long johns: "They don't take them off all winter. If they go in the hospital with a serious injury, sometimes the nurses have to shave them off; the hair just grows right through them."
We visit Miss Rebecca, who hands out freshly baked sourdough biscuits. Miss Rebecca is a very important person here: "Men choose a camp based on the kind of cook it's got. If the cook's a belly-robber, they won't stay very long."
We visit the bunkhouse and Oscar the bull cook, whose job includes waking up the men: "Daylight in the swamp!" he shouts, demonstrating.
Then he breaks character a bit: "It's been 100 years since daylight came through those trees, and it's our job to cut them down. It's actually not a very good idea, but we think it is."
The Minnesota Historical Society's reconstructed camp is a remnant of the days when magnificent pines blanketed northern Minnesota.
That is, until men with such names as Weyerhaeuser and Pillsbury put up 300-man camps like this one to clear-cut timber. A year or two later, they'd move on.
The second part of the story is told at the end of a forest path, on a channel of the Mississippi. There, it's May 1901, the second month of a log drive, and a bargelike shack called a wanigan has moored for the night.
Inside, cooks provide for the 30 "river pigs" who dance with cleated boots on 130,000 floating logs, positioning them with pike poles or, failing that, dynamite.
Today, lumber — aspen, mostly — still rolls through this town of 8,000, on trucks headed for the downtown paper mill of UPM Blandin, Grand Rapids' largest employer.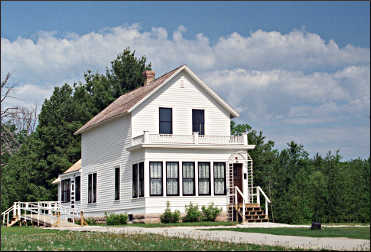 Grand Rapids is surrounded by lakes, as well as forests, and it's also part of the Iron Range. But its true lot in life, it seems, is to keep legends alive.
Along with the lumberjacks, a 4-year-old named Frances Gumm left her mark on the town before her family moved to California in 1926.
Baby Gumm, who loved the spotlight so much her father had to carry her off the stage after her debut singing "Jingle Bells," became Judy Garland.
Two permanent sites allow fans to immerse themselves in Judy lore any time.
In the Old Central School downtown, above two floors of shops and a restaurant, the Judy Garland exhibit at the Itasca Historical Museum proves that the star, who can hardly be expected to remember a state she left at age 4, was at least a good sport.
Three times, she posed for photos showing her reading copies of home-state newspapers, and she was quoted in a 1960 interview saying, "I do know that is the only time I ever saw my mother and father happy, you know, in that wonderful town . . . for such a mixed-up life later, it started out beautifully."
The star's white-frame childhood home has come to rest on donated land just south of town, having been uprooted three times.
There's a gift shop in back, selling snow globes and miniatures of the famous ruby slippers that were stolen from the museum in August 2005 and finally recovered in 2018.
At her birthplace, the emphasis is more on Baby Gumm, the darling toddler, and Dorothy, the terrific teen-ager, than on Judy, the sad star who married five times, became addicted to the benzedrine "happy pills" the studio provided to help her lose weight and, at 47, died of an overdose of sleeping pills.
For years, many in the town looked askance at the troubled star. Fans, however, remain as avid as ever.
They stream in from around the world for the annual Wizard of Oz Festival, trading memorabilia and listening raptly to presentations by historians and those who knew her.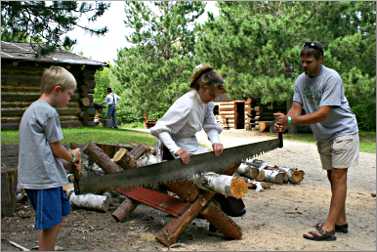 Bicyclists also beat a path to Grand Rapids, the western trailhead of the Mesabi Trail. Grand Rapids is known as a paper-mill town, but it's also the westernmost part of the Iron Range.
From the Itasca County Fairgrounds, where locals gather on summer evenings to watch stock-car races, a 75-mile stretch of the paved trail winds past lovely mine-pit lakes, wetlands and all the towns and attractions of the Iron Range.
Grand Rapids also is the southernmost point on the Edge of the Wilderness scenic route, the first in Minnesota to be named a National Scenic Byway.
From the paper mill, it winds 47 miles northward, past pristine forests, undeveloped lakes and the occasional quiet village.
The Lind-Greenway Mine, which closed in 1976, is marked by the first of many interpretive displays along this ribbon of asphalt, which locals called "Highway Loop-de-Loop."
Others mark a black spruce and tamarack bog and the birch stand at Pughole Lake, a good place to slip in a canoe.
Suomi Hills was the site of a Civilian Conservation Corps work camp in 1933 and, a decade later, a prisoner of war camp. Named by its earliest settlers — Suomi is Finnish for "homeland" — it's now a Chippewa National Forest recreation area, known for its 21 miles of challenging ski trails.
Farther north, over the Laurentian Divide, a wooden river pig stands with hook in hand outside Bigfork's city hall. Just to the east is Scenic State Park, one of Minnesota's most overlooked parks.
Effie is at the end of the route. It's known for its annual rodeo — and its giant mosquito.
Trip Trips: Grand Rapids in northern Minnesota
Getting there: It's about 3½ hours north of the Twin Cities.
2023 events: July 4, Fireworks over Pokegama Lake. July, Wild Rice Festival in nearby Deer River. July, North Star Stampede rodeo in Effie. Aug. 4-6, Tall Timber Days. Aug. 5, Mesabi Trail Tour.
Forest History Center: It's two miles southwest of town, and interpretive programs are offered daily from mid-June through Labor Day. The Visitor Center is open weekdays the rest of the year. Admission is $10 adults, $6 children 6-17.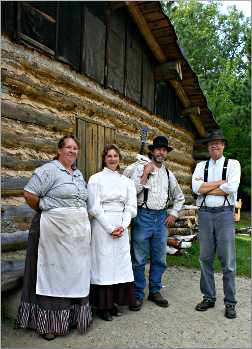 Judy Garland Museum: It's open daily from Memorial Day through September, Friday and Saturday only October through April, then Monday-Saturday in May. Admission is $12, $8 children under 12; $15 including Children's Discovery Museum.
Mesabi Trail: The fairgrounds on the northern edge of Grand Rapids is the western trailhead of this paved trail. The eight miles from Grand Rapids to Coleraine are very scenic.
For a trail map, call 877-637-2241. A Wheel Pass, $5 for two days and $15 annually, can be bought from local businesses and visitor centers.
For more, see Rolling through the Iron Range.
Accommodations: The TimberLake Lodge is a hotel and conference center with a handsome Arts & Crafts design, not on a lake but just off the U.S. 169 strip south of downtown. Family suites have kitchens, and there's a pool complex with two water slides. 218-326-2600.
Sugar Lake Lodge, 15 minutes southwest of town, is a full-service resort with lodge suites, townhouses, lakefront cottages and lake homes. There's a heated outdoor pool and 18-hole championship golf course. 800-450-4555.
Hotel Rapids, formerly the Budget Host, is on the edge of downtown. 218-326-3457.
Dining: For fine dining, try the 17th Street Grill at TimberLake Lodge or Sugar Lake Lodge.
Rapids Brewing occupies the former Rialto Theater downtown and serves wood-fired pizza and small plates. It has an outdoor patio with a fire pit. Just off Minnesota 169 south of downtown, Klockow Brewing hosts food trucks.
Downtown, Brewed Awakenings serves homemade soups, sandwiches and specials.
On Lake Pokegama off U.S. 169, Zorbaz on the Lake is a casual spot with a long deck lined with picnic tables that overlook the water and sand-volleyball courts. It serves pizza and Mexican food. 218-326-1006.
Mountain biking: The GRIMBA association supports trails
Golf: The 18-hole Pokegama Golf Course just south of town is open to the public, 218-326-3444.
Nightlife: The Reif Performing Arts Center brings in touring acts and hosts performances year-round, 218-327-5780.
Edge of the Wilderness National Scenic Byway: It's 47 miles on Minnesota 38 between Grand Rapids and Effie.
Information: Grand Rapids tourism, 800-355-9740.
Last updated on January 24, 2022