Posse on the prairie
In Madelia, the Jesse James Gang met its match — again.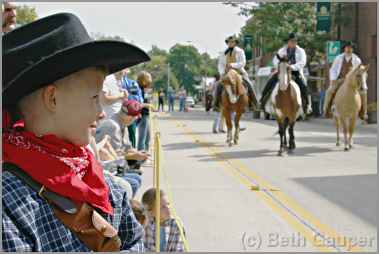 In September 1876, a vicious gang of outlaws came up against some ordinary Minnesotans.
The outlaws came out on the short end. Twice.
The Civil War ended more than a decade before the James-Younger Gang rode into Minnesota. But it was far from over in Missouri, devastated by guerrilla warfare and still simmering with resentment.
Jesse and Frank James had been Confederate bushwhackers there, and they came to Northfield to rob First National Bank.
It wasn't just any bank: It held the wealth of Union Gen. Benjamin Butler, renowned for filching Confederate silver and one of the most hated men in the South, and his son-in-law Adelbert Ames, a Union commander during the war who had just been impeached as governor of Mississippi.
"Minnesota was a good place to vacation and do a little banking at the end of a gun," said Madelia history buff Les Johnson.
But the raid quickly went wrong. A former Union sharpshooter and an expert hunter were standing near the bank, and they grabbed rifles.
In a few minutes, outlaws Clell Miller and William Stiles were dead. Bob Younger, Cole Younger and Charlie Pitts were wounded, and they fled with Jim Younger and the James brothers.
Hunting the outlaws
A massive manhunt was launched, and Frank and Jesse James left the others and eventually reached safety in Missouri. But the wounded Youngers and Pitts had to move more slowly.
After two weeks, they still were in western Minnesota when, stopping at a farm to buy food, they were recognized by the farmer's teen-age son.
The boy rode to Madelia and alerted townsfolk, who organized a posse and cornered the men in a slough of the Watonwan River. A shootout ensued.
Northfield has been celebrating the thwarted bank raid since 1948, when it started Defeat of Jesse James Days.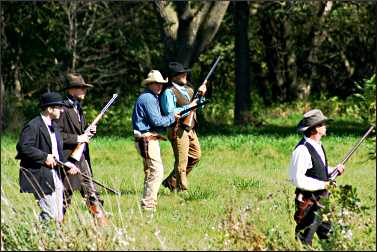 It's become one of the biggest and best festivals in Minnesota, with volunteers staging several re-enactments daily outside the original bank building and a long list of events that include a rodeo, carnival, parade, bike tour and arts fair.
The farming town of Madelia, pop. 2,340, is much smaller and off the beaten path. But in 1997, it also began to celebrate its role in the legendary raid.
I've seen Northfield's re-enactments many times and always get a big kick out of them for the same reason the events of 1876 captivated the nation: It was drama of the highest order.
Madelia also stages re-enactments during its Younger Brothers Capture festival, and one year, my friend Karen and I went to see them.
When we arrived in the town, women in plumed hats and men with guns swinging from holsters were strolling past its tidy brick storefronts.
At noon, eight men in long linen dusters — in 1876, the bad guys wore white — began riding slowly down Main Street. In Madelia, the locals stage a typical robbery, like those the James brothers had been committing for a decade, from Iowa to West Virginia.
But it's similar to the Northfield raid, where one of the outlaws stood guard, shoving away a nosy local who then cried "Get your guns, boys, they're robbing the bank."
And as in Northfield, the Madelia outlaws escape on horseback, amid smoking guns and the thunder of hooves.
Out at the slough
Madelia takes up its own story in a second re-enactment, in which townspeople have surrounded the four outlaws in a slough and a posse of seven men goes in to get them. Of course, the posse is called "the Magnificent Seven."
"My husband coined that, and it's stuck nationwide now," said Rosie Macbeth of Mankato, whose late husband, Rex, was the longtime narrator. "This was his baby."
Rosie Macbeth, dressed as an 1870s lady, was taking tickets for the school bus that took us to the capture site, seven miles into the countryside. There was a festive atmosphere, and a spunky 7-year-old belted out the national anthem.
Lonesome Ron Affolter, King of the Valley Yodelers, took up his guitar for a spirited set of cowboy songs, and then narrator Les Johnson took up the microphone.
The outlaws, he said, had taken the train into southern Minnesota, likely at the suggestion of William Stiles, also known as William Chadwell, who had grown up near Faribault.
They bought horses and checked out banks, he said, and on Sept. 4, they stayed at the Flanders Hotel in Madelia, where Jesse James got change for a $50 bill. But there were too many people on the street, watching construction.
So the gang decided to visit Northfield, home of the hated Ames, who owned the mill that became Malt-O-Meal.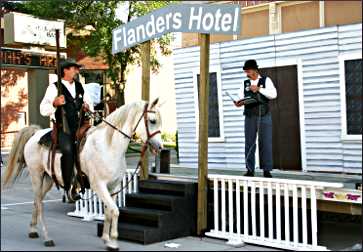 "They decided to take their money out of the bank," Johnson said. "The boys were well-dressed, they looked proper, and they could pick up a conversation with anybody. Still, it went wrong."
As he spoke, re-enactors took their places in the meadow behind him, and shooting erupted. Pitts stood up and shot Sheriff James Glispin, then was shot dead himself.
Rex Macbeth memorialized his death in his poem "Ode to Charlie Pitts": "And it took five hits to kill Charlie Pitts, down in Hanska Slough."
Back to town
The third part of the re-enactment was back in Madelia. The badly wounded Youngers arrived in a hay wagon, barely upright on wood stumps. Pitts was laid out on a cart, his shirt stained red.
On arrival at the wooden facade of the Flanders Hotel, one of the Youngers wanted tobacco, and Oscar Sorbel, the boy who turned them in, went to get him a half-cent plug.
"The Youngers are amazed by how well-treated they are," Johnson said. "They're sure they're going to get hung at the scene. But they're fed, clothed, guarded well and put up in the hotel."
At the end, one of the Youngers rose and gave an epilogue. All three were sentenced to life imprisonment at the state prison in Stillwater, where Bob Younger died of tuberculosis.
Cole and Jim were paroled in 1901; Jim committed suicide in 1903, but Cole started a Wild West touring show with Frank James and lived until 1916.
Two Minnesota towns had accomplished in two weeks what the Pinkerton National Detective Agency had been unable to do in two years, while losing two agents to the murderous gang.
"I always tell people, we spotted them, we shot 'em up and we captured 'em in an eight-hour time period," Les Johnson said. "They robbed Missouri for over 10 years. Then they came to Minnesota. They came up in August, and Sept. 7 was the day they messed up."
Trip Tips: Madelia, Minnesota
Getting there: It's about two hours southwest of the Twin Cities.
Younger Brothers Capture: It's the second Saturday after Labor Day. Admission is free.
People who wear period costumes can join local re-enactors on Main Street.
Jesse James in Northfield: For more about the raid on Northfield, and Defeat of Jesse James Days, see Feisty Northfield.
Information: Madelia tourism, 888-941-7283.
Last updated on December 28, 2017