Pike on the prowl
For better or worse, America's first emissary on the Upper Mississippi set history into motion.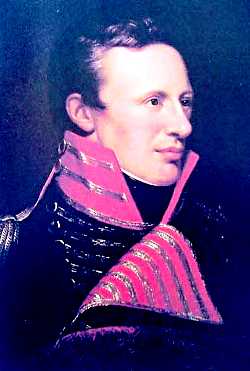 In 1805, while Lewis and Clark were making history on the Missouri River, another explorer was heading up the Mississippi.
Sent by a general who was a double agent for Spain, 26-year-old Lt. Zebulon Pike was assigned to find sites for forts, determine the source of the Mississippi, make peace between warring tribes and stop unlicensed British trade on land just acquired by the Americans.
He did find a fort site on 500-foot bluffs in Iowa, but it was scrapped for a more practical site across the river in Prairie du Chien, Wis.
He found the site that became Fort Snelling, though it already was well known to traders. He identified Leech Lake, rather than Itasca, as the source of the Mississippi.
He blithely mistreated both his men and their British hosts, and his whirlwind visit had little effect on the warring Dakota and Ojibwe. After he was gone, they and the British carried on business as usual.
"He's no Lewis and Clark, I always say," said National Park Service ranger David Wiggins. "Sometimes, I call him the B-squad Lewis and Clark."
No one claims Zebulon Pike was a great man. But historically, his journals are important.
And as the first U.S. representative to set foot in Minnesota, Pike was a harbinger of what was to come.
"What got started then is still playing out now," Wiggins said. "It's also a fun story. It's not a tragedy; it's a comedy in a lot of ways."
Pretensions to greatness
Unlike Lewis and Clark, Pike wasn't on a voyage of discovery. The French and British had been trading on the Upper Mississippi for more than a century, and Pike had been preceded by Father Louis Hennepin and Jonathan Carver, both of whom wrote accounts of their travels that were widely read in America and Europe.
On Aug. 9, 1805, Pike started from St. Louis with a crew of 20 and a 70-foot keelboat that was just like Lewis and Clark's but wholly unsuitable for the shallow Mississippi.
"He liked being anointed into the ranks of Lewis and Clark," Wiggins said. "He was a puffed-up little popinjay who had all these pretensions to greatness."
They headed upriver, dragging the keelboat over sandbars. Pike waited for no one; near Muscatine, Iowa, he abandoned two soldiers who had volunteered to look for his lost dogs.
It was only with the help of a Scottish trader and a Fox chief that the men caught up to Pike eight days later in Dubuque, Iowa.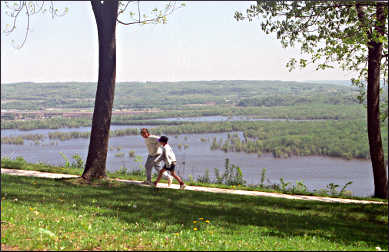 At Prairie du Chien, he traded the keelboat for barges. He recommended a fort be built on bluffs across the river, at what is now Pikes Peak State Park near McGregor, Iowa, but the fort was built instead on the flats of Prairie du Chien, a fur-trade hub for more than 50 years.
Just upriver, at the same spot where Black Hawk's band would be slaughtered by the cannons of a federal war boat 27 years later, Pike met the influential Dakota chief Wabasha, who gave him a ceremonial pipe to smooth his way among bands upriver.
St. Paul storyteller Duke Addicks speculated that Scottish trader James Aird put in a good word for Pike; it was one of numerous favors granted to Pike by those who stood to gain nothing under U.S. ownership.
"Had Pike not bumped into Aird, his trip would've been all different," said Addicks, who has portrayed Aird in historical presentations. "Though why he helped him, I don't know."
On Sugarloaf bluff in Winona, Minn., Pike makes a rare comment on the scenery — "a prospect so variegated and romantic that a man may scarcely expect to enjoy such a one but twice or thrice in the course of his life."
In Maiden Rock, Wis., he hears the familiar legend of the woman who throws herself off a rock rather than marry a man she doesn't love, and remarks, "A wonderful display of sentiment in a savage!"
Land for liquor
On Sept. 21, Pike arrived at the island that now bears his name. Right at the junction of two river highways, the Mississippi and Minnesota, it lay beneath a stone promontory that was a natural site for a fort.
The island now is part of Fort Snelling State Park. It was there that, two days after arriving, Pike met with seven Dakota chiefs and got two of them to sign a treaty that gave him much of modern-day Minneapolis and St. Paul.
"Pike got 100,000 acres worth $200,000 for $200 in trade goods and no money, and then he gave 'em some liquor," said park naturalist Linda Radimecky.
Pike left the payment amount blank because he had no authority to spend government money. Three years later, the government paid $2,000 — to traders who said the Dakota owed them.
"By the time it got squared away, the Dakota got 60 gallons of liquor," Radimecky said. "It was the first of many treaties — treaties made, treaties broken; treaties made, treaties broken. You can't blame Zebulon, but he did make the first treaty."
When Col. Henry Leavenworth and the 5th Infantry finally showed up in 1819 to build the fort, the local Dakota had no idea they had sold their homeland to the man who had breezed through 14 years earlier.
"It's almost like giving away the keys to the city," said Jon Kerr, a St. Paul history buff whose play, "Pike's Pique: 200 Years and Still Not Lewis and Clark," premiered during the bicentennial.
"They gave him the keys, but they didn't expect him to think he owned the city," Kerr said.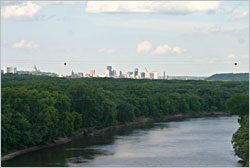 Recklessly brave
Pike was famous for fits of pique as well as peaks. The day after the treaty signing, Pike found his flag missing and had a tantrum, beating one of his soldiers in front of the Dakota.
The following day, Little Crow came to tell Pike his flag had been found floating 15 miles downstream, then had two young men deliver it to Pike and his men as they traveled to the Falls of St. Anthony.
It took three days to get the boats around the falls, and Pike drove his men so hard that seven became ill and the rest dropped from exhaustion.
By the time the party neared Little Falls, Minn., having had to stop repeatedly to drag the boats over rapids, unload them and fix leaks, Pike's sergeant was vomiting blood.
On Oct. 16, with temperatures dropping and snow falling, Pike set the men to work building a stockade and making dugout canoes.
"Here they are in canoe country, and the Ojibwe make the best (birchbark) canoes on the planet," said ranger Wiggins. "So, he has his men make a dugout canoe, and it sinks immediately with all his stuff, and his special black gunpowder gets wet. He orders his men to dry it out on trays over the fire, and, of course, it explodes and burns up his tent."
History buff Kerr likens the young officer to the buffoonish Frank Burns character in the television series "MASH." But National Park Service historian John Anfinson says Pike's imperious behavior was typical in military officers of his day, and Pike was no Frank Burns.
"Definitely not," Anfinson says. "Frank Burns would have wimped out long before. Pike had the stamina of an ox."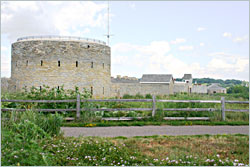 He was an prodigious hunter, often single-handedly supplying his men with meat, and he could cover many miles every day, even with bleeding feet. After he left half his men in Little Falls and traveled north to Leech Lake, he was recklessly brave, often ignoring the warnings of his Indian interpreter.
"How he survived, I have no idea," Anfinson said.
With the help of the British trader from Sandy Lake, he found Leech Lake and the North West Co. fur post there.
After 10 days of enjoying the hospitality of its British proprietor, at one point borrowing his clothes because his own legs were so swollen, Pike repaid him by hoisting the U.S. flag and having his men shoot down the Union Jack.
Nevertheless, the trader later accompanied him to another post and gave Pike a guide, snowshoes for all his men and a sleigh and two sled dogs for Pike himself.
"What I don't understand is why they didn't shoot Pike and be done with it, because he was so in their face about it, with so few men," Anfinson says.
Amazingly, Pike made it back to St. Louis with all his men. Soon, Gen. James Wilkinson ordered him on another expedition into the Southwest, where Pike again endangered his men's lives through negligence and, on a whim, tried but failed to climb a Colorado mountain that later was named for him.
Pike was captured by the Spanish, likely on purpose, and turned out to be an observant spy, but his career was tainted when his mentor, Wilkinson — "one of history's worst scoundrels," according to the National Park Service — was tried for conspiracy with former Vice President Aaron Burr.
Pike's career rebounded with the advent of the War of 1812, for which he was made a brigadier general.
In 1813, he died in an explosion set by the British in modern-day Toronto. The Americans then burned the town, for which the British retaliated in 1814 by burning the White House and U.S. Capitol.
Pike became a hero, with various counties and towns around the nation named for him; in 1817, the first steamboat to arrive in St. Louis was the Pike.
Then, he was nearly forgotten, except by history buffs. Naturally, they have opinions about this pompous, by-the-book teetotaler who is said to have hidden in the bushes as a young officer to catch his men drinking and ran roughshod over everyone he met.
But what really fascinates them is how the brief appearance of one inexperienced young lieutenant in 1805 shaped the future of an entire state.
"It's a big story," Anfinson says. "It doesn't have to be Lewis and Clark to be important."
Last updated on December 1, 2020