Destination: Stockholm
Once the promised land, a Lake Pepin village now is a favorite day trip.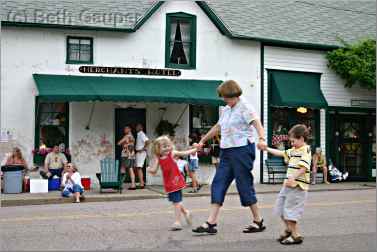 Once, people went through hell to get to Stockholm, Wis.
It's different nowadays. It's only a joy ride away from the Twin Cities, and the streets of this pretty hamlet on Lake Pepin are lined with sports cars and motorcycles on weekends.
There are shops, galleries and inns; it's the place to go for a room with a view or vroom with a brew.
In 1854, this bit of land at the foot of the Mississippi bluffs was the destination of more than 200 emigrants from the impoverished village of Bjurtjärn, Sweden. Promised "paradise on earth," they instead endured cholera, deprivation and betrayal.
Once, the locals assumed all the immigrants who left had made it to Stockholm. Then, the Bjurtjärn Theatre Group showed up in town with their historical play "Off to America: They Sold Their Homesteads."
Speaking dialogue in English and singing in Swedish, they told the engrossing story of how Stockholm really was founded, based on a 19th-century article in a Swedish newspaper and their own research.
In rural Sweden, farmhand Petter Pettersson had read news of the Gold Rush. In 1849, he left for America with his brothers Erik and Anders, who felt oppressed not just by poverty but also by rigid social classes enforced by a tyrannical pastor, district judge and constable.
Petter and Anders went to California, but Erik worked as a lumberjack on the Mississippi, where he found a town site on Lake Pepin.
He wrote home to the oldest brother, Jakob, and not long after Jakob had left for America, Erik returned to Sweden to recruit colonists with tales of free land and "soil rich like butter."
In 1854, he left Bjurtjärn with more than 200 people, from the richest landowner to the wife of the town drunk, who had her husband declared "incapacitated" so she could leave without him.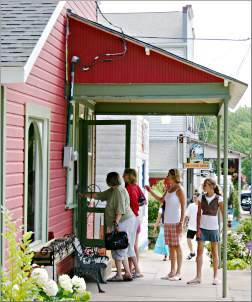 But Erik was a scoundrel. He pocketed their money and put them into the cheapest ship's quarters, where many became ill; on the train west, he packed them into cattle cars.
A third of the villagers died, including his own mother, whom he pretended not to know so he could avoid paying for her funeral.
Others decamped in Moline, Ill., after sending a sheriff to retrieve some of their money, and the man who became known as the "King of Stockholm" arrived with only 30 colonists.
A Swedish-Wisconsin connection
Many of Jakob's descendants were in the audience, including Sally Meixner of Stockholm.
"I was surprised they remembered us," she said. "There must be all kinds of stories that are passed on."
Jakob Pettersson and his small party also encountered adversity on the way over.
The captain of their ship died, and his inexperienced son took over, ramming the boat into an iceberg before veering south to the tropics; in Moline, Ill., the Petterssons' daughter died.
In Stockholm, Jakob became Jacob Peterson and, with his wife, Sara, a daughter of the feared district judge, lived in a log cabin for 15 years.
In 1869, he built a two-story stone cottage modeled after a painting of Sara's childhood home. Today, the painting hangs in the town museum.
Once, 300 people lived in Stockholm. They farmed and ran stores but also brewed lemon beer, bred kosher carp and dredged for clams used in buttons, eking out a living any way they could.
But the town site was more pretty than practical, and there was no way for the town to grow.
It had virtually withered away by the time artistic types from the Twin Cities found it and in 1980 opened the first gallery, followed by antiques and gifts shops and a cafe.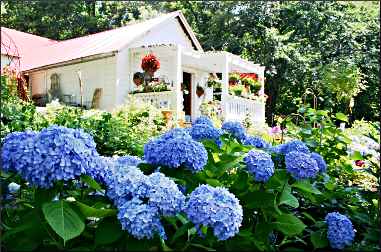 New life as a shopping destination
Now, nearly all the businesses have turned over, and a new generation of shopkeepers is operating in Stockholm.
Shops occupy the old opera house/general store, featuring the work of local artists, such as Gaylord Schanilec's prints, Mary Logue's hooked rugs, Perry Ingli's paintings and Lucy Elliott's shrines.
"It's unbelievable, the talent in this little tiny place," says longtime shop owner Alan Nugent. "The premier talents in certain fields are located right here in Stockholm."
But what customers want most, he says, are pieces that portray bluffs, river scenes, barns-anything that looks like Stockholm.
"They want a piece of this place," he says. "There's something magical down here, and people respond to it. You hear about people who go down for a weekend visit and come back with a house."
The people who are attracted by Stockholm's beauty tend to sow more beauty.
Many of the hollyhocks and lilies  in gardens up and down the river come from Stockholm Gardens, whose proprietors sell a wide selection of plants and maintain a glorious perennial garden.
In the tiny downtown, the contents of shops have changed, but little else. The whitewash still is peeling on the limestone facade of the 1864 Merchants' Hotel building, which has housed a variety of inns.
Trains still thunder by next to the old house that houses an artisan collective. Birds nest under the sidewalk overhang of Northern Oak Amish furniture, in an old farm-implements store that's still heated by a wood-burning stove.
Around the corner, Nancy Fitzsimons and daughter Shana Finnegan operate The Palate in a bungalow where they hold cooking classes and sell kitchenware, wine and gourmet food.
Finnegan bustles around her countertop, preparing tasty morsels to offer customers. She grew up in Stockholm, she said, and inherited a love of entertaining from her Swedish grandmother.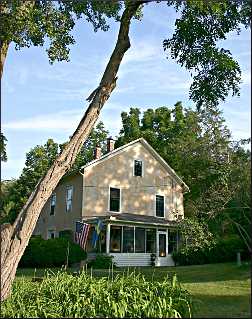 Every July, the village of 97 is flooded with people looking for beautiful things during the annual Stockholm Art Fair in Village Park. It's the biggest day of the year in the town.
Visitors listen to music, snack on ice cream or pie and shop their hearts out. For a break, they sit on the benches along Spring Street and watch the world go by.
For the first settlers, Stockholm was home but hardly the paradise on earth they'd been promised. To day-trippers, though, it's close enough.
Trip Tips: Stockholm, Wisconsin
Getting there: It's 1½ hours from the Twin Cities. If you drive via Prescott, stop to check out the Great River Road Visitor and Learning Center on Wisconsin 35 south of town, overlooking the confluence of the Mississippi and St. Croix rivers.
When to go: On Thursdays and Fridays in summer, nearly all the shops and restaurants are open, but there's less motorcycle traffic on the River Road.
A few shops close for a day early in the week, but most are open daily through October, then weekends through Christmas; they close for winter and reopen for weekends in March.
Non-motorcyclists may want to avoid the April and November benefit Flood Runs, when thousands of bikers circle Lake Pepin.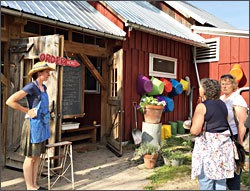 Events: July, Stockholm Art Fair. October, Fall Fresh Art Tour.
Accommodations: There are several whole-house rentals along the river. If you think the trains will bother you, bring earplugs.
There's camping in Stockholm's Village Park, right on Lake Pepin. It's first-come, first-served. There are toilets but no showers and no sewage station for RVs.
Dining: On Spring Street, Hop Dish & Vine is a gastropub that serves salads, sandwiches and burgers made from locally sourced ingredients.
Right on the River Road, Humble Moon Saloon serves burgers and daily specials, plus a wide selection of drinks.
The Stockholm Pie & General Store Company serves dessert pies made from scratch and also pot pies and quiche. In the general store, pick up cheeses and Wisconsin wines and beers.
Tuesday night is Pizza Night at A to Z Produce & Bakery in the bluffs above Stockholm, where Ted Fisher and Robbi Bannen create pizzas with farm vegetables and meats and bake them in wood-fired brick ovens.  Bring your own drinks, napkins and plates for a picnic.
They're held the first and third Tuesday; check to see if reservations are required. The farm is at N2956 Anker Lane, 715-448-4802.
For more about dining in the area, see A spin around Lake Pepin.
In Pepin, the Harbor View Cafe in Pepin is very popular, but evening diners should get there by 4:45 p.m. to avoid a long wait; the restaurant does not take reservations, 715-442-3893. For dining al fresco, the Pickle Factory has a deck and a view of Lake Pepin.
Nightlife: Check the calendar of WideSpot Performing Arts Center on Spring Street. It often offers concerts by folk and roots musicians.
Cooking classes: The Palate offers cooking classes with local chefs.  Call 715-442-6400 to register.
Information: West Coast of Wisconsin.
Last updated on February 1, 2022