Exploring Chippewa Falls
Leinenkugel's brewery, the Old Abe bike trail and the Chippewa River draw tourists to this Wisconsin town.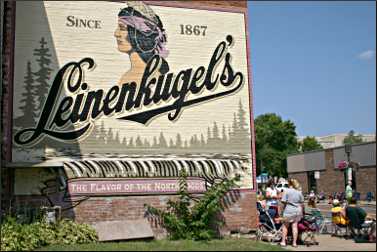 In Chippewa Falls, people owe a debt to two kinds of folks: the bubbas and the geeks.
The first came to harvest the lumber and stayed to drink the beer, or so claims the brewery: "It takes a special beer to attract 2,500 men to a town with no women," says Jacob Leinenkugel Brewing, founded in 1867 and now the oldest business in town.
Then came the guys with slide rules. Seymour Cray, the son of the city engineer, spent his childhood in Chippewa Falls tinkering with radios, then went off to war and college.
Cray co-founded Control Data in the Twin Cities but in 1962 returned to Chippewa Falls, where he opened a lab, putting the locals to work on the world's first supercomputer.
Most of Cray Research moved in 1989 to Colorado, where Seymour Cray died after a 1996 car accident.
The Leinenkugels still run the brewery but sold it in 1988 to Miller, which merged with South African Breweries in 2002 to become the global corporation SABMiller, now part of InBev, the world's largest brewing company.
But Chippewa Falls claims them both. A complete collection of Cray's groundbreaking computers is enshrined at its Museum of Industry & Technology. And Leinenkugel is more popular than ever, with a fun Leinie Lodge and a huge fan club.
Today, this western Wisconsin town happily pays tribute to the past.
The pure water of Chippewa Springs still is bottled and sent around the country, as it has been since early settler and Congressman Thaddeus Pound, grandfather of poet Ezra Pound, decided it had restored his health.
Sokup's Market, established in 1891, still is owned by Sokups, who still deliver groceries. Olson's still is making its Homaid ice cream daily, as it has since 1923.
The town was among the first to fix up its ornate turn-of-the-century buildings, placing its commercial district on the National Register of Historic Places.
Up on the bluff, it turned a 1907 neoclassical Catholic high school into the gleaming Heyde Center for the Arts.
Nationally, people have noticed. In 1996, the National Trust for Historic Preservation gave it one of its first Great American Main Street awards.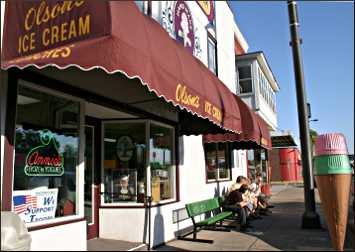 In 2000, the National Trust made it one of its first Dozen Distinctive Destinations.
Hollywood thinks Chippewa Falls is pretty cute, too, making it the hometown of Annie Hall in the 1977 Woody Allen movie and of Jack Dawson in 1997's "Titanic."
Visitors may find it a little sleepy. At Foreign 5 gift shop on Bridge Street, flip through the pages of "It's a Small Town If . . ." and you'll recognize Chippewa Falls: "If Sunday is what Sunday was (closed)" and "If visitors are always asking, 'What's there to do around here, anyhow?' "
Quite a lot — if you know where to go. One September, my husband and I went there to ride on the 20-mile Old Abe State Trail.
From the point at which the Chippewa River balloons into Lake Wissota, we rode the paved trail north, passing a llama farm and yellowing cornfields on our way to Jim Falls, where we saw a 10½-foot statue of a bald eagle.
Old Abe was only a few months old when he was traded by an Ojibwe man to a Jim Falls farmer, who sold him to Company C of the Eighth Wisconsin as it was preparing to leave for the Civil War.
Old Abe served as mascot in 42 battles and after the war received his own room and caretaker at the State Capitol. He was in demand at national events; one of his last appearances before his 1881 death was alongside former President U.S. Grant.
From Jim Falls, the trail travels between river and slough, where we spotted a great blue heron; on a wooden bridge, two couples were grilling hamburgers and fishing for smallmouth bass.
We passed the 1906 steel truss bridge at Cobban and soon saw the 175-foot pulpwood stacker above Mill Yard Park in Cornell, whose founder, Ezra Cornell, plumbed its natural resources to endow Cornell University in New York.
Then we rode back to Lake Wissota. If we'd had a canoe, we could have paddled to our room at the Inn on Lake Wissota, a contemporary inn nearby.
Our room had a view of the lake and sliding glass doors that opened onto a deck; in the morning, our breakfast was delivered on a tray, which we ate on the deck.
Then we went hiking in the Chippewa Moraine at the Ice Age Interpretive Center, 15 miles west of Cornell, and when we returned, we drove over to see the state park on Lake Wissota, created by and named for the Wisconsin-Minnesota Power and Light Company.
After its dam was completed, Chippewa Falls called itself "The Power City."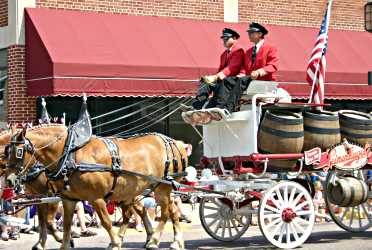 By the time we finally got downtown, it was already 4 p.m. on a Saturday. The town was pretty much rolled up except for Olson's, where we sampled the Homaid pistachio nut and tiramisu ice creams, and old-fashioned Irvine Park, where we looked at the bison and elk behind chain-link fencing.
It was busier the next time we visited, in August for Pure Water Days. At Sokup's, we bought a still-warm tripleberry pie from Connell's Orchard.
At the Museum of Industry & Technology, Teresa Simpson showed us Seymour Cray's first, refrigerator-sized computer, made in 1960 with thousands of rejected Tandy transistors that he fixed himself.
The legendary genius did all his math on a slide rule, Simpson said, and his designs with a No. 3 Ticonderoga pencil and graph paper.
"It was pretty crazy, but it had to start somewhere," she said.
We missed the last tour of Leinenkugel Brewery, which didn't stop the nice folks at Leinie Lodge from pouring me a free glass of Sunset Wheat at the crowded bar. The northwoods-style lodge now is the biggest visitor draw in the Chippewa Valley, which includes Eau Claire and Menomonie.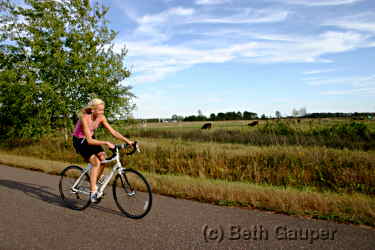 It turns out people really like to drink free beer, sit chatting in leather furniture around a stone fireplace and shop for Leinie-themed soaps, salamis, sweatshirts, Christmas ornaments and picture frames.
Across Jefferson Avenue, we drove into Irvine Park to see the trompe l'oeil facade for the concrete bear den, created during a three-day workfest by traditional sign-painters led by local artist Kurt Gaber.
Downtown, on both sides of narrow Harmony Park, they've also painted a mural that follows Chippewa Falls history from the Ojibwe and the logging era to Leinenkugel, Mason Shoes and Seymour Cray.
Chippewa Falls isn't exactly cutting edge, but it's become expert at recognizing the value of the old as well as the new.
Few thought the abandoned 1907 school that's now the Heyde Center could be salvaged, said director Deb Johnson; the roof was falling in and it was full of pigeon poop.
But residents did it anyway, restoring the neoclassical hilltop building with 100,000 hours of volunteer labor.
"It's just incredible what people have done," Johnson said. "It's just beautiful. People walk in and you hear them go, 'Oh, man.' "
Johnson herself grew up in the area but moved to Honduras, returning to take the Chippewa Valley Cultural Association job.
"It was so nice coming back," she said. "There's such a sense of community, and the friendliness of the people, I'd just kind of forgot about it."
Around Chippewa Falls, long memories have served the town well.
Trip Tips: Chippewa Falls, Wisconsin
2023 events: May 12-14, The Past Passed Here, with a fur-trade and logging encampment. May 19-20, Springfest. June 22-24, Country Fest in nearby Cadott. July 13-15, Rock Fest in Cadott. Aug. 12, Pure Water Day Parade and Riverfest. Sept. 15-16, Oktoberfest.
Bicycling: The paved Old Abe State Trail runs 20 miles along the Chippewa River between Chippewa Falls and Cornell, with a one-mile city trail leading into Brunet Island State Park from Cornell.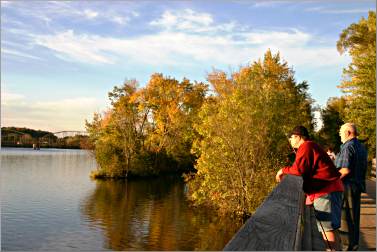 The southern trailhead is north of Chippewa Falls at the junction of county roads O and S, two miles west of Lake Wissota State Park.
For more, see A trail for Old Abe.
Spring Street Sports at 12 W. Spring Street rents bikes, 715-723-6616.
Leinenkugel brewery tours: Tours are given most days. The Legacy tour is $15, and there are also tours with the master brewer and with sixth-generation family member Matt Leinenkugel. The lodge is open before and after the tours.
To get there, follow Wisconsin 124, or Jefferson Avenue, through downtown.
Tubing: It's very pleasant to tube down the Chippewa River, especially on weekdays. Loopy's Bar off Wisconsin 29, west of town, rents tubes and shuttles guests upriver, 715-723-5667.
The biggest event of the year is FATFAR, the Frenchtown Tube Float & Regatta, in June.
Museum of Industry and Technology: It's at Grand and Rushman avenues. 715-720-9206.
Cook-Rutledge Mansion: Tours are given year-round.
Accommodations: Just north of downtown on Lake Wissota, Inn on Lake Wissota is well-located, walking distance from the start of the Old Abe State Trail. It's a contemporary home with five rooms, some with double whirlpools, fireplaces, sofa sleepers and/or lake views. 866-947-7682.
Glen Loch Inn, on Jefferson Avenue/Wisconsin 124 just north of town, has inexpensive rooms that include continental breakfast. 877-770-0705.
Treats: Olson's Ice Cream Parlor at Bridge and Willow is open daily. Across the street at Sokup's, pick up chocolates or one of Connell's excellent pies.
Shopping: People with hard-to-fit feet make a beeline for the Mason Shoe Outlet store. Most stores are closed Sundays.
Nightlife: The Heyde Center for the Arts schedules many concerts and plays.
Information: Chippewa Falls tourism, 715-723-0331.
Last updated on February 1, 2022