Prairie du Chien's past
A riverside estate provides a window into Victorian high society.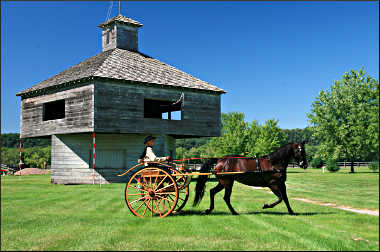 He was young and dashing, the son of Wisconsin's first millionaire, an Indian trader who became a country gentleman.
She was a beautiful debutante, daughter of a Fort Snelling general who was Custer's commander in South Dakota.
The pair loved art, horses and books; after they met in St. Paul and married, they honeymooned in Europe, where they commissioned an artist to cast their handsome faces in bronze.
H. Louis and Nina Sturgis Dousman were frontier nobility, the Kennedys of Prairie du Chien, where their home, Villa Louis, was a kind of Camelot on the river.
Today, the estate preserves the history of the family and also of Prairie du Chien, a town that three nations considered the center of trade on the Upper Mississippi and the site of Wisconsin's only War of 1812 battle.
This beautiful plain near the mouth of the Wisconsin River was first inhabited by prehistoric Indians and then by Winnebago, Sauk and Mesquakie Indians, one of whom had a name that translates as "dog," or chien in French.
It was claimed for France by Father Jacques Marquette and Louis Joliet in 1673, and the fur trade flourished there for the next 160 years, lastly under the banner of John Jacob Astor.
It was one of Astor's clerks who really pounced on the possibilities of the area after his arrival in 1826.
Hercules Dousman put fur-trade profits into steamboats, railroads, sawmills and land, amassing a fortune that he used to build a mansion on an ancient ceremonial mound left on St. Feriole Island.
It also was the site of old Fort Crawford, formerly Fort McKay, formerly Fort Shelby before the British took it in 1814.
The elder Dousman died in 1868, and his wife and son razed the house and built a cream-brick Italianate manse. This is what visitors see today, in a pastoral setting of duck ponds, weeping willows and an artesian fountain.
When we were there, our cosumed guide painted an intricate portrait of Victorian society as reflected through the Dousmans. We saw the bronze busts of Louis and Nina and oil paintings of their young children.
We saw their billiards table and photos of the teen-agers and their friends gathered around it. We saw the photo album of the grown-up Violet opened to the Sphinx in the Valley of Pharaohs, where she traveled.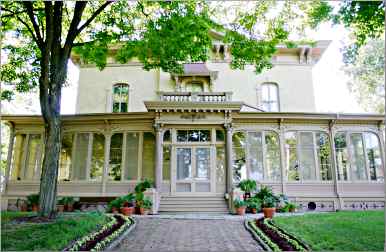 We saw, in fact, a houseful of possessions that are nearly all those of the Dousmans, reassembled in the 1930s by Violet and her sister Virginia, making Villa Louis (pronounced Lou-EE) one of the most authentically furnished Victorian houses in the nation.
To restore it, specialists were brought in from around the country; one re-created a popular Victorian painting technique that made lead pipes look like wood, and another came to analyze paint colors.
In England, William Morris archives were combed for the original wallpaper patterns, which were then custom-ordered along with new carpets.
In the parlor, original chairs were reupholstered with $300-per-yard red silk-satin fabric.
In the guest room, a settee, armchair and two side chairs, half of a suite for which Hercules Dousman paid $425 in the 1850s, got a $20,000 makeover with carefully reproduced $500-per-yard emerald-green silk brocatelle overlaid with cream linen.
But even more memorable than the gleaming fabrics and gilt mirrors are the reflected personalities of long-ago owners. Married in 1873 at the Cathedral of St. Paul, Louis and Nina soon had five children, who came of age alongside the Mississippi on the sprawling grounds of Villa Louis.
The house was properly elegant; Nina was acutely aware of her social standing. But enlarged photographs sprinkled around the house show a family that lived with gusto.
There's Violet playing pool, beating a man who was trying to court her. There are the children putting on a circus in the attic and, as young adults, playing charades with their friends on the veranda.
But life for the Dousmans included misfortune. The middle child, Nina, died at 14 when she refueled a hairstyling lamp while it was still lit. Louis died of appendicitis at age 37; his widow remarried but soon divorced, and the daughter from that match died of pneumonia at age 3.
But the other children grew up healthy, married and thrived; in 1934, the family transferred the estate to the city, and Violet and Virginia reassembled the old family possessions to furnish it.
"This is a lot more enjoyable than going to Hyde Park or the Vanderbilt house, because everything comes from here," said Kerry Franks of Arcadia, Wis., while taking a tour of Villa Louis. "The others are a lot more opulent, but if you've seen one, you've seen 'em all."
Prairie du Chien itself has not fared as well as the house. Its center moved across the slough after repeated flooding, and now the focus of this second-oldest town in Wisconsin, after Green Bay, is Wisconsin 35, which slices it in two.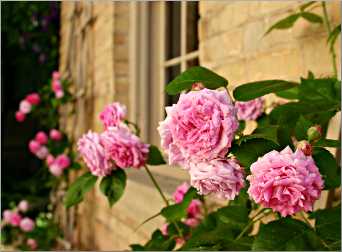 St. Feriole Island now is where the city celebrates, at the annual re-enactments of Wisconsin's only 1812 battle, the Prairie Dog Blues Festival and the Prairie Villa Rendezvous, a large encampment of fur trade-era re-enactors.
It's also the site of the Mississippi River Sculpture Park, where a bronze figure of Black Hawk marks the Sauk leader's surrender to future president Col. Zachary Taylor at Fort Crawford in 1832.
History is everywhere. From town, most tourists head south for Wyalusing State Park, if only to see the river valley from the 500-foot bluffs.
It's a splendid panorama that includes the islands and sloughs around the mouth of the Wisconsin River, where Marquette and Joliet first saw the Mississippi in 1673.
To the north at the foot of the Iowa bluffs, there's the town of Marquette, named for the French priest.
Across the river, there's the 500-foot bluff that Lt. Zebulon Pike chose for a fort on his 1805 expedition up the Mississippi. Today, it's Iowa's Pikes Peak State Park; the young lieutenant's superiors scrapped his site in favor of the Prairie du Chien's flats.
Ancient Indians already had chosen these bluffs. They left effigy mounds along Wyalusing's Sentinel Ridge and also on the bluffs north of Marquette, at what is now Effigy Mounds National Monument.
This dramatic landscape has exerted a magnetic pull on anyone who's laid eyes on it. From here, it's easy to see why.
Trip Tips: Prairie du Chien, Wisconsin
Getting there: It's across the Mississippi from Marquette, Iowa, and 100 miles west of Madison.
2023 events: June 15-18, Prairie Villa Rendezvous. July 27-29, Prairie Dog Blues Festival. Sept. 8-10, Villa Louis Carriage Classic.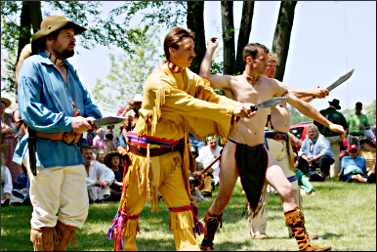 Villa Louis: It's open daily from May through October. Admission is $15 adults, $8 for children 5-12. 608-326-2721.
Wyalusing State Park: It's 10 miles south of town and has  22 miles of hiking trails, eight miles of mountain-biking trails and seven miles groomed for  cross-country-skiing.
There's an indoor group camp with four buildings that each accommodate 27 people, with indoor bathrooms and a separate kitchen; $6 per person with a $300 minimum, 608-996-2261.
Fort Crawford Museum: It's open from May through October and tells the stories of Prairie du Chien in 50 exhibits. Admission is $6, $3 for children under 12.
Shopping: There's a 40,000-square-foot Cabela's outdoors store on Wisconsin 35, with an 8,000-gallon aquarium for native Wisconsin fish.
Accommodations: The River District Hotel on Main Street near the river was an Americinn and now is independently operated. Rates include breakfast, and there's an indoor pool. Across the street, the Waterfront Hotel has views of the river and a restaurant, and a hot breakfast is included.
Next to Cabela's, the Country Inn & Suites includes the small Bear Foot Bay water park. Day passes may be available to non-guests.
A greater variety of lodgings and dining is available across the bridge in McGregor, Iowa.
For more, see Memorable McGregor.
Information: Prairie du Chien tourism, 800-732-1673.
Last updated on January 24, 2022