Welcome, darlings, to Ten Chimneys
When it was play time, the first couple of the theater headed for Wisconsin.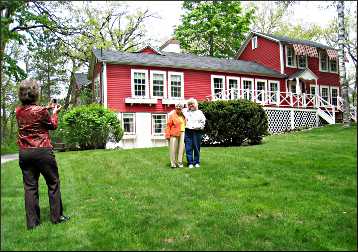 In a bucolic corner of southeast Wisconsin, a famous acting couple created a retreat unlike any other.
Throughout the first half of the 20th century, Milwaukee-born Alfred Lunt and his English wife, Lynn Fontanne, dominated the Broadway and London stage, where they were known as "the Fabulous Lunts."
They had so much star power they took only roles that allowed them to work together-and to spend summers at their beloved country house near the village of Genesee Depot.
They called it Ten Chimneys, and frequent visitors included Noel Coward, Laurence Olivier, Helen Hayes, Katharine Hepburn and Carol Channing, who cherished the invitations: "When you went to Ten Chimneys, it meant you must have done something right," she said
It wasn't a prestigious vacation area, like nearby Lake Geneva, nor did it have a panoramic view. It was just a patch of kettle moraine, with Yankee farmers for neighbors.
On it, they built a highly theatrical backdrop for their remarkable lives. Today, it's a National Historic Landmark and open for tours, which are fascinating.
Lunt and his family often had picnicked in the area, and in 1915, at age 23, he bought three acres and started building a house.
After he and Fontanne married, they turned the chicken coop into a cottage and added another 57 acres plus a pool and pool house, timber-frame studio and farm buildings, including a creamery and greenhouse.
"He had a place to tend his garden, literally and figuratively," said our white-gloved guide, Dan Cummings.
It wasn't ostentatious, but no one would mistake it for a typical Midwestern home. Every room was a stage set — literally, in the case of the Flirtation Room, a rehearsal space that has five entrances.
In the dining room, there's a majolica bust of a courtesan with one bare breast. Rooms glow from quantities of gilt, crystal and mirrors, two of them from Schönbrunn Palace in Vienna.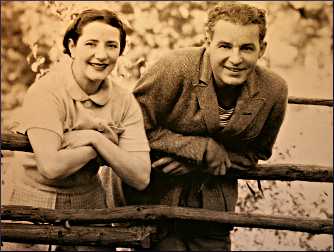 The walls and ceilings are covered with Swedish-primitive-rococo murals painted by their set-designer friend Claggett Wilson, who came to visit in 1938 and stayed for more than two years.
It became just the kind of house Fontanne wanted, as personal as a diary.
"I think living in a modern house all the rest of my life would be just like sitting nude forever in the center of a huge white dinner plate," she said.
All of the couple's mementos and favorite possessions remain in the house, and it's easy to imagine Lynn making a grand entrance and greeting guests with her habitual "Welcome, darlings."
The dining room is set for a dinner party, with Meissen china and chair cushions that Lynn embroidered with the signs of the Zodiac. The bons mots and double entendres must have flowed — Noël Coward, their best friend, wrote of five-hour dinner parties during which "we never drew breath."
The Lunts were legendary hosts. One room was just for Helen Hayes, who came to stay for a month at a time and called the Lunts "my idols." When a theater on Broadway was renamed the Lunt-Fontanne Theatre in 1958, she sent the couple a warm congratulatory note using the lyrics of Lerner and Loewe's "On the Street Where You Live," and it remains in the room.
Katharine Hepburn came and said, "Every time I was visiting the Lunts in Genesee Depot, I was in a sort of daze of wonder."
Alfred's mother lived in the red Swedish cottage, which they called the Hen House. Lunt, who had an eye for antiques, filled it with Swedish folk art and his own stencils and painting, including a grocery list in Swedish on the kitchen door (the word fisk he painted in red — perhaps his red herring).
New York Times theater critic Alexander Woollcott was a frequent guest there and had a birch grove planted outside the red cottage, saying it "needed more color."
The couple were frugal, even cheap. When British interior decorator Syrie Maugham wanted Lunt to buy a $4,000 wool carpet for one of her white bedrooms, he had a Milwaukee tannery make one of sheepskins for $70. Fontanne sewed her own gowns and the houses' curtains.
And yet they rejected a million-dollar Hollywood film contract, saying they "could be bought but not bored."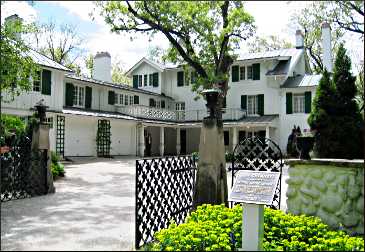 They both loved to putter around the estate. Lunt was "deliriously happy" making jelly, baking bread, weeding and splitting wood. Fontanne fished and tended the flower garden.
The attention they lavished on Ten Chimneys was an extension of their acting discipline. The Lunts became famous because, in large part, they worked harder than anyone else.
"Directing Lunt is a revelation," British director Peter Brook said. "You can't imagine the countless tiny details that Alfred puts into a performance. This may sound like finicky acting, but these painstaking details make up an enormous conception. It is like one of Seurat's pointillist paintings. Each little dot is not art, but the whole is magnificent."
Lunt died in 1977 and Fontanne — who never told her husband she was 4½ years older — in 1983 at age 95.
Lunt's family continued to care for the estate, but by 1996, Ten Chimneys was slated to be torn down and the land developed for condos. A Madison-area restaurateur and arts advocate sold his restaurant to save the estate and started the Ten Chimneys Foundation.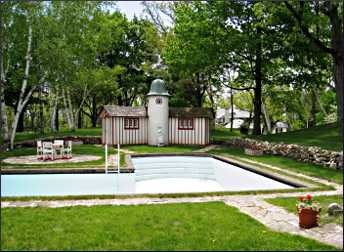 In 1998, it bought the estate from him and, after a $12.5 million restoration, opened it to the public in 2003.
Today, Ten Chimneys preserves a bygone era of theater history. They don't make 'em like that anymore — neither the house nor the couple.
Trip Tips: Ten Chimneys in southeast Wisconsin
Getting there: Ten Chimneys is in the village of Genesee Depot, half an hour west of Milwaukee.
Tours: They're given Tuesday through Saturday from mid-May to early December.
Admission is $28 for the 1½-hour main-house tour and $35 for the two-hour estate tour. Children under 12 are not allowed. Reserve at 262-968-4110.
Public programs: Play readings, music and conversations are held throughout the year.
Dining: In Genesee Depot, the Union House Restaurant, built in 1861 as a hotel, serves dinner Tuesdays through Saturdays.
Accommodations: In Eagle, the Eagle Centre House B&B is a replica of an 1846 stagecoach inn.
Nearby attractions: Ten Chimneys is only a couple of miles from Kettle Moraine State Forest-Southern Unit, which has many trails, including the popular Scuppernong Trail, at the intersection of Wisconsin 67 and County Road ZZ.
Old World Wisconsin, a large open-air living history museum that offers many special events, is 10 miles south in Eagle.
Last updated on April 3, 2019