The artistic Gags of New Ulm
"The author/illustrator of the children's book "Millions of Cats" " puzzled neighbors but went on to great things. "Millions of Cats" puzzled neighbors but went on to great things."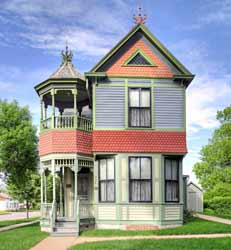 New Ulm hasn't always understood the kind of people who color outside the lines.
That describes the entire family of Anton Gág, a German-Bohemian artist whose work can be seen at New Ulm's Cathedral of the Holy Trinity and the brewery of August Schell, who was his patron and sent him to art school in Chicago for six months.
All seven children were creative, spending their days drawing, telling stories and building sets for plays.
"He didn't want the children to be like other children," said Mary Ann Zins of New Ulm.
His eldest child, Wanda, was only 14 when Gág died of tuberculosis in 1908, and her mother's illness placed the burden of supporting the family on her.
"After her father died, the townspeople said, 'Okay, Wanda, now you give up that silliness with art and you go downtown and clerk in the dime- store,'" Zins said.
"The reason they left is they had higher aspirations than the people of New Ulm had for them, and they wouldn't stand for it."
Wanda Gág, who at 17 declared her motto to be "Draw to Live and Live to Draw," eventually was able to attend art school in the Twin Cities, to which she moved her younger siblings after her mother died in 1916.
A year later, she won a scholarship in New York and moved the family there.
"Because they were so different, they blended right in in New York," Zins said. "They loved it."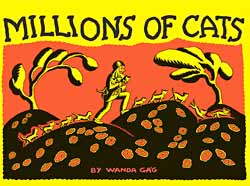 In 1928, Gág (pronounced "gog") became famous as the author and illustrator of the classic children's book "Millions of Cats," and her works hang in the British Museum in London, the Rijksmuseum in Amsterdam and the Pushkin Museum in St. Petersburg, among others.
Her family's 1894 Queen Anne house in New Ulm is on the National Register of Historic Places and has been restored by the Wanda Gág House Association.
Tours are rich in details about Anton, Wanda and her six artistic siblings, all of whom eventually became the authors and/or illustrators of books.
Trip Tips: Wanda Gag House in New Ulm, Minnesota
House : The house is at the corner of North Third and Washington streets and is open 10 a.m. to 4 p.m. Saturdays and 11 a.m. to 2 p.m. Sundays from mid-May to mid-October and by appointment. Admission is $5.
Tours : They can be scheduled through an online form or by calling 507-354-2097.
Details : For more about New Ulm, see Where the Germans are.
Last updated on January 29, 2020