Taking the bus
With $1 fares, Megabus caught riders' attention fast.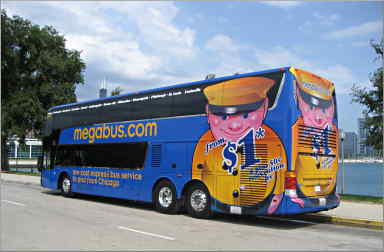 Not long ago, no one wanted to take a bus anywhere.
They took too long. The depots were depressing. They weren't even that cheap; sometimes, you could fly for less.
Then in 2006, Megabus arrived from the United Kingdom with its $1 fares and express service. It doesn't have depots; it picks up passengers on university campuses, in downtowns and at train stations.
Its giant motorcoaches are subject to the same conditions that slow any kind of traffic: weather, congestion, construction.
But once a bus has picked up its passengers, it keeps going until it gets to its destination, making a trip by bus no longer than one by private car-and you don't have to drive. And they all have WiFi.
From Minneapolis, the Megabus goes to Madison, Milwaukee and Chicago, and from Milwaukee, it goes to Chicago, Madison and Minneapolis.
From Chicago, it goes to Kansas City via Normal, Ill., and St. Louis. It goes to Memphis and to Detroit and Ann Arbor, Mich. It goes to Toledo and Cleveland in Ohio. It goes to Indianapolis, Cincinnati and Columbus, Ohio.
Now it goes from Chicago to Iowa City, Iowa, and Des Moines.
Fares still are $1 one-way, if you book early enough. Tickets can be booked up to four months in advance; the first tickets to sell are the cheapest.
Wait a few days to reserve and round-trip tickets are likely to be closer to $20-$40 weekdays, $50-$60 weekends. Last-minute round-trips can top $100.
It adds new routes frequently, and pick-up spots also change. Check for changes and service advisories.
Book online at Megabus or call 877-462-6342.
Megabus also has a New York City hub. From there, motorcoaches go to Boston; Atlantic City; Buffalo and Toronto; and Philadelphia, Baltimore and Washington, D.C.
So far, however, there are no connections to the Midwest routes.
Last updated on October 25, 2013