How to find an agate
Beaches are pretty, but gravel pits yield more treasure.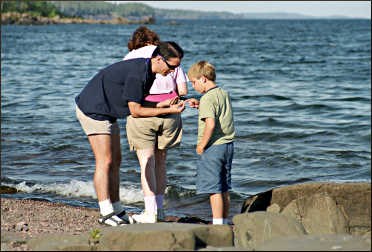 The best time to look for agates is on a sunny day, early in the morning or late in the day, when the rays of the sun are slanting across the rocks.
"Agates reflect the light a lot more than other rocks," says John Woerheide of Lutsen, Minn., who uses agates in the jewelry he makes. Woerheide suggests walking into the sun and stooping low.
It's fun to look on beaches along Minnesota's North Shore, but they're picked over, so he looks after a heavy rain or storm, when new rocks wash up.
He suggests the beaches of Tettegouche and Temperance state parks, as well as the edges of inland rivers, such as the Poplar and the Onion ("not Cascade; I've never found anything there") and Paradise Beach, 14 miles north of Grand Marais and just south of C.R. Magney State Park.
"The joy of agates is, you can go there and anyone can find one," he says.
Lake Superior agates, Minnesota's official state gemstone, were created more than a billion years ago by dissolved minerals that flowed, layer by layer, into gas bubbles that formed in cooling lava.
Squeezed into hard stone, they were freed from surrounding rock by fracturing and erosion, and eventually picked up and spread by glaciers.
Gravel pits yield the most agates, though active pits don't welcome pickers. Agates also can be found along dirt roads that are regularly graded.
If you do want to look for agates on a North Shore beach, either dig down to where the rocks are wet or bring a spray bottle to make identification easier. Most are walnut-sized or smaller.
The illustrated booklet "The Rock Picker's Guide to Lake Superior's North Shore" is very handy and well worth $9.95. It's available at bookstores and gift shops around the lake.
For more information on good places to go rock-picking, see Beaches of the North Shore.
Permits for hunting in Moose Lake
Moose Lake, half an hour south of Duluth off I-35, is renowned for its gravel pits. They're not as scenic as a beach, but there are more agates in them.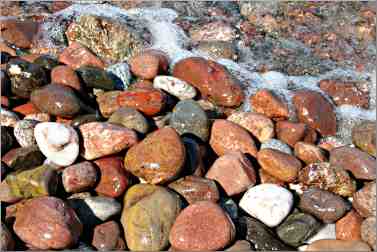 You can print out your own free agate-hunting permit from the Moose Lake Chamber of Commerce website, which includes a map to the gravel pits.
Any area that's been disturbed can yield agates, including ATV trails. Railroad tracks and roadsides also yield agates; avid hunters often stop to hunt whenever they see road construction.
Always bring a spray bottle of water to wash dirt off rocks, or hunt right after a rain, when agates are easier to see.
Lake Superior agates are found throughout eastern Minnesota. Though many are red, they also can be yellow, brown, gray, white, black and even blue or green.
Finding agates the easy way
On the third Saturday of July, during Agate Days, Moose Lake covers a downtown street with gravel that's seeded with 350 pounds of agates and $300 in quarters.
For more, see Agates in Moose Lake.
Just across Interstate 35 from Moose Lake, see beautiful examples at the interesting Agate and Geological Center in Moose Lake State Park.
In Beaver Bay, the Agate Shop is a fun stop for people heading up the North Shore of Minnesota.
Last updated on April 19, 2021