Land of big water
On Minnesota's vast Rainy Lake, a little horsepower is a good thing to have.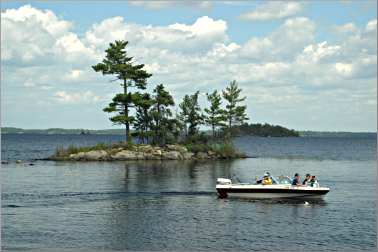 At the top of Minnesota, there's a spectacular national park — half water and all scenery.
Not only is it beautiful, but it's also the only national park Minnesota has, which you'd think would impress most people. But not, apparently, some of the locals.
My husband and I found that out two minutes after we'd arrived on Rainy Lake and were chatting with the friendly young woman checking us into our B&B.
"I wouldn't recommend you go to Voyageurs; that's only for yuppies and tree-huggers," she said with a big smile.
Yuppies and tree-huggers? Had we time-traveled back to the '80s?
In the next breath, she suggested that, instead, we check out Sha-Sha Resort down the road, "for its really cool chairs shaped like squirrel butts."
When she left, my husband and I looked at each other, dumbfounded.
"So . . . don't go to Voyageurs but go to this awesome bar with cool chairs?" he asked. "Well, I guess she's just being authentic, which is charming."
Voyageurs National Park is big, 344 square miles of water, islands, peninsula and shoreline. It's big enough for everybody — fishermen, kayakers, sightseers, skiers, snowmobilers, hikers, bird-watchers.
Islands everywhere
It's even big enough for yuppies. Our first evening, we did go down the road to Sha-Sha's, and we did see the cool barstools made of saddles and horse's tails. We also had a lovely dinner of grilled portobello mushrooms with onions and smoked Gouda on focaccia bread — now, if that's not yuppie food, I don't know what is.
The creation of the national park in 1975 created acrimony among some locals, who chafed at new restrictions in their longtime playground. Recreation is the issue, not logging; "tree-hugger" today stands for the kind of people who limit boating around eagle-nesting sites.
"No, it's not a nice term," said Carol Cassibo of International Falls, a retired waitress/bartender. "Of course, this is a logging-industry town; this is northern Minnesota. But my grandson works there; he thinks it's absolutely great."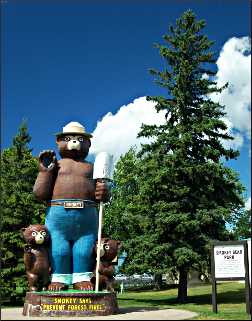 Motors are allowed, unlike the Boundary Waters Canoe Area Wilderness to the east, and hundreds of green and red buoys create paths for vacationers in launches, pontoons and houseboats. Metal signs clearly mark campsites, some of which even sport a dock.
Did we have a problem with this? No, we did not. Chugging down Rainy Lake in our little rented motorboat, we were feeling quite smug.
"It's kind of fun, not having to paddle all the time," said my husband, who adores canoeing in the BWCA Wilderness. "All you have to do is say, 'Let's go check this out,' and vrooom!"
Rainy Lake, only part of which lies in the park, has 1,600 islands and 2,500 miles of shoreline, enough to swallow a whole lot of horsepower. There's plenty of open space, even on a beautiful day in early August, at the height of the summer season.
The lake lay along one of the busiest waterways in the world between 1750 and 1820, when French-Canadian voyageurs used it to paddle canoes laden with trade goods to the Athabascan lakes of Canada and returned to Montreal laden with beaver pelts.
They negotiated the immense labyrinth using only the stars, the sun and crude maps, which is amazing, because it's not easy today, even with good maps and the buoys so thoughtfully placed by the Coast Guard.
"It's kind of confusing when there are so many islands," said Robbie Luca, the dock boy at Island View Lodge, where we rented a boat for the day. "You just really need to read the map. When you see an island, you might want to stop and identify it."
To get us started, he mentioned landmarks: the pit on the south side of Bushyhead Island, the big white rock in the bay of Cranberry Island, the eagle's nest on Steamboat Island.
We found the pit, but not the white rock or the eagle's nest. What we did see was a landscape that glaciers had scraped down to basics: sky, trees, rock, lichen and water, arrayed in varying configurations.
In these wide-open spaces, our boat was just a speck.
Hot tubs and water slides
Heading into Lost Bay, one of the many nooks and crannies along the 30-mile-long Kabetogama Peninsula, we spotted a campsite and stopped for lunch. Lunch stretched far into the afternoon, as we swam, read, lounged on the dock and explored the site.
It had two raised-sand tent pads, a grove of white pine, a picnic table, a privy and a lot of privacy — in two hours, no one passed by, though a larger tent site and two houseboat sites lay deeper in the bay.
It was our own little summer paradise. It occurred to us that we could bring my octogenarian father there to fish. We could bring a cast-iron skillet to fry his fish. In a motorboat, we could bring pretty much anything we wanted.
In Voyageurs National Park, some people even bring their own hot tub. As we were exploring the ruins of a pioneer cabin near Arden Island, a houseboat motored in with a Jacuzzi and water slide on its roof.
It was the Eckert family reunion, with four Minnesota and South Dakota siblings and their kids enjoying four nights of swimming, fishing, tubing and blueberry picking. Skippered by step-grandfather Don Mendel of Doland, S.D., the boat was heading back to harbor.
"We've been places where we weren't sure where we were on the chart," Mendel said. "It's kind of an adventure. I'd thought about it for a long time — where I live, you're never out of sight of the place you left. So to get out on the water like this is a totally new experience."
As we continued down the lake, we noticed another fishing boat heading the opposite way, except it was raising spray and slapping swells. It gave us the first inkling that heading back wouldn't be quite the lazy stroll of the outbound trip.
Sure enough, we took a beating when we turned around, and we ducked back toward the shore, using the many islands and channels to shelter us.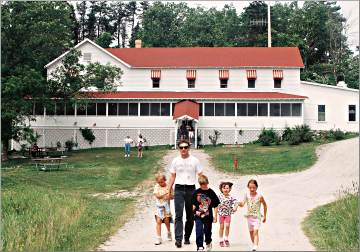 There was only the lightest breeze, but the giant lake has a hair-trigger response to wind; even the toughest voyageurs often had to sit it out, as sport paddlers do today.
We took it easy as we passed Diamond Island, admiring the day-use site in the crook of a sandy cove and the tent sites on one of its points, where three little boys were skipping stones.
Nearby, a houseboat was moored near a paddleboat and a pontoon, next to a beach sporting lounge chairs and a badminton net.
A gold rush
Not far away, we came close to a deer browsing in a marsh, and we could hear loons calling over the hum of our motor. There was a family of three in the water; one of them was grooming the chick on its back.
Soon we were in the shelter of big Dryweed Island, and all was calm again. As we emerged from exploring Harrison Bay, a cormorant swooped right in front of our boat.
It was still only 6 p.m. when we approached Little American Island, so we pulled in to explore the last vestiges of Rainy Lake's Gold Rush. There really was gold, but not enough to make fortunes for anyone except saloonkeepers in the town that sprang up across the water after the gold was discovered in 1893.
The mine was plagued by bad luck; in 1896, a careless worker let $10,000 worth of refined gold slip into the lake, and in 1897, a whole season's worth of ore was lost after an ore dock collapsed.
An interpretive trail winds around the little island, past the old shafts and the remnants of hoisting machines. The mines operated only until 1901, after which Rainy Lake City was virtually deserted. Some of the miners did stay on to settle Koochiching, now International Falls.
It's a favorite spot for boaters to explore, along with the old Oveson Fish Camp near the entrance to Lost Bay. From Rainy Lake Visitor Center, naturalists lead walks as well as canoe tours of nearby wetlands and voyageur excursions.
When we were there, naturalist Beth Adamek and volunteer Ida Mainville were returning with a North canoe full of amateur voyageurs singing "Frère Jacques" at the tops of their voices.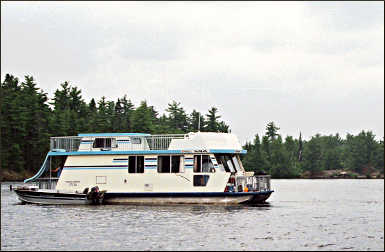 Along the route, Mainville, a member of the Bear Clan of Ojibwe, stops the canoe to tell stories and give the names of plants and animals in Ojibwe.
She grew up near an old Hudson Bay fur post in Ontario canoe country, she said, but didn't realize until later in life how much she loves canoeing herself.
"I want to be out there so much," Mainville said. "Today is the last day, and I hate to see it end."
John and Marge Derrick also were winding up their season; the Melbourne, Fla., couple had spent four of the past seven summers volunteering at Voyageurs National Park.
"This park has so much, and it's so available," Marge Derrick said. "In Florida, you have to drive for miles, and it's filling up so fast."
Conservationist Ernest Oberholtzer, a Rainy Lake resident and early champion of the park, called the region "a museum of original America."
It's not untouched; as in the rest of America, there has always been traffic. But amid the lovely vastness, that creates barely a ripple.
Trip Tips: Rainy Lake and Voyageurs National Park
Getting there: It's about 5½ hours north of the Twin Cities.
When to go: June is the best time to see orchids, loon chicks and eaglets. The Rainy Lake Visitor Center is open daily from Memorial Day through September, and naturalist programs are held from mid-June to mid-August. Late August and September, after the bugs die down, is the best time to hike.
Renting houseboats: Reserve by early spring for the best choice of dates; there are discounts for May, September and midweek rentals. Houseboats pay a $15 nightly park fee.
For rentals from International Falls, call Rainy Lake Houseboats, 800-554-9188, or Northernaire Houseboats, 800-854-7958.
Staying in the park: The 1913 Kettle Falls Hotel, on a narrow channel of Rainy Lake, was a favorite meeting spot for loggers, commercial fishermen and bootleggers. In the 1920s, thousands of 100-pound crates of fish were auctioned each week on its docks.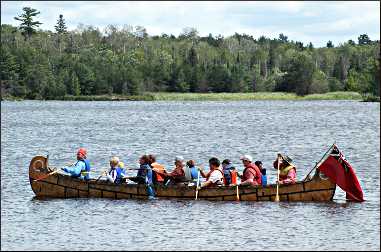 Now owned by the National Park Service, the white-frame hotel has been restored to look as it did in its heyday, complete with red-and-white striped awnings, bearskin pelt on the lobby wall and bar with a sloping funhouse floor and color prints of "the girls," gauzy nudes from the 1930s or '40s.
It's popular with boaters, who pull up for a meal or a drink on the old-fashioned screened veranda. Lodgers stay in old-fashioned hotel rooms or newer villas. There's a boat shuttle from Ash River.
Staying near the park: Twelve miles east of International Falls, on the point at the end of Minnesota 11, also the Waters of the Dancing Sky Scenic Byway, Sha-Sha Resort (pronounced Shay-Shay) has pleasant cabins.
The lodge has been rebuilt after a fire, so the original barstools are gone, but the new cabana bar has a stage for music, 800-685-2776.
Nearby, Island View Lodge has lodge rooms as well as cabins, 800-777-7856.
Staying in Ranier: Ranier is the westernmost town on Rainy Lake, just across the international railway bridge that separates the Rainy River from Rainy Lake. A paved bicycle trail connects it to International Falls, three miles away. A short boardwalk is lined with shops, a boat launch and a pleasant sand swimming beach.
Cantilever Distillery + Hotel has an onsite restaurant (and distillery), a rooftop sauna and luxurious rooms.
Rainy Lake Inn at Tara's Wharf is right on the water, and its ice-cream shop and pier are magnets for tourists. It offers four suites with kitchens, and one has a private dock.
Park camping: For high season, May 1 through Sept. 30, reservations can be made starting Nov. 15. Lakeside sites are $22-$32 per night. Contact Recreation.Gov, 877-444-6777.
Sites are quite cushy, with tent pads, metal food lockers, picnic tables and privies. Campsites are marked for houseboats only or tent use only. Most have docks; some have small beaches.
There are also two hike-in primitive campsites along the 26-mile Kab-Ash Trail, $15.
Campers also need reservations for camping in low season, $10, and pay a $10 service charge to reserve.
Dining: On a fine day, eat outdoors at Sha-Sha Resort, on a series of patios overlooking Rainy Lake. In downtown International Falls, the Coffee Landing is a friendly spot with good sandwiches.
At the end of the U.S. 53 strip south of town, the log-motif Chocolate Moose is a pleasant restaurant with weekday dinner specials and a menu that includes salads and pastas.
Voyageurs National Park: The summer schedule of naturalist programs comes out in May; some programs are held only on certain days or fill up fast, especially the North Canoe Voyage on Fridays and Saturdays, so plan carefully.
For information, call the Rainy Lake Visitor Center at 218-286-5258. The park also has visitors centers on Kabetogama Lake and Ash River.
Information: Rainy Lake tourism, 800-325-5766.
Last updated on February 2, 2022