Wisconsin's Icelandic outpost
On Lake Michigan, a pioneering inventor transformed an island.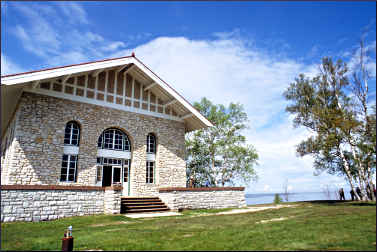 In Wisconsin, the American dream came true for a penniless boy from Iceland — and the rest of us made out pretty well, too.
In 1873, 5-year-old Hjörtur Thordarson traveled with his family from Iceland to Milwaukee, where his father soon died of typhoid fever.
The youngster's schooling stopped in second grade as the family moved to farms in Wisconsin and North Dakota, then resumed when the boy — called Chester — joined his married sister in Chicago and, at age 18, entered the fourth grade.
"All I wanted was a chance to learn," he said later.
At age 20, he began a job doing manual work at an electrical firm, and at 27, he started his own electrical business.
A decade later, he designed and built the world's first million-volt transformer, for which he received a gold medal at the 1904 World's Fair in St. Louis.
His firm in Chicago grew into a factory, employing thousands, and over the years, he patented dozens of inventions.
His wealth grew, and in 1910, he and his wife, Juliana, bought most of a 912-acre island off Washington Island, at the tip of the Door County peninsula, where Juliana had relatives.
Rock Island was the home of a band of Potawatomi and became a stopping point for French traders on the route between Sault Ste. Marie, Mich., and Green Bay, Wis.
In the 1830s, a village of fishermen on the east side of the island became the first European settlement in Door County, and in 1836, the Pottawatomie Light on the island's northwest tip became Wisconsin's first lighthouse.
In 1927, on the southwest corner, Thordarson began building a splendid stone boathouse and a great hall styled after the parliament building in Reykjavik, Iceland. Nearby, he built a stone cottage, a pagoda-style pavilion, a greenhouse and other buildings.
But the rest of the island he kept as a preserve for native plants and animals. Thordarson had a keen interest in the natural world, and in 1929, the University of Wisconsin gave him an honorary master of arts degree for, among other things, giving the state "a dramatization of what a foresighted philosophy of conservation may mean."
Thordarson died in 1945, and in 1964, his family sold the land to the state, which opened Rock Island State Park the next year.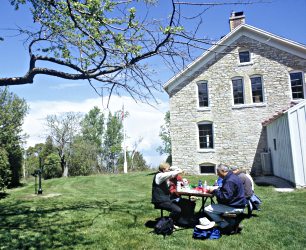 Visiting Rock Island
Now, about 30,000 people make their way to the island every year, hopping two ferries from the mainland. They hike its perimeter on the 5.2-mile Thordarson Loop Trail, visit the Pottawatomie Light and marvel at the intricate carvings in Viking Hall.
People who camp on the island get to explore it at leisure, taking time to hike the interior, stroll through its two cemeteries, swim off its superb beach and look for rock carvings left by Halldor Einarsson, Thordarson's Icelandic wood carver.
Overnight visitors get to be on island time. Day trippers, however, are on ferry time — which means they have to move fast.
I went there one Memorial Day weekend. From the boat, we could see Chester Thordarson's boathouse from a long way off, as gleamingly white as if it just had been built, because, in the middle of Lake Michigan, there's no pollution or car exhaust to sully the stone.
There are also no mosquitoes, due to lack of standing water, and no ticks, despite the presence of deer. Added to the lake views, the wildflowers and the lush beech-maple forest, that makes hiking on the island's 10 miles of trails a lot of fun.
When we walked to the lighthouse along the west side of the island, maple leaves still were colored with the peach and chartreuse hues of midspring; the surrounding lake delays the arrival of summer but also keeps the island warm as summer wanes elsewhere.
Beyond a fancifully decorated driftwood gate, the last remnant of a fence that kept deer out of Thordarson's Japanese garden, the island is virtually untouched.
On the forest floor, we picked out the maroon-tinged stems of wild leeks and the pale salmon shoots of the striped coralroot orchid, besides columbines and trillium.
When we reached the lighthouse, two pelicans were tacking along in the thermals overhead, and a kettle of five turkey vultures circled high in the sky. The current lighthouse was built in 1858; the one from 1836 washed away, apparently due to faulty mortar.
In 1988, the beacon was put atop a steel tower next door, so it could shine over the treeline.
Seeing the light
The old lighthouse is an anachronism now, though a beloved one. The Friends of Rock Island restored it, giving it the brightly painted walls and furnishings it would have had in 1910, and they recruit volunteer docents to live there for a week at a time in summer and keep it open for tourists.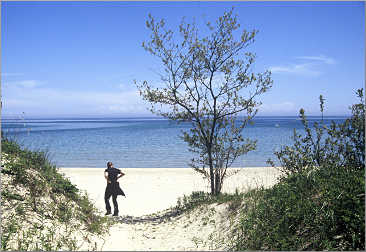 When we were there, Dawn Schier of Algoma, Wis., had just arrived by kayak from Washington Island, and as soon as she got out of her wetsuit, she and her husband, Terry, took a group into the three-story lighthouse.
The remote location meant keepers were isolated, she told us, and a government inspector once made the first keeper, David Corbin, take a three-week leave so he could find a wife. He didn't and is buried alone not far from the light.
In the 1870s, she said, the keeper had a wife who was the assistant keeper; she also was a midwife who kept newly born infants warm in her range's warming oven.
Through a window, Schier pointed out an old stone privy that apparently was built along with the 1836 quarters, making it the oldest building in Door County.
Then, we squeezed up stairs into the tower room, and Schier pointed out the Grand Traverse Archipelago to the north.
Boats preferred the passage between Rock Island and neighboring St. Martin Island to the Death's Door between Rock Island and Washington Island, so the keeper would have had many entries to make in his log.
Beyond, she pointed out Poverty Island Lighthouse and Minneapolis Shoal Lighthouse, marking the entrance to Escanaba's harbor.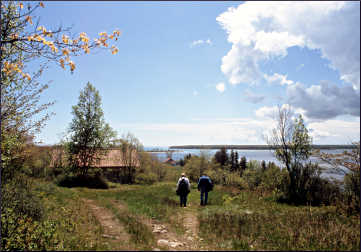 From the lighthouse, the Thordarson Loop Trail continues around the east side of the island, past the old fishing village and Thordarson's stone water tower.
There's a curving sand beach on the south shore of the island, from which a shortcut called Michigan Avenue leads back to the boathouse.
The arches of the boathouse are made of quarried island stone, but the great hall on top is fashioned of rounded beach stones and roofed in red tile.
Inside, visitors can admire the giant horn chandelier, the tall French doors, the walk-in fireplace with a crenellated mantel engraved with the 16th-century English verse, "Be wise in mirth, and seeke delight, the same doe not abuse,/In honest mirth, a happie joy we ought not to refuse."
Nearly everything else reflects the owners' Icelandic heritage: a ram's horn goblet; scissors made by a jeweler in Iceland; a photo of Mrs. Thordarson, born Juliana Fredericksdottir, in her regional costume.
Twenty-two oak chairs are engraved with scenes from Icelandic mythology by Halldor Einarsson, who spent the years 1928-31 working for Thordarson in Chicago and on Rock Island.
There's a model of an equally splendid home, but it was never built; the family continued to live in a simple cottage, housing their art and world-class book collection in Viking Hall.
The books are in Madison now, in their own room at the University of Wisconsin. But everything else on the island is either set in stone or left undisturbed.
For anyone who makes the effort to get to Rock Island, it's a treat to see.
Trip Tips: Rock Island State Park in Wisconsin
Getting there : From Northport, at the tip of the Door Peninsula, you can catch a ferry that takes passengers and cars across Death's Door to Washington Island.
Then it's nine miles across the island to Jackson Harbor, where a ferry takes passengers across the shallow, mile-long strait to Rock Island.
For day trips, people who own kayaks or canoes may want to use them for the crossing, weather permitting, in order to extend their time on the island beyond 4:15 p.m., when the last ferry returns to Washington Island.
When to go : Lake breezes make the island a refreshing place in the heat of summer, though that's also when it draws the most visitors.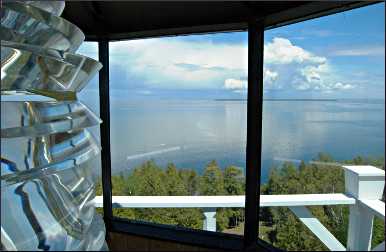 In July and August, there's an occasional hatch of biting black flies. September, when the lake keeps the island warmer than the mainland, is a good time to visit.
Ferries : Washington Island Ferry Line takes cars and makes the trip from Northport to Washington Island's Detroit Harbor every half hour through late August, then hourly through October. Evening service is less frequent and only on Fridays, Saturdays and Sundays.
It's nine miles from Detroit Harbor to Jackson Harbor, from which the passenger-only Rock Island Ferry makes the 10-minute run to Rock Island State Park. From late June to Labor Day, it leaves hourly between 10 a.m. and 4 p.m., with return trips leaving shortly after arrival on Rock Island.
From Memorial Day weekend to late June and Labor Day to the second weekend of October, it leaves at 10 a.m. and 1 and 4 p.m. For details, call 920-847-3322 or 920-535-0122.
The Island Clipper in Gills Rock doesn't take cars, but bicycles are included in the round-trip fare to Washington Island.
Lighthouse tours : The Pottawatomie Light is open daily from Memorial Day through Columbus Day, staffed by Friends of Rock Island volunteers. Donations are accepted.
Camping : The state park has 40 campsites, 35 in the campground near the boathouse and five at two remote sites.
All can be reserved up to 11 months in advance, 888-947-2757. The sites have picnic tables, fire rings and access to pit toilets, but there are no showers.
However, they're all near Lake Michigan, whose waters are about 65 degrees in summer. There is no store, so campers need to bring everything they will need.
Information : Rock Island State Park, 920-847-2235. Washington Island tourism.
Last updated on May 12, 2021