Road trip: Wisconsin's Muir Tour
The sandy soil on the Wisconsin River is a springboard for naturalists, past and present.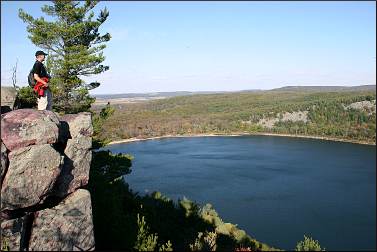 In its marshes and woods, John Muir first discovered the joys of wilderness. On its sandy plains, Aldo Leopold became a pioneer of land stewardship. On its meadows, two young ornithologists created a haven for cranes.
The natural world found some of its greatest allies on a swath of rolling, glaciated land in south-central Wisconsin. Muir went on to found the Sierra Club and is known as a father of America's national parks.
Leopold inspired legions with such books as "A Sand County Almanac." George Archibald and Ron Sauey founded the International Crane Foundation.
Wisconsin often is called the cradle of conservation.
It was the first state to ban the use of DDT, before it was banned nationally in 1972,  largely thanks to Lorrie Otto of suburban Milwaukee, who put native plants in her front yard in the 1950s and became known as the godmother of natural landscaping.
Earth Day was founded in 1970 by yet another Wisconsinite, former Sen. Gaylord Nelson.
The epicenter of conservation is the Baraboo Hills, whose 800-ton boulders, grotto-like glens and quartzite cliffs make geologists hyperventilate.
The same glacier responsible for this dramatic landscape also helped create an ecological crossroads that the Nature Conservancy has declared a "Last Great Place" for its highly concentrated 1,800 species of plants and animals.
The Ice Age National Scenic Trail winds through its heart, and other paths take hikers into its quiet nooks and crannies, only a few miles from blaring Wisconsin Dells.
Its terrain is most enchanting in spring, when chartreuse-tinted sunlight filters through the woodland canopy, songbirds return to the bushes and wildflowers bloom along forest paths.
Traces of the Ice Age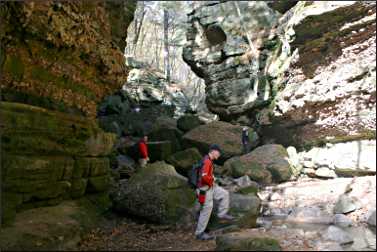 One May, my friend Pat and I made a pilgrimage to this land of naturalists. We started at Parfrey's Glen, the state's oldest natural area, following a stream through a narrow, otherworldly gorge.
Its moss-covered rock walls were embedded with plum-puddingstone, globes of quartzite; where they'd fallen out, the sandstone resembled a beehive.
A boardwalk led to the gorge's end, where a curtain of water fell from a creek flowing at the feet of popples, high overhead.
The air was heavy with the rich smell of humus, and the forest floor was covered with May apple, wood phlox, columbine and jack-in-the-pulpit; monkshood and orchid also thrive here, where cold air pools at the bottom of a glacial slope.
Devil's Lake, Wisconsin's most-visited state park, lies just to the west, with 500-foot cliffs surrounding the spring-fed lake. Rock-climbers and hikers love its glassy-smooth, pink-quartzite cliffs, once sand at the edge of a red ocean.
That was 2 billion years ago; it was only 13,000 years ago when the last glacier dumped fields of boulders in the park, each as heavy as 400 cars (for more, see High drama at Devil's Lake).
Endangered cranes
From Devil's Lake, we drove north through Baraboo to the grounds of the International Crane Foundation. Founded in 1973 on the horse farm of Ron Sauey's parents, the center harbors all 15 of the world's crane species.
As we approached a red-eyed sarus crane, the tallest flying bird in the world at 6 feet, he threw his saber-like beak into the air and emitted a shriek that made us jump nearly out of our shoes.
Cranes use their voices to alert others to trespassers, our tape-recorded guide told us, and what voices they have — more like an elephant's bugle than a bird's trill.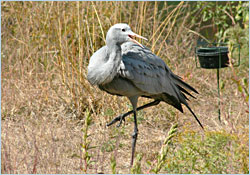 Cranes, wrote Aldo Leopold, are "wildness incarnate." These live and breed in Baraboo because their habitats are shrinking around the world, despite their revered status in Uganda and Australia, Japan and Bhutan.
We walked by a red-crowned Asian crane who looked up from its grooming to growl at us, and a South African blue crane who stalked toward us with his neck feathers flared like a cobra — threat behavior, used by both males and females.
For birds, cranes have awfully big personalities. A sarus crane named Wolf, the recording informed us, once was so aggressive he was separated from his mate, with whom he normally would share incubating duties.
He was so frustrated he built his own nest, in which he incubated two stones the size of crane's eggs.
We went on to the whooping crane exhibit, which has its own marsh and tells the remarkable story of the first ultralight-guided migration of Wisconsin cranes to Florida in 2001.
Then we left the cranes to walk the center's serene nature trails, stopping to examine clusters of pink prairie smoke, white shooting stars and newly unfurled maple leaves, pink and velvety as the nape of a baby's neck.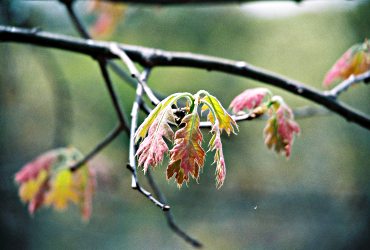 Warblers zoomed across the paths, and two red-winged blackbirds chased us out of their domain. Behind us, we heard a shrill cacophony — the cranes, reacting to a newly arrived group of schoolchildren.
A famous shack
From the Crane Foundation, it's only seven miles to Aldo Leopold's shack, the only chicken coop on the National Register of Historic Places.
A professor at the University of Wisconsin-Madison, Leopold spent weekends at the tiny shack, on a plain along the Wisconsin River that was to Leopold what Walden Pond was to Thoreau.
"On this sand farm in Wisconsin, first worn out and then abandoned by our bigger-and-better society, we try to rebuild, with shovel and axe, what we are losing elsewhere," Leopold wrote in the 1948 foreword to "A Sand County Almanac."
Today, the shack is part of a preserve that includes the new Aldo Leopold Legacy Center. When we got there, a school group from Rhinelander was busy pulling out garlic mustard.
Even today, the farm is no paradise. Scrub maples struggle on the sand plain, and poison ivy joins lupine and puccoon in the meadow. The handsome pines that line the path to a slough — breeding ground for the many mosquitoes — aren't authentic to the area, but Leopold loved them.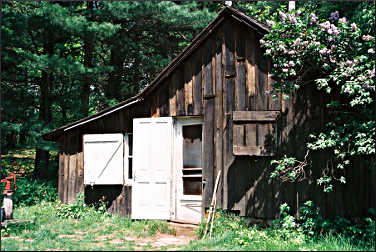 Leopold, who died in 1948 while fighting a grass fire on a neighbor's land, had a vision for this unlovely land.
"It's like a baby," said staffer Rob Nelson. "Why do we love a baby when it's born? Because of the potential it has."
Apostle for the wilderness
Half an hour to the east, a teen-age John Muir was working 12-hour days, helping his tyrannical father carve a farm out of wilderness. His only solace came from the flora and fauna, especially the songbirds and sandhill cranes.
"This sudden plash into pure wildness — baptism in Nature's warm heart — how utterly happy it made us!" he recalled. "Nature streaming into us, wooingly teaching her wonderful flowing lessons . . . Oh, that glorious Wisconsin wilderness!"
Today, the family farmstead, north of Portage, is John Muir Memorial County Park.
We followed the trail around Ennis Lake, a marshy kettle lake where Muir and his brothers fished and swam amid the cattails and water lilies, and along the foot of a hill, where he gathered hickory nuts on Sunday afternoons, his only time off.
In only eight years the sandy land was played out, due to Daniel Muir's wasteful farming practices, and young John was put to work on a new claim. Today, the farmstead has returned to its wild state.
As we walked along, listening to the call of birds and stopping to admire the delicate colors of hickory buds, a deer came thundering out of the rushes and bounded away at full throttle.
For John Muir and Aldo Leopold, misuse of this land made them see the world in a new way.
Their legacy lives on in the Baraboo Hills, where modern-day preservationists also are hard at work. Thanks to them, spring hikers will find a landscape full of wonder.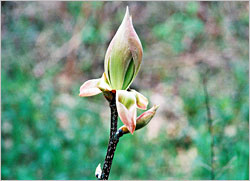 Trip Tips: Naturalists of the Baraboo Hills
Getting there: All of the sites, just south and east of the Wisconsin Dells, are within half an hour from each other.
International Crane Foundation: It's open daily from May through October.
Admission is $12.50, $6 children 6-17 (20 percent off with an AAA card). It's three miles southeast of the junction of I-94 and U.S. 12.
For more, see Cranes of Wisconsin.
Aldo Leopold shack: The Aldo Leopold Legacy Center, near the Shack, is open April through October and offers self-guided tours of the shack.
Two-hour guided tours of the shack and farm are held Saturdays from May through October.
To reach it, continue along Shady Lane Road from the Crane Foundation, turn north on County Road T, then east on Levee Road, a Wisconsin Rustic Road.
John Muir Memorial Park: From the Baraboo area, take Wisconsin 33 through Portage, then go north on County Road F for 11 miles. The trailhead is just south of the entrance.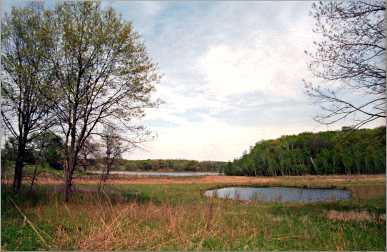 Parfrey's Glen: Take South Lake Road around the southern shore of Devil's Lake and turn south onto Wisconsin 113. Take the next left onto County Road DL and drive two miles.
A state-park sticker is required to park in the lot. If bought at Devil's Lake, it's $13, $16 for non-residents. If bought at Mirror Lake or other nearby state parks, it's $8/$11.
Wisconsin Nature Conservancy: Its largest Baraboo Hills preserve is Baxter's Hollow, where a two-mile trail winds through deep forest and along a mountain-like creek.
To get there, take U.S. 12 about nine miles south of Baraboo to the intersection with County Road C and turn west. Go 1½ miles to Stone's Pocket Road, turn north and drive two miles into the woods.
Ice Age Scenic National Trail: The Baraboo Hills and Lodi chapters hold occasional hikes.
Devil's Lake State Park: The park is three miles south of Baraboo and has 30 miles of trails, including the spectacular 4½-mile East Bluff loop; 1½ miles of trail are accessible to people with disabilities. There's also a heron rookery, near the CCC camp parking lot off South Lake Road.
For more, see The divine Devil's Lake.
Events: First Saturday and Sunday in June, open house (free admission) at Devil's Lake, Mirror Lake and other state parks in Wisconsin.
Where to stay: The Willowood Inn just south of Baraboo is a neat and comfortable mom-and-pop motel with 15 units and a two-bedroom cottage with kitchen. Three units are available for pets. There's a fire pit in the back yard, grills, a playground and a heated outdoor pool. It's closest to Devil's Lake State Park.
Where to eat: The Little Village Cafe on Baraboo's town square is always a good bet, 608-356-2800.
For more about sightseeing around Baraboo, see Baraboo's gilt complex.
Last updated on May 12, 2021