Tales of Tahquamenon
On Michigan's Upper Peninsula, a big state park is a playground for waterfall-lovers.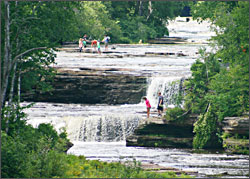 At most waterfalls, people mainly sit, look and take pictures.
Not at Tahquamenon Falls.
Here, people duck under the falls, wade through them, row out to them and hike between them on a five-mile riverside path that's part of the North Country National Scenic Trail.
The waterfalls are the big attraction in Michigan's second-largest state park, on the eastern end of the Upper Peninsula. Even more novel is the park's brewpub, a popular stop for tourists on the Circle Tour of Lake Superior.
The Upper Falls are biggest and most powerful, 200 feet wide with a drop of 50 feet. During the spring log drive over the falls, wrote a 19th-century lumberman, "we would see timber 2 feet square being broken like matchsticks."
But the much smaller Lower Falls, 4 miles downriver, are the bigger draw.
People of all ages swarm to the Lower Falls area, which is next to the campgrounds and features a whole series of waterfalls where the Tahquamenon River splits around a small island.
A park concession rents wide, sturdy rowboats for the short trip to the island. Once there, children and their parents jump from rock to rock in shallow water. They use a bleached driftwood log like a balance beam. They build artistic rock cairns at the feet of falls.
And they walk right under the falls, letting the water pound their shoulders like fancy hydrotherapy.
We arrived at the park just before dusk on a Friday in August, taking a quick peek at the Upper Falls before setting up our tent in the well-kept campground, which was full. Kids rode their bikes, adults sat quietly around fires, and by 10 p.m., all was quiet.
In the morning, I drove to the Upper Falls and headed back to the campground on the 4½-mile River Trail, and my husband hiked from the opposite end. Filmy cobwebs had covered the trail overnight, and the river seemed asleep, so calm that it reflected the blue sky.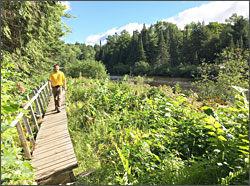 The trail passed through a forest of cedar and hemlock but stayed close to the river. We met in the middle, near a boardwalk surrounded by pink Joe Pye weed, which, unlike hikers, enjoys wet feet.
Then the river seemed to wake up, and the delicious fragrance of well-aerated water filled the air. The current turned murky, and I could hear a dull roar in the distance.
A family ran past along the trail, and I saw two little girls in swimsuits wading near the banks. On an observation deck, people were snapping photos.
This is the Lower Falls, nature's water park. We hadn't realized how close our campsite was to it --- or to the gift shop's snack counter, which sells cinnamon rolls, bagels, espresso drinks and other treats.
Camping is pretty cushy in Tahquamenon Falls State Park, and even more so for those who rent the park's guest lodge or camper cabin.
For lunch, we went back to the Upper Falls, where a folk musician was playing on the large pavilion and deck outside the Tahquamenon Falls Brewery & Pub Restaurant.
The brewpub began serving tourists in 1950 as a replica of a logging-camp dining hall, and in the 1990s, the founders' grandchildren updated it for modern tastes.
I would have liked a cold glass of Porcupine Pale Ale or Lumberjack Lager, but I wanted to bask outdoors in the warm sun even more.
So instead, we got pulled-pork sandwiches from Big Falls Snacks, then soft-serve twist cones that we ate in the white rocking chairs that line the sides of the pavilion.
In autumn, campers come for the hiking and fall color. In late September, shuttles on the River Trail are free for Hike Between Da Falls, and in early October, there's a Harvest Festival in the campgrounds, with hay rides and trick-or-treating.
In winter, there's snowshoeing and lantern-lit cross-country skiing, and one campground as well as the brewpub stays open.
Tahquamenon Falls is remote, surrounded by wilderness and far from big cities. But visitors find many reasons to make their way there.
Getting there : Tahquamenon Falls (pronounced tah-KWA-meh-non) is about 6½ hours from Milwaukee, 8 hours from Chicago and 9 hours from the Twin Cities.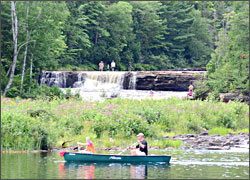 The closest small town is Newberry, and the closest cities are Marquette, 2¼ hours to the west, and Sault Ste. Marie, 1¾ hours to the east.
Non-residents pay $9 for a daily pass, $34 for an annual pass. Michigan residents pay $17 for an annual pass.
When to go : Waterfalls are most impressive in spring, swimming is best in summer and tree color is fabulous in fall. In winter, there are guided snowshoe hikes and lantern-lit skiing and snowshoeing every Saturday in February, and use of snowshoes is free.
What to bring : In warm weather, you'll want water shoes so you can play in the falls. It's $7 per person to rent rowboats.
Wheelchair users : Guests with mobility issues can borrow a motorized Action Trackchair with tank-like wheels that will allow them to go anywhere in the park.
Annual events : August, Tahqua Trail Run. September, Tahquamenon Wilderness Canoe Race on the 17½ miles from Lower Falls to Lake Superior, and Hike Between Da Falls on the five-mile River Trail, with free shuttle to Upper Falls. October, Harvest Festival in the Lower Falls campgrounds.
Nature programs : Park naturalists lead interpretive programs in summer. In winter, there are guided snowshoe adventures and lantern-lit skiing and snowshoeing every Saturday in February.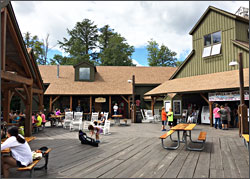 Camping : There's modern and rustic camping at Lower Falls and modern camping at Rivermouth on Lake Superior (not accessible by car from the rest of the park). In August, there were very few mosquitoes in the park.
If you forget anything, there's a small general store on the north edge of the park.
The Hemlock campground at Lower Falls stays open year-round. Reserve campsites online .
Lodging : The park also includes a three-bedroom, two-bath lodge that sleeps eight, $126, and a camper cabin that sleeps seven, $65-$70.
Dining : Tahquamenon Falls Brewery & Pub Restaurant , inside the park near Upper Falls, is open year-round but takes breaks in late fall and early spring. It serves steaks, burgers, pasta and sandwiches in addition to craft beer.
Also at Upper Falls, Big Falls Snacks sells barbecued pork sandwiches, hot dogs, brats, fries and ice cream. The complex includes a gift shop.
At Lower Falls, Tahquamenon Treasures gift shop sells breakfast sandwiches, bagels, cinnamon rolls, doughnut holes, ice cream, cones of roasted cinnamon nuts and coffee drinks.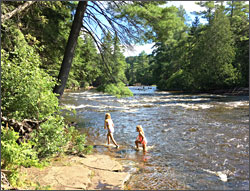 Hiking : In addition to the River Trail, there's the Wilderness Loop, the Clark Lake Loop, the Giant Pines Loop and the short Portage Trail from Clark Lake to Betsy Lake.
The North Country National Scenic Trail runs through the park and connects Lower Falls to the Rivermouth campground on Lake Superior.
Tahquamenon Falls Train and Riverboat tours : Since 1927, this company, long known as Toonverville Trolley, has provided 5½-mile rides on a narrow-gauge train that can be followed by a 21-mile riverboat cruise to just above the Upper Falls. The station is 15 miles east of Newberry. It operates from mid-June to early October. * *
Paddling : Between Newberry and the state park, The Woods rents canoes and kayaks and provides shuttles on the Tahquamenon River.
Dog-team tours : Just west of Newberry, mushers Ed and Tasha Stielstra offer winter dog-sled trips at their Nature's Kennel Sled Dog Adventures . The Stielstras also rent a yurt.
Nearby attractions : Oswald's Bear Ranch , northwest of Newberry, provides a home for abandoned or displaced bears.
The Whitefish Point Shipwreck Museum and Bird Observatory is 20 miles north on Lake Superior. For more, see Graveyard of the Great Lakes .
In addition to the waterfalls and the shipwreck museum, the 63-mile Tahquamenon Scenic Byway includes Crisp Point Lighthouse, Muskallonge State Park and the Two Hearted River.
Last updated on January 13, 2022