Searching for morels
When days get warmer, fungus hunters get ready to root out the much-sought treat.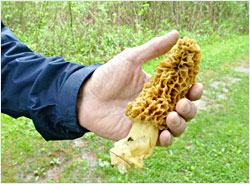 Deep down, every morel hunter believes in divine providence.
There's nothing so providential as baskets overflowing with morels, and the taste is so divine hunters dream about it all winter. In spring, they offer a fervent prayer to the mushroom gods: May the fungus be among us.
Morels do taste heavenly. But it's the hunt that's so addictive — it's fun to find something for free that's so expensive in stores and restaurants, and it's fun to beat the odds by finding something so notoriously elusive.
It's a lot like gambling — a windfall is hard to come by, but once you've had one, you want a lot more. And sometimes, people do get lucky.
"You get these mutant crops sometimes that'll bowl you over," says Mike McCall, a Winnebago, Minn., morel hunter. "I've walked out of the woods half-dressed, triple-bagging it with my shirt tied in knots."
( See tips for finding morels, below. )
As the naturalist at Whitewater State Park in southeast Minnesota, Dave Palmquist always tried to help other people find morels. But morels don't always offer themselves up when he wants them to.
"I was heading home from work, driving east from Elba, and on a north-facing slope, I saw this big old dead elm in just the right state," said Palmquist, now retired. "So, I walked up to it, and under just one tree, I found 112 morels.
"Here I lead morel programs, and I don't have anyone with me. I'm just by myself with no camera, and that's my ultimate morel experience."
Elusive prey
Every May, Palmquist led a morel hunt in the state park, and one year, I joined it.
He started by showing a CBS "Sunday Morning"' segment featuring the late Larry Lonik, the Michigan mushroom maven known as "Spore Boy."
But even on national TV, Lonik could find only one morel, sending him into "shroom gloom."
"You do spend a lot of time walking and not finding them," Palmquist said. "You can't let that make you not believe."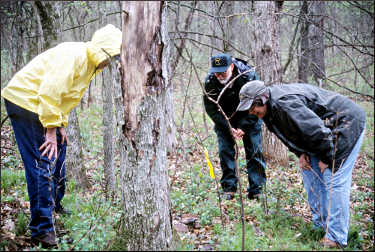 Whitewater, Palmquist claims, "isn't morel heaven any more than any other place." But for better or worse, it has become known as one. As a result, there are spies, spies everywhere.
"We used to do these morel activities in the afternoon, but we'd go out to the places we'd scouted the night before and find all these morel stumps," Palmquist said.
The morning we went out, it was chilly and drizzling, not good for morels, which won't pop out from their much-larger underground parent at all if conditions aren't right.
"You don't have to be right next to the tree; they may be 15 feet out or more," Palmquist advised us. "And get down low. It's often kids who find them, because they have a better perspective."
We saw a lot of wildflowers but no morels, so we walked back to the visitors center. But the two other groups had found a dozen between them, and sure enough, two little boys had found the best ones.
Pooling the finds, Palmquist sliced them, sauteed them in butter and passed out tiny, flavor-packed morsels to everyone.
Todd Grimes of nearby St. Charles said he'd been finding a few morels each day, but he'd talked to a friend who had just found 22 pounds near La Crescent on the Mississippi River.
"I can't keep up with him in the woods; he runs from tree to tree," he said. "But once you get the eyes, it's not too bad."
Later, after bushwhacking around a south-facing hillside and finding nothing, I decided I didn't have the eyes. But in La Crescent, I found a Winona family that had found several grocery bags full of morels.
Every year, said Betty Loeffler, she and her husband, Denny, and sons Travis and Justin spend late-April and May weekends looking for morels, which they then sell to get gas money for the boys. The previous year, they'd made $2,000.
That day, they'd been searching for eight hours and had found a lot, Loeffler said, but not as many as they'd hoped for on the first Saturday in May.
"We probably had 50 pounds this weekend last year," she said. "Today, you had to be south or you weren't going to get 'em."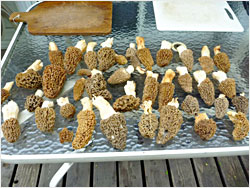 Surprise sighting
Wherever I went that spring, I kept my eyes half-peeled for likely-looking dead trees, to no avail.
I'd nearly forgotten about morels by May 27, when I happened to be hiking through a maple-basswood forest in Door County.
Suddenly, a man on the hike spotted three morels under a leatherwood shrub.
Then I spotted something out of the corner of my eye. Five yards to the left, mostly covered by a dead leaf, was the pitted yellow cap of a morel — a big, fat one.
Another two hunkered nearby, faded but nearly as good as the first.
It was a miracle I'd seen them and strange they would be there at all — so late in May, on the warm side of the peninsula and not under a dead elm. But apparently, morels don't really follow the rules.
Mike Schneider, the hike leader, says he often sees morels around the roots of live ash trees, which he says doesn't really surprise him since the ground also is full of dead roots.
Mike McCall says people are too fixated on elms, which do provide fertile ground for morels but aren't the only places they grow. When he starts to see the first hints of lavender on lilac buds, he says, he goes out and looks everywhere, covering as much ground as possible.
"Don't even look up at the tree; ignore it," McCall says. "Just make sure you're in the woods, as long as it's hardwood. It's a nice time of year, there are no bugs, the understory is not scratching you. Enjoy."
Ron Spinoza of St. Paul, past president and newsletter editor of the Minnesota Mycological Society, says no one can predict when or where morels will appear.
"You can look for hours and hours and not find anything, then find quite a few," Spinoza says. "It's a lot of trial and error. A lot of it is, you just like to be out in the woods."
In spring, the local morel hunters go forth and multiply. If we're lucky, the morels will follow suit.
When to go hunting
If there has been a soaking rain in the past week, the temperature has surpassed 70 and the soil is warm, conditions are ripe for morels. Many people say morels come out when lilacs start to flower.
For news of the first discoveries, check the Morels.com forums for each state.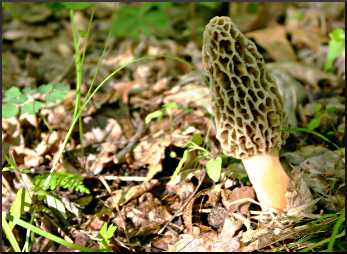 Normally, the season lasts three to four weeks, starting in April in Missouri and southern Illinois, on Mother's Day near the Twin Cities and later in May in the north woods.
Since most people go out on weekends, Thursdays and Fridays are good days to look because new mushrooms have had a chance to pop out since the previous weekend.
Where to look
Morels grow anywhere there are trees. The ground around recently deceased elms tends to be most fruitful. Here's a YouTube video on how to identify the right kind of elms.
However, elms are gone in many places. With emerald ash borers killing ash trees, they're the new elm in many places.
Morels also grow in old apple orchards, in sandy river bottoms, near shrubs and under aspen, oak, beech, maple, cottonwood or cherry trees or even pines.
They also pop up on land that was burned the previous year. In Michigan, the DNR helps out morel hunters by issuing a guide to the previous year's prescribed-burn sites.
Look in a radius around the tree, not just at the roots. Morels are so camouflaged that it helps to stand still for a while, just looking.
The larger yellow or white morel is most likely to be found in hardwood forests; in a conifer forest, the small black or gray morel is most common.
Generally, morels can be picked in state and county parks and forests.
The Mississippi River Valley is a good place to look. West of Winona, Minn., Whitewater State Park and Whitewater State Wildlife Management Area are very popular. The annual naturalist-guided morel hunt fills quickly, but park staff always are happy to offer tips.
Around Wabasha, try Richard J. Dorer Memorial Hardwood State Forest and the Weaver Bottoms .
Close to the Twin Cities, the Louisville Swamp just south of Shakopee, in the Minnesota River Valley National Wildlife Refuge, is a popular spot, and the Minnesota Mycological Society often holds forays to Lake Maria State Park near Monticello.
The Wisconsin side of the Mississippi and the coulee country around La Crosse and in the Kickapoo Valley have many good spots.
In northern Michigan, Huron National Forest and Au Sable, Mackinaw, Pere Marquette state forests are good places to look.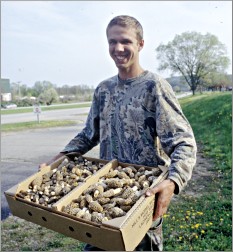 Some people bushwhack through the forest; others stick to trails or skirt the edges of forests so they can cover more ground. Morels show up first in recently burned areas, because the black soil warms up first.
Then, look at south-facing hillsides and on the top of sunny hills around dead trees, especially elms. The tree should still have some twigs and bark hanging on, but its branches won't have buds. Look for white speckles on the bark.
At the end of the season, look on north-facing slopes, on the northern edges of woods and in shady ravines.
And remember: If you find one morel, you're very likely to find more, so be careful where you step.
What to wear
Ticks will be out, so wear long sleeves, tuck trouser legs into socks and spray everything with Permethrin or bug repellent. It also works to wrap duct tape around your trouser legs, sticky side out.
For more tips, see How to prevent Lyme disease.
Gloves protect hands from nettles. Turkey hunters also will be out, so it doesn't hurt to wear blaze-orange or bright clothing.
What to bring
A mesh onion bag, basket or paper grocery bag (not plastic) and a cooler to transport the mushrooms home.
Serious hunters bring a good map and a pencil and mark sites where they find morels; one site may produce mushrooms for several years.
What to do with the mushrooms
Don't pull them out the ground; pinch them off or cut stems with a knife. Don't wash them; brush off the dirt.
Then, either dry them for future use or saute them in butter and use immediately in pastas, omelets or sauces.
While you're looking for morels, keep an eye out for ramps, or wild leeks, which taste great when sauteed with morels.
Morel festivals in May
Michigan calls itself the morel state. Mushroom Festival in Mesick, near Cadillac, offers mushroom contests as well as a carnival, flea market, games and a noon Saturday parade.
Near Lake Michigan, the National Morel Mushroom Festival in Boyne City includes a guided mushroom hunt, a mushroom competition with prizes, a morel seminar, cooking demonstrations and The Taste of Morels put on by local restaurants.
Pickers sell thousands of pounds at the Morel Mushroom Festival in Muscoda, Wis. This village in southwest Wisconsin (pronounced MUSS-co-day) is up the Wisconsin River from Prairie du Chien.
Learn more
The Minnesota Mycological Society devotes spring meetings to morels. They're at Hodson Hall on the University of Minnesota St. Paul campus, and beginners are welcome.
For other clubs, check the North American Mycological Association. Facebook pages also are a good source of updated information.
Last updated on April 29, 2021