Skiing at Lutsen
It's party time at the region's biggest ski area, high above Lake Superior.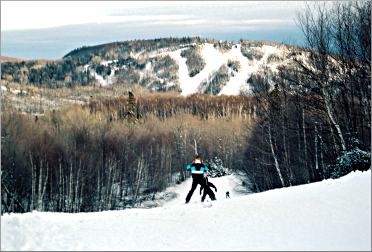 For alpine skiers, these are the best days of the year.
At least, they are at Lutsen Mountains on Minnesota's North Shore.
Started in 1948, the ski hill has the region's steepest vertical drop, the longest runs and the widest variety, plus a killer view of Lake Superior.
Over the years, it's also become a party destination, with Saturday-night concerts by well-known bands and something every night of the week — acoustic music, comedy, open mics, dance parties.
The season starts with the holidays and goes full-bore until carnival time in March, when skiers schuss around in grass skirts and watch fireworks. In April, skiers sit at outdoor beer gardens, listening to live bands.
Still, most people go for the skiing and that view of the big lake.
The first time I rode up Moose Mountain in its little red gondola car, whorls of vapor were curling from the lake's surface. At the mountain top, the afternoon sun was painting a peach backdrop behind whitened trees, their snow-crusted branches as knobby as moose antlers.
"Look at how beautiful that is, the frost on the top of the trees," said a ski instructor. "Words can't do justice to it."
Usually, I ski cross-country, but at Lutsen, I remembered something: Downhill skiing is a blast.
Especially on Moose Mountain, where the longest run is two miles. Suddenly, slogging through the forest seemed like chump work compared with flying down those long undulating hills, only to be carried back up in a chairlift to do it again.
I stuck to the many intermediate trials, except when I missed the turnoff to Moose Return and plummeted down the expert Moose Drop.
I finally found Moose Return and skied down the mountain to the Bridge chairlift, which I took to the top of Eagle Mountain.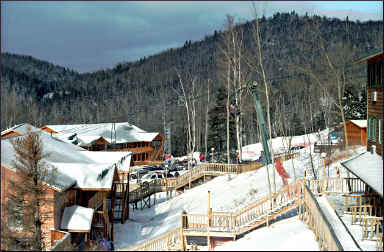 Then, I skied Bridge Run right down to my room at Eagle Ridge Resort, where I threw on a swimsuit under my ski suit and followed boardwalks to the outdoor pool, enveloped by inviting billows of steam.
It was warm, although not warm enough to thaw my toes. But there was plenty of room in the hot tub inside, and that did the trick.
Next door at the ticket office, a line had formed for tickets to that night's concert at Papa Charlie's. Over a nice plate of Norwegian salmon in the restaurant, I listened to the sound check.
It was still early, so I drove down to Lutsen Resort on the lakeshore, where Swedish immigrant C.A.A. Nelson homesteaded land in 1885 and soon found himself lodging visitors.
His grandson George Jr. started the ski hill after serving in the famous 10th Mountain Division during World War II, and in 1976, his great-grandaughter Cindy won a bronze medal at the Winter Olympics.
Today, its 1953 lodge no longer is associated with the ski hill, but it's still one of the coziest places in the state. I fetched a glass of ale from he bar and sank into one of its polished-leather chairs to watch the fire and listened to a hypnotic acoustic guitar set.
Back at Papa Charlie's, more than 700 music fans were making the joint jump. I waited for the concert with a member of the Twin Cities River Rats, a precision water-ski team, who gave me a succinct explanation for why they ski at Lutsen but snub smaller hills closer to the Twin Cities.
"It's so much more fun to go down, down, down and down before you go up," he said.
That's Lutsen's ace in the hole, and the reason it has flourished in the last decades as smaller hills have closed. Its owners have steadily upgraded it to make Lutsen a Midwestern rival of Western ski destinations.
Today, the nightlife and speed runs attract young people. The gentle trails of Ullr and Mystery mountains attract families.
The 825-foot vertical drop and variety — 95 runs on four mountains — attract serious skiers who can't afford more than one or two annual trips out West. The most luxurious of the accommodations attract those who can.
Lutsen also has a snowshoe trail and groomed cross-country trails. They might attract skiers, but I suspect, not for long. In Minnesota, the lure of a real mountain is tough to resist.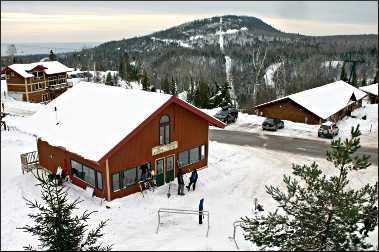 Getting there: It's about four hours north of the Twin Cities.
Lift tickets: Always buy online, at least 72 hours in advance, to save money. Packages and multi-day tickets will save you more money.
Lessons: They're always a good idea. For more, see Class on the slopes.
Accommodations: The ski hill lists an array of lift and lodgings packages that will save you money.
Eagle Ridge Resort is closest to the ski runs and has ski-in, ski-out condos.
Caribou Highlands Lodge also is close to the runs.
The Mountain Inn is farther down the hill.
On Lake Superior, Lutsen Resort has a wide variety of lodgings: the atmospheric lodge, with an adjoining pool/whirlpool/sauna complex; the luxuriously furnished Cliff House Townhomes, with gas fireplaces, decks, views and whirlpool rooms; and the two-bedroom Log Cabins, overlooking Lake Superior.
Nearby are the luxurious Poplar River Condos. The older Sea Villas townhomes are on the lakeshore 2½ miles south of the lodge.
Dining: There are four places to eat on the mountain — Papa Charlie's Tavern, Rosie's Café, the Summit Chalet and Moguls Grille & Tap Room. Lutsen Lodge also has a restaurant.
Nightlife: There are band concerts on Saturday nights. On other nights, there's acoustic music, comedy, open mics and DJ dance parties.
Last updated on January 22, 2016