Towns of the Fox River
An hour west of Chicago, a scenic bicycle trail makes sightseeing easy.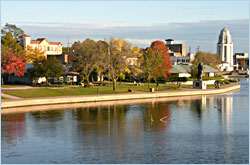 For centuries, people have beaten a path along the Fox River: Pottawatomie Indians, pioneer entrepreneurs, escaped slaves on the Underground Railroad, city-bound commuters . . . and now, bicyclists.
Thanks to a network of abandoned electric railways, this part of northeast Illinois is a hotbed of bicycle trails.
They're all popular, but the 40-mile Fox River Trail past St. Charles, Geneva and Batavia includes an astonishing amount of scenery and attractions: a Dutch windmill, Japanese gardens and a lighthouse plus many forest preserves, gazebos and wildlife sightings, mainly herons and egrets lurking on the shallow river.
Oh, and a whole lot of bakeries, gelato shops, delis and coffeehouses, all tantalizingly close to the trail.
St. Charles and Geneva are affluent towns and popular weekend destinations.
Geneva is known for being Swedish, but its posh shops lean French, judging by LeLa Une Boutique Unique, Le Doggie Divine Spa & Boutique and the French Market held Sundays.
St. Charles is known for antiques and the fine junque available monthly at its Kane County Flea Market.
In both towns, millionaires called colonel left their mark.
St. Charles' native daughter Dellora Baker married the man who would go on to found Texaco. She passed their fortune to her niece, who opened the Arcada Theatre in 1926, and her horse-racing brother, "Colonel" Edward Baker, who opened the riverside Hotel Baker in 1928.
Both landmarks have been lovingly restored and still are used.
Col. George Fabyan, a businessman given his honorary title by the governor, came to Geneva in 1907 and built an estate along the river.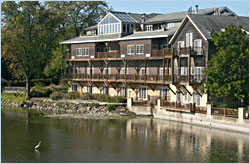 His Japanese gardens and villa, remodeled by Frank Lloyd Wright, are on the west bank, and his 1870 Dutch-style windmill is on the east bank.
All of these sights are most easily seen on a bike. In fall, I rode two sections from St. Charles, a loop south to Geneva, Batavia and Aurora, and the trail north to Elgin.
Heading south along the east bank, I followed the path as it wove past riverside parks, one of them Camp Kane, used to train Illinois cavalries in the Civil War.
In Geneva, I realized my back tire was nearly flat, so I stopped at Geneva Cycle, where longtime owner Elis Giannini pumped it up for me.
"This is a pretty big biking community," he said. "There are seven bike shops in the Tri Cities."
He gave me his opinion of the prettiest sections of the trail but says he prefers the Great Western Trail west of St. Charles and "never rides the section between St. Charles and Batavia because it's full of idiots."
Translation: The trail is popular and used by people who are more interested in sightseeing than exercising. And why not? There's a lot to see.
Across the bridge, I stopped to watch an egret hunting in front of the Herrington Inn & Spa, named for Geneva's founders and built around an 1874 creamery on the site of their homestead.
South of Geneva, I saw the first of several covered bike bridges tucked under the decks of rail and vehicle bridges, impressively functional pieces of art.
Farther on, an arched pedestrian bridge led to Col. Fabyan's villa and gardens, which included a little concrete lighthouse at river's edge.
It's amazing that an area only 40 miles from Chicago's Loop has so many parks and undeveloped space, but it does. On the east bank, it was all woods and meadow to Batavia, where I rode by the Depot Museum.
There's a Victorian gazebo next to it, with a bronze cupola and stained-glass sides.
People ice-skate here on a pond formed by a spit of land that reaches into the river. Riverwalk paths lead to a large gazebo on the north point, and there's a collection of decorative metal windmills-once, three companies made water-pumping windmills in Batavia.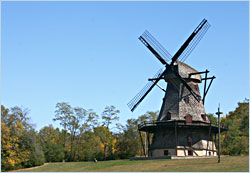 I continued on the west bank to North Aurora, crossing just below the dam and returning to Batavia through the dense woods of Red Oak Nature Center.
Passing the giant chimney of Challenge Windmill & Feed Mill Co., now office lofts, I soon came to the Fabyan Forest Preserve and the five-story windmill that Col. Fabyan had moved from a nearby farm in 1914.
The colonel was a character, using an inherited fortune on various scientific investigations.
His attempt at proving Francis Bacon was the author of Shakespeare's works didn't pan out, but he established a lab that pioneered modern cryptography and taught the U.S. military code-breaking skills during World War I. It operates today as an acoustics facility.
From St. Charles, the trail follows only one side of the river.
Heading north from the striking City Hall, I went by a 15-foot sculpture of a Pottawatomie Indian dubbed Ekwabet, or "watching over." Along with the Sauk and Fox, the Pottawatomie were ejected from the Fox River Valley after the Black Hawk War of 1832, to make room for a tide of settlers.
I passed a sculpture made of bicycle parts and dubbed FoxCycle, and then I was in Pottawatomie Park, the city's playground.
Here, people can climb the extraordinarily ornate tower of a Victorian pavilion and cruise the river on one of two paddlewheelers that have been operating since 1946.
From the park, the path climbs to city streets, then dips to river bottomlands in the Norris Woods Forest Preserve. Then it's a bit of a roller coaster, going up a road to Tekakwitha Woods Forest Preserve, then down through woods to the Fox River, where I clattered across two wooden spans to South Elgin.
There, at the Fox River Trolley Museum, brightly colored cars from the old railway were awaiting restoration.
Farther on, the trail passes a forest preserve in Dundee and three more in Carpenterville, but I turned around. On this trail, there's sightseeing enough for several weekends.
Trip Tips: Towns of the Fox River in suburban Chicago
Getting there: The area is an hour west of Chicago and southeast of Rockford.
Geneva is a stop on the Metra train from Chicago, as are Elgin and Aurora. Bicycles can be carried onto the train outside rush hours.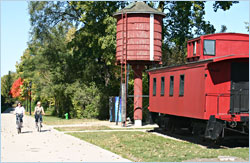 2023 events: March-December, first Sunday and preceding Saturday, Kane County Flea Market. March 11, St. Patrick's Parade in St. Charles.
May 27-28, Fine Art Show in St. Charles. June 18, Swedish Day in Geneva's Good Templar Park. June 19-23, 2024, Swedish Days in Geneva. July 27-28, 2024, Geneva Arts Fair. Aug. 27, Geneva Concours d'Elegance vintage car show.
Sept. 8-10, Festival of the Vine in Geneva. Sept. 10, Scandinavian Day in South Elgin. Oct. 6-8, Scarecrow Festival in St. Charles. Nov. 24-25, Holiday Homecoming with Electric Christmas Parade in St. Charles. Dec. 1, Christmas Walk in Geneva. Dec. 1-2, Holiday House Tour in Geneva.
Bicycling: The 40-mile, paved Fox River Trail, on the former Chicago, Aurora & Elgin Railway line, follows the Fox River north from Aurora to Batavia, Geneva, St. Charles, Elgin, Dundee and Algonquin.
It's a 12-mile round-trip from St. Charles to South Elgin and a 17-mile loop from St. Charles to North Aurora.
On spurs from Aurora, Batavia, Geneva and Elgin, bicyclists can head east to Wheaton on the 61-mile crushed-limestone Illinois Prairie Path.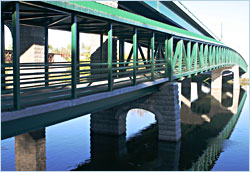 From Algonquin, the paved Prairie Trail heads north for 19 miles through Crystal Lake and McHenry to Ringwood, then another 7 miles on gravel to the Wisconsin border.
From Leroy Oaks County Forest Preserve in St. Charles, via the four-mile Randall Road Trail, bicyclists can head 17 miles west to Sycamore on the crushed-limestone Great Western Trail.
In Aurora, the paved, 11-mile Virgil Gilman Trail straddles the river, skirting three forest preserves west of town.
Bike rentals: You can rent bikes at Mill Race Cyclery in Geneva, right on the path.
Paddlewheeler cruises: From May through mid-October, the St. Charles Belle and Fox River Queen offer 50-minute narrated cruises from Pottawatomie Park in St. Charles.
Accommodations: There are two distinctive places to stay that are right on the trail, overlooking the river: the 1928 Hotel Baker in St. Charles, and the Herrington Inn & Spa in Geneva.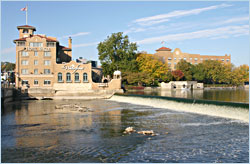 In St. Charles, the large Pheasant Run Resort is on 250 acres and includes a golf course, day spa, two theaters, a comedy club and four restaurants and cafes.
In Geneva, the 1902 Oscar Swan Country Inn is on eight acres between downtown and the Kane County Fairgrounds. It has seven rooms, three with two beds and one with kitchen. It allows pets.
There are also many less-expensive accommodations in St. Charles and a Comfort Inn & Suites in Geneva.
Shopping: Geneva has many shops on State Street downtown and on Third Street between downtown and the Metra station. St. Charles has many shops on and around Main Street downtown.
Nightlife: In St. Charles, the Arcada Theatre in the old downtown brings in national performers. In the new downtown, Steel Beam Theatre stages plays.
In Aurora, the Paramount Theatre offers a Broadway series and national performers.
More information: St. Charles tourism, Geneva tourism and Aurora area tourism.
Last updated on February 1, 2022