Mankato meander
To see the best of this low-key river town, hop on a bike.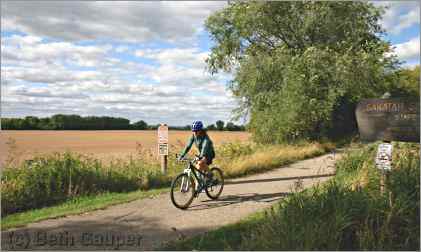 Mankato is easy to overlook, even though it's home to a state university, a gateway to the prairie and prominent in Minnesota history.
Downtown is girdled by highways and train tracks, befitting Mankato's longtime status as a trade town. Its streets are quiet, except when the many bars throw a block party.
It's not on the beaten path, either. Motorists headed down the Minnesota River to New Ulm take the shortcut from St. Peter, and people headed for Pipestone or the Black Hills use interstates.
At the end of summer, 14,000 students beef up the place when they report for classes at Minnesota State University.
The Betsy-Tacy children's books, written in the 1940s and '50s, draw a few fans to sites author Maud Hart Lovelace used in the series. But they never achieved the fame of books written by Laura Ingalls Wilder, who lived just down the road in Walnut Grove.
Mankato is most noted for an execution. In 1862, starving Dakota lashed out at settlers, and after the six-week war ended, 303 of their warriors were brought to Mankato for hanging.
President Lincoln reduced the death sentences to 39, and one warrior was reprieved, but it still was the largest mass execution in U.S. history.
The Dakota were banished from Minnesota, and for more than a century, they avoided Mankato. But in 1972, the town invited the Dakota to hold a commemorative powwow.
Land of memories
Since 1974, the Mahkato Wacipi has brought people from many states to Land of Memories Park, and every third-grader in town attends its Education Day.
The hanging site on Riverfront Drive now is Reconciliation Park, marked by a buffalo made of local Kasota limestone, also used for the Museum of the American Indian in Washington, D.C.
The Minnesota River is just across the railroad tracks. Flowing in from the west, it makes an abrupt 90-degree turn in downtown Mankato, where it hits bedrock and turns north to meet the Mississippi at Fort Snelling.
The Minnesota River made Mankato a transportation and political hub.
But now, it and six other rivers are making it a bicycling hub, because the town has a handy network of paved trails that connect it to the countryside and also to the 39-mile Sakatah Singing Hills State Trail.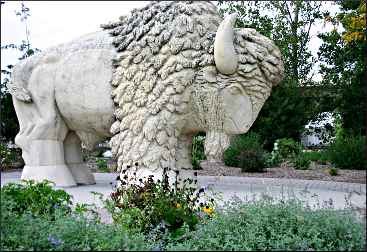 Nearly all the trails are beautiful. After the last Ice Age, meltwater cut into the soft, flat prairie left by Glacial Lake Agassiz and created a web of ravines and valleys as it flowed toward the Minnesota.
On their steep sides, the ravines preserve scraps of the Big Woods that once met the prairie near Mankato.
"Mother Nature has been kind to us here in Mankato by providing us with some beautiful scenery," said Alan Forsberg, Blue Earth County engineer. "I think we have more miles of river than any other county in the state."
In the 1990s, Blue Earth County — named for the English translation of mahkato, the Dakota word for the area's greenish-blue, claylike soil — helped put a bicycle trail onto an abandoned Milwaukee Road line.
It runs near the Blue Earth River, crosses the Le Sueur and, for much of its length, follows a ravine.
The Red Jacket Trail takes its name from a flour mill, built in 1866 at the confluence of the two rivers; the mill took its name from a Seneca chief.
From Mankato's Minnesota River Trail, it runs 6½ miles to the village of Rapidan, from which most bicyclists ride another two miles on County Road 9's paved shoulder, swooping down the Blue Earth River valley to the Rapidan Dam.
The settlers banished the Dakota but kept their names. To the south, Good Thunder is named for Andrew Good Thunder, the Dakota chief whose return to the Minnesota River Valley in 1883 marked the end of the Dakota exile from Minnesota.
Winnebago is nearby on the Blue Earth River; the Winnebago, now Ho-Chunk, had a reservation on prime farmland and had little or nothing to do with the 1862 war, but they were banished along with the Dakota.
Mankato is the name of an important Dakota chief who was killed by a cannon ball in the closing days of the conflict.
To the west, Sleepy Eye is named for the chief who is said to have advised Mankato's founders to build their trading post on the bluff, not on the floodplain.
Just west of Mankato, Minneopa State Park comes from the Dakota word for "water falling twice." The South Route Trail takes bicyclists there from the Red Jacket Trail, and the county and city plan to extend the Minnesota River Trail to the park, making a loop.
The Minnesota River Trail already connects to the Sakatah Singing Hills State Trail, also named by the Dakota, which passes 39 miles of southern lakes on its way to Faribault.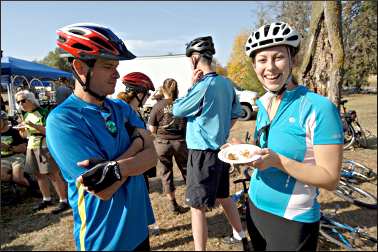 A ride into the countryside
One September, I rode the trails around Mankato with my friend Karen, a long-distance rider.
Luckily for me, she rode her thick-tired mountain bike to slow her down as we rode the Red Jacket Trail south from Riverfront Drive, past Rasmussen Woods Park and then Mount Kato, a ski slope that grooms mountain-bike trails in summer.
We crossed the 80-foot-high trestle bridge over the Le Sueur River and rode through a stand of hardwood trees that had sprinkled the trail with golden leaves.
When we got to the village of Rapidan, we stopped at the Peddler of Rapidan, a gift shop in an old creamery, then rode on the paved shoulder of County Road 9 to the Rapidan Dam.
The 1910 dam on the Blue Earth River still generates electricity, and there's a lovely park, but like most people, we went there to eat at the Dam Store.
The modest cafe opened as a bait shop in 1911, and over the years, it's become famous for its pies and old-fashioned atmosphere.
The plump pies sitting on a tray, still warm and sprinkled with sugar. Karen's eyes widened when she had a bite of my riverberry pie.
"My sour cream-raisin is decent, but yours is really good," she said.
A crowd of gulls was waiting for fish on the sandbars above the dam as we pedaled out of the steep river valley, already working off our pie.
"I've decided not to hate hills," Karen said. "I could hate hills, but around here, what's the point?"
A prairie tail wind pushed us back to the Red Jacket's junction with the South Route, and we rode west toward Minneopa State Park, past yellowing fields of soybeans and scarlet sumac.
Like St. Anthony Falls in the Twin Cities, Minneopa's falls migrated upstream as chunks of shelf rock collapsed under their pressure. Minneopa Creek's two cascades, surrounded by outcroppings of golden stone, were a popular tourist destination in the late 19th century, and in 1905, Minneopa became the third state park, after Itasca and Interstate.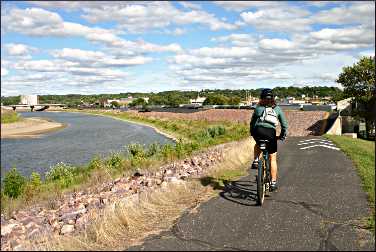 But when we were there, the falls had slowed to a trickle, revealing a compact bowl shaded by trees.
"It's beautiful when it's running, but it's kind of nice to have it dry like this, so we can see what the stone looks like," Karen said.
At a park kiosk, a map of Minnesota showed northern coniferous forest and where hardwood forest meets prairie grasslands. It showed no towns, only zones, two of them meeting at a big river with a distinctive bend, smack in the middle of southern Minnesota. Karen pointed at it.
"That's what I like about living in this area — I can look at this map and say, 'I live right there,' " she said. "I've been up to Gooseberry and Split Rock, and it's beautiful, but that's not all of Minnesota."
Riding back into town, we passed people jogging, walking dogs and strolling with children. At Riverfront Drive, we passed Mankato West High School, where Minnesota Gov. Tim Walz was the 2003 Mankato Teacher of the Year.
Then we rode onto the Minnesota River Trail, emerging on a wide-open, treeless vista of river, riprap, grain terminals and train tracks.
"I don't mind an industrial landscape," I remarked, taking in the striking panorama.
"I don't, either," Karen replied. "But some people want it all pretty."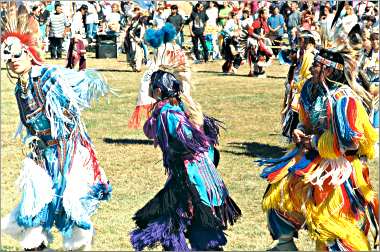 From downtown, we followed the river north past an iron-castings plant and then along crumbling sandstone cliffs. At U.S. 14, we turned east and rode past truck yards and warehouses until we reached North Riverfront Drive.
The 39-mile Sakatah Singing Hills State Trail starts a quarter-mile away, at the edge of a soybean field whose waving tips looked almost purple in the late-afternoon light, like a lavender field in Provence.
On the way back, we rode off the trail and into Old Town, where a few antiques and gifts shops have planted themselves in 19th-century brick storefronts. We ate calzone and veggie sandwiches at the Coffee Hag, which smelled of incense and had a tiny stage and a sprinkling of old sofas.
The coffeehouse had just hosted the annual South Central Minnesota Pridefest.
We finished our ride downtown, where a cluster of seven bars, popular with university students and other young people, has earned the nickname "Barmuda Triangle."
Mankato has many faces, not all of them obvious on a casual drive through town. From a bicycle, however, its charms are more apparent.
Trip Tips: Mankato, Minnesota
Getting there: It's about 1¾ hours southwest of the Twin Cities.
2023 events: June 16-17, Solstice Outdoor Music Festival in Land of Memories Park. Aug. 3-6, Ribfest music festival. Sept. 15-17, Mahkato Traditional Powwow in Land of Memories Park. Oct. 8, Mankato River Ramble bike tour, starting and finishing in Land of Memories Park.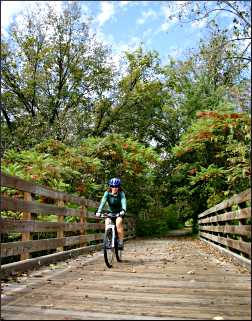 Mankato bicycle trails: The Red Jacket Trail is about 6½ miles from South Riverfront Drive to Rapidan. At County Road 90, it bisects the eight-mile South Route Trail; from there, it's about four miles to Minneopa State Park.
The 2½-mile Minneopa Trail connects the state park to Sibley Park and Land of Memories Park in Mankato, completing a 12-mile loop.
The Minnesota River Trail, which connects the Red Jacket and Sakatah Singing Hills State Trail, is about four miles. All are paved.
The 39-mile Sakatah Singing Hills (pronounced Sah-KAH-tah) has trailheads just north of the intersection of U.S. 14 and Lime Valley Road and on County Road 12 at Minnesota 22.
To Madison Lake, the trail is away from the highway but on open fields. From there, it plunges into cool woods, passing many lakes on its way to Faribault.
Mountain biking: Mount Kato has seven miles of trails.
Accommodations: The Queen Anne Moulin Rouge House B&B downtown offers three rooms.
The city also has many chain hotels and motels.
Dining: For great pie and burgers, stop by the Dam Store in Rapidan. Pagliai's Pizza on South Front Street has good pizza.
For an excursion, drive or ride to tiny Amboy, 20 minutes south of Mankato, where the Amboy Cottage Cafe serves such specials as Moroccan chicken, fajitas and orange-tarragon tilapia. 507-674-3123.
Breweries: Off Riverfront Drive, LocAle Brewing serves flights of its many beers.
Nightlife: In summer, the theater department of Minnesota State University-Mankato presents a series of plays and musicals during Highland Summer Theatre. For tickets, call 507-389-6661.
In Riverfront Park, Vetter Stone Amphitheater hosts many big-name performers in summer.
Information: Visit Mankato, 507-385-6640.
Last updated on January 24, 2022