Bash on a bike trail
In fall, kick up your wheels at a small-town festival.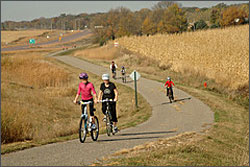 In September, when the air turns crisp, everyone starts thinking the same thing: Time to plan a weekend trip.
Autumn is a great time to try out a new bike trail, not only because of fall colors and invigorating weather but because so many small towns throw harvest festivals in September and October.
Since trails go right through towns, bicycle tourists are right in the middle of the action — but not the traffic jams.
Food always is the main draw, and there's nothing bicyclists like more than food. Grape harvests result in wine festivals and Oktoberfests in a river of beer, which also goes over pretty well.
So why not pair a bike ride with a fun little festival? Here are some of the best destinations.
For more, see 15 great trails to ride in fall.
For fall weekend bike tours, see Tours on two wheels.
Wisconsin
Sugar River State Trail in southern Wisconsin: Oktoberfest in New Glarus.
This 23-mile trail goes through Wisconsin cheese country, connecting to the Badger State Trail.
For more about the area, see Wisconsin's cheese country.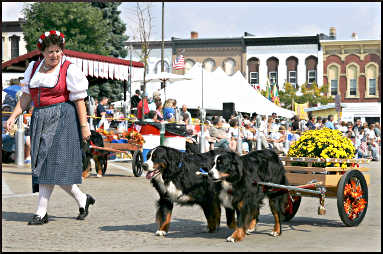 Interurban Trail north of Milwaukee: Wine & Harvest Festival in Cedarburg. Oktoberfest in Cedarburg. Covered Bridge Art Studio Tour, with artists from Mequon to Port Washington.
This paved 30-mile trail follows an old trolley line from the northern suburbs of Milwaukee to the tourist towns of Cedarburg and Port Washington on Lake Michigan.
For more, see Bicycling along Lake Michigan.
Old Abe State Trail in western Wisconsin: Oktoberfest in Chippewa Falls.
Follow the Chippewa River on this 19½-mile trail between Chippewa Falls and Cornell, named for a ferocious Civil War mascot.
For more, see A trail for Old Abe.
Military Ridge State Trail west of Madison: Fall Village Vintage Market in Mount Horeb.
This 40-mile trail heads west from the Madison suburb of Fitchburg (linked to Capital City Trail) to Dodgeville.
Elroy-Sparta State Trail in southwest Wisconsin: Apple Dumpling Day Races in Elroy.
Minnesota
Paul Bunyan State Trail in northern Minnesota: Fall Festival in Nisswa.
The Minnesota lakes country through which this trail cuts is unjustly forsaken when summer ends; the fall color there is as good or better than the display on the North Shore.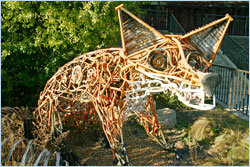 "
The Bunyan connects to the 47-mile Heartland State Trail just east of Akeley.
For more, see Bicycling the Bunyan and Autumn in the Brainerd Lakes.
Root River and Harmony-Preston Valley state trails in southeast Minnesota: Autumn Trail events in Lanesboro and the other towns along the trail.
The bluff country of southeast Minnesota and its bike trails, the 42-mile Root River and 18-mile Harmony-Preston Valley, are favorite destinations in fall.
For more, see Bicycling in bluff country.
Sunrise Prairie Trail north of the Twin Cities: Fall Harvest Festival, North Branch.
This trail parallels I-35 but is out of sight. The 10 miles between Stacy and North Branch are especially scenic.
Red Jacket Trail in Mankato: Mahkato Wacipi in Mankato. Mankato River Ramble bike tour.
This 13-mile trail through the countryside south of Mankato connects to the 5-mile North Minnesota River Trail in town and the 39-mile Sakatah Singing Hills State Trail.
For more, see Mankato meander.
Grand Rounds National Scenic Byway in the Twin Cities: Saint Paul Classic Bike Tour.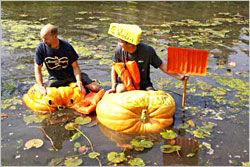 It includes music and snacks at frequent rest stops on scenic, traffic-free river boulevards and parkways around lakes.
For more, see Bicycling in St. Paul and beyond.
Northern Illinois
Fox River Trail west of Chicago: Festival of the Vine in Geneva. Scandinavian Day at Vasa Park in South Elgin.
This trail follows the Fox River from town to town, including Aurora, Batavia, Geneva and St. Charles, and through shady nature reserves.
Great Western Trail west of Chicago: Sycamore Pumpkin Festival.
Seventeen miles of crushed-limestone trail connect St. Charles to Sycamore.
Eastern Iowa
Trout Run Trail in Decorah: Northeast Iowa Artists' Studio Tour.
This 11-mile paved loop around town mostly follows the Upper Iowa River and Trout Run Creek and is lined by wildflowers and artwork.