The Fire Ride
A bicycle trail connects two eastern Minnesota towns that share a painful past.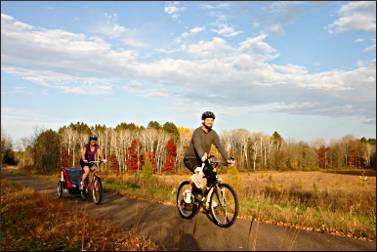 Pedaling along a beautiful state trail in eastern Minnesota, bicyclists never would guess it once was hell on earth — twice.
In 1894, a 4½-mile-high wall of fire incinerated Hinckley and Sandstone along the St. Paul & Duluth Railroad line, now the Willard Munger State Trail.
In 1918, another inferno destroyed Kettle River, Moose Lake and Cloquet. Hundreds of people died, and dozens of villages were wiped off the map.
Today, the 32-mile stretch of paved trail between Hinckley and Moose Lake is lined with wildflowers, pine trees and chirping songbirds. But fire museums in each town tell the tragic, often gruesome stories.
The Hinckley Fire in 1894 is best known and received five days of front-page coverage in the London Times.
But the 1918 Cloquet Fire remains the worst single-day natural disaster in Minnesota history, with 453 people burned to death and 4,089 homes destroyed.
Even in Minnesota, few have heard of the 1918 fires, sparked by passing trains and whipped into an inferno by winds on Oct. 12. From Cloquet, it spread north at up to 20 mph, reaching the northeast edge of Duluth.
"It happened right when World War I ended, and that got all the headlines," said Marlene Berube of the Fires of 1918 Museum in Moose Lake.
Berube's father was in the local Home Guard, which was charged with searching for and burying the dead, and he never mentioned it to her.
"My brother said Dad told him once and then said, "I never want to talk about it again,' " she said.
People in Cloquet were warned and evacuated by train. But many in the countryside and smaller towns were taken by surprise. They tried to take refuge in lakes, ditches and root cellars, where many suffocated. The fire was followed by a cold night.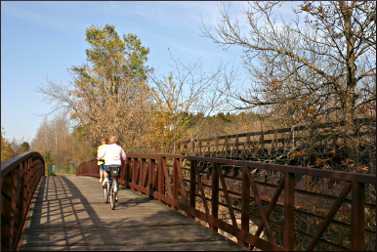 "Some people laid next to what they thought was a burned log to stay warm, and the next day they found out it was a human," Berube said.
The Moose Lake museum is the 1907 Soo Line depot, one of the few buildings that survived. The Munger Trail runs alongside it, heading north to Duluth and south to Hinckley.
Named for Willard Munger, a Duluth environmentalist who served 43 years in the Minnesota House, the trail loosely follows Minnesota 61, the same highway mythologized in Duluth native Bob Dylan's classic "Highway 61 Revisited."
Heading south from Moose Lake, it runs through Sturgeon Lake and Willow River, then veers away from the highway to Finlayson, slicing through pastoral meadows.
Five miles from Hinckley, a marshy area once was Skunk Lake, scene of a dramatic rescue in the 1894 fire.
The train from Duluth was approaching Hinckley just as the cyclonic fire reached it from the south.
With 170 panicked townsfolk who had run north on the tracks, engineer Jim Root threw it into reverse and backed the flaming train to Skunk Lake, where the 300 passengers rushed into 18 inches of mud and slime 30 seconds before a wall of flame barreled over them.
Across town at the Eastern Minnesota depot, engineers Edward Best and Edward Barry had arrived earlier and waited until another 400 people could pile onto the train. As it left, melting paint ran off its cars, and the town exploded behind it.
In Hinckley, the green Fire Museum occupies the St. Paul & Duluth depot that replaced the one that burned in 1894.
"We've had a lot of people ask, 'Is this the same fire as the Moose Lake one?' " said volunteer Carol Goddard. "Ours was a firestorm, a whole different story. It's the only documented natural firestorm; Hiroshima and Dresden were manmade."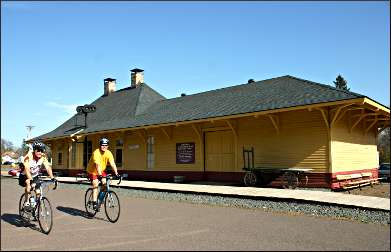 Less than 2 inches of rain fell in the summer of 1894, and many small fires smoldered in the countryside, many started when hot cinders from trains landed in tinder-dry wood left behind by logging crews.
Breezes fanned small fires, and they came together. The flames, breaking through a thick layer of warm air, were turned into a fiery cyclone by cool air traveling down from above.
In the old freight room, a 19-minute movie tells the dramatic story, and a fiery mural tells it in images. Exhibits include the rocking chair in which a child sat, wrapped in wet blankets, as the fire passed over her in a potato field; her china doll is in an adjoining case.
In the old telegrapher's room, a plaster likeness of 25-year-old Thomas Dunn sits awaiting Root's train from Duluth, on which members of Dunn's family were traveling. A tape records his last message: "I think I've stayed too long."
A ride on the Munger State Trail is lovely in every season. But people who have visited the two fire museums may see ghosts amid the scenery.
Trip Tips: Moose Lake to Hinckley on Minnesota's Munger State Trail
Getting there: Both towns are right off Interstate 35. Hinckley is midway between Duluth and the Twin Cities.
Willard Munger State Trail: It's 32 miles from Hinckley, where the trail starts a block north of the Fire Museum, to Moose Lake.
From Moose Lake, it's 23 miles to Carlton and Jay Cooke State Park. From Jay Cooke, the 15-mile downhill ride to Grand Avenue in West Duluth, through rock cuts, is one of the most scenic and exhilarating in the state.
Bicycle rental: Carlton Bike Rental has shops in Hinckley, Moose Lake and Carlton.
Fires of 1918 Museum in Moose Lake: It's open daily from Memorial Day to Labor Day, then Fridays-Sundays through mid-October, when there's a fire commemoration. Admission is $5.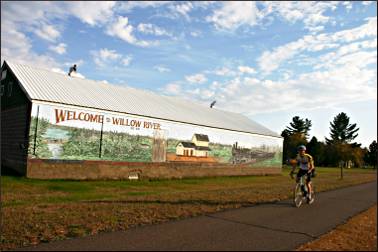 Hinckley Fire Museum : It's open from Thursday through Sunday from May to mid-October, daily in July and August. Admission is $5.
For more, see Hinckley's Fire Museum.
Accommodations: The pet-friendly Moose Lake Lodge has an indoor pool and is off the interstate in Moose Lake.
Between Moose Lake and Sturgeon Lake, Sand Lake Resort has lake cabins and access to the Munger Trail.
Three miles from the trail at Sandstone, Osprey Wilds Environmental Learning Center on Grindstone Lake rents several historic lodges for groups.
Hinckley has several places to stay.
Camping: Moose Lake City Campground has sites on Moosehead Lake plus a beach, shower house, boat landings, playground and tennis courts. There's a  tent area on the Moosehorn River. It's a short walk to downtown restaurants and shops.
On the other side of I-35, Moose Lake State Park has campsites.
On the other side of I-35 from the trail near Sandstone, Banning State Park is very beautiful and has campsites. It also offers a rustic camper cabin that sleeps five.
Last updated on May 19, 2021