Two trails from Two Rivers
On Lake Michigan, bicyclists ride the breezes between a lighthouse and a submarine.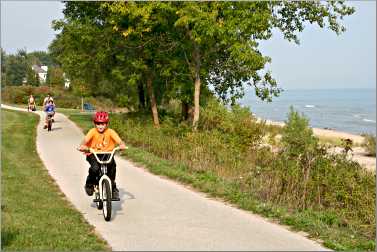 In summer, overheated tourists head for the Cool City.
Two Rivers, Wis., gets its nickname from cooling breezes that come from three sides: the East Twin River, the West Twin River and Lake Michigan.
Swimmers can cool off with a dip from Neshotah Beach, a great strip of sand, but there's an even better one five miles north, where Rawley Point Lighthouse towers over the dunes of Point Beach.
Two Rivers also is the birthplace of the ice-cream sundae — how cool is that?
From its small harbor, charter boats set out to fish for trout and salmon. Two Rivers' sister city, Manitowoc, is known for larger boats: the U.S.S. Cobia, a submarine docked alongside the Wisconsin Maritime Museum, and the S.S. Badger, a coal-powered car ferry that makes daily runs to Ludington, Mich.
Like Two Rivers, Manitowoc also is known for something sweet: old-fashioned Beerntsen's Confectionary, which has occupied the same elegant spot since 1932 and displays homemade chocolates as if they were diamond bracelets.
Two bicycle trails link everything. From Manitowoc, the 5½-mile Mariners Trail along Lake Michigan is straight, sunny, and wide open. From Two Rivers, the six-mile Rawley Point Trail is twisting, shadowy and slightly mysterious.
The beach to which it leads, lined with dune grass, is one of the finest in the Upper Midwest.
"Isn't that a gorgeous beach? That's how we found this place," says tile artist Beth Vienot. "It's always cooler here, and we would come up from Milwaukee to go to the beach."
On one trip, Vienot and her husband, blacksmith Ned Guyette, saw a for-sale sign on a magnificent English Tudor mansion built in 1927 for the son of J.E. Hamilton, a Two Rivers manufacturer who figured out how to mass-produce wood printing type and made a fortune.
Now, the two artists live in the house and operate Carreaux du Nord, selling handmade Arts & Crafts tiles in its oak-beamed great room.
The 1907 Red Forest B&B, where we were staying, is across the street. From there, we rode down Washington Street, past Hamilton's sprawling factory and across the East Twin River to the Rawley Point Trail.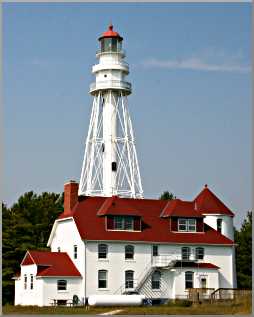 From Sandy Bay Road, we followed it into cedar forest and along a timber-rail fence on crushed limestone as white as Hansel and Gretel's pebbles.
Soon, hemlock deepened the shadows. We emerged to sun-splashed dunes but soon returned to forest and found ourselves on a quarter-mile stretch of the Ice Age National Scenic Trail.
Once, Point Beach State Forest was the beach of a glacial lake; as it retreated, it created a series of 11 sandy ridges and wetland troughs called swales. From a bicycle, they look like a giant piece of corrugated cardboard.
The trail was captivating, gently rising and falling, and we whooshed along with scarcely any effort. We passed a 1929 chinked-timber cabin, then the campground.
Then we heard the crashing of waves, jarring after the silent forest. The trail ended across from the stone Point Beach Lodge concession pavilion, built at the end of the Depression by Civilian Conservation Corps crews.
Heading back, we walked onto the beach to see the 113-foot Rawley Point Lighthouse. Before it was built in 1894, 26 ships foundered on the point. The most tragic wreck was the steamship Vernon, which sank with 36 crew and passengers in 1887.
The most famous was the Rouse Simmons, the beloved Christmas Tree Ship, which was on its way to Chicago in November 1912 when it ran into a storm and sank with 17 men and a full load of trees.
Farther down the trail, we also checked out two large, wood-heated cabins that have their own section of the park, private boardwalks to the beach, dining pavilions, water pumps and fire pits with benches. At $60 apiece, they're one of the region's best deals, and competition for them is fierce.
In Two Rivers, we followed Lake Michigan through Neshotah Park and soon saw signs for the Mariners Trail.
But first, we stopped at Kurtz's Pub for sundaes, which were as good as we'd heard, covered with velvety, homemade hot fudge and topped with whipped cream and toasted almonds.
The story is that, in 1881, a customer asked soda fountain owner Ed Berners to top his ice cream with a chocolate sauce that previously had been used only in sodas.
He continued to serve it, but only on Sundays, until one day, a 10-year-old insisted on ice cream "with that stuff on top," saying they could "pretend it was Sunday." Later, a glassware salesman who couldn't spell placed an order for canoe-shaped "sundae dishes."
Unfortunately, the New York town of Ithaca also claims it invented the sundae, when a drugstore owner served one to a local minister in 1892, and it can show a newspaper ad promoting the "Cherry Sunday."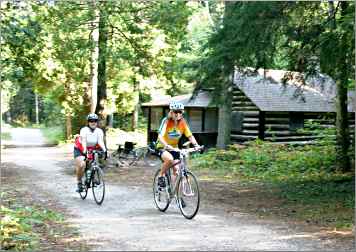 The two towns carry on a friendly but pointed feud. Two Rivers put a coupon for a free sundae in the Ithaca newspaper. Ithaca placed an ad in the Manitowoc paper that read, "Dear Two Rivers, Got Proof? We Do. Love, Ithaca."
From Kurtz's, we crossed the West Twin River and rode onto the paved Mariners Trail. It follows the highway and doesn't have the atmosphere of the Rawley Point Trail.
But its lake breezes keep bicyclists cool and mosquito-free on humid days, and it's lined with flower beds. On the edge of Manitowoc, riders can pull off for a free walk through West of the Lake Gardens, six acres of formal perennial gardens on the lakeshore.
We pulled into Manitowoc at 4 p.m. on a Saturday, but already most shops were closed.
But Beerntsen's Confectionary was open. It's open 12 hours a day, seven days a week, and a steady stream of cars pulled up to patronize it.
The chocolate shop has occupied its spot in the imposing Dempsey Building since 1932, and it looks like a jewelry store, all polished wood and glowing sconces.
It had sold out of European-style molded chocolates, a big disappointment, but it had plenty of store-made novelty items, fairy food and chocolate bark made with Door County cherries.
On a bench outside the shop, local resident John MacLean was relaxing with a cup of coffee, and he explained why Manitowoc was so quiet.
"It's old Wisconsin; people want to spend time with their families," he said. Then he waved his arm at the many bars down the street. "But this is the lull before the storm," he added. "If you're here at 2:30 in the morning, you won't think it's dead; there's plenty of hootin' and hollering."
We came back to Manitowoc the next day to tour the Wisconsin Maritime Museum on the harbor. During the Second World War, 7,000 employees of the Manitowoc Shipbuilding Co. worked around the clock, producing 28 submarines for the U.S. Navy.
The town had a perfect harbor for submarines, which could be launched on their side into the Manitowoc River. Docked alongside the museum, the U.S.S. Cobia was built in Groton, Conn., but it's the same type of submarine made in Manitowoc and has been restored to its 1945 condition.
The all-volunteer silent service, as it was called, was perhaps the most demanding branch of the military.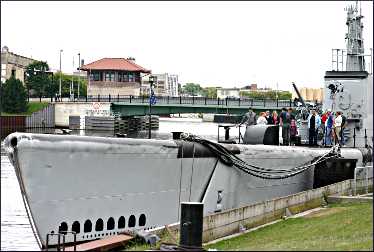 On our tour, the guide gave us some interesting numbers: 93 percent of men failed to get through training. If they did, they got 50 percent more pay than other servicemen. And 23 percent died while serving.
The Maritime Museum also pays tribute to sport boating, with a hall full of antique beauties, such as a 1907 oak-and-cedar yacht called the Lady Isabel and a sleek 1932 racing hydroplane. At the virtual-fishing station, we reeled in an 89-pound sailfish.
Manitowoc still is a maritime town. Across from the museum, fishermen lined the quay, and a big pile of coal awaited the boilers of the S.S. Badger, a giant 1953 car ferry that gives tourists a fun shortcut across Lake Michigan.
On the other side of downtown, freighters deliver barley to the Briess malting plant.
Two Rivers and Manitowoc are working towns, but they offer plenty for tourists. On a bicycle, it's easy to find out what.
Trip Tips: Two Rivers and Manitowoc, Wisconsin
Getting there: The two towns are midway between Green Bay and Sheboygan.
2023 events in Two Rivers: June 22, Ice Cream Sundae Thursday in Central Park, with 25-cent sundaes and a concert. June 23-24, Cool City Classic Car Show. July 4, Celebration. Aug. 11, Rogers Street Days. Sept. 2-3, Kites Over Lake Michigan. Sept. 16, Ethnic Fest.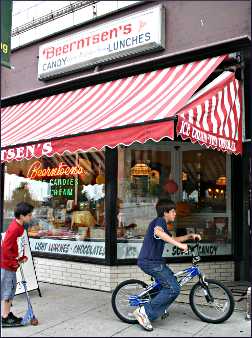 2023 events in Manitowoc: July 4, SubFest. Sept. 9, Sputnikfest.
Bicycling: It's 14 miles between Point Beach and Manitowoc. The six-mile Rawley Point Trail is finely crushed limestone and starts at Point Beach Lodge.
At its end in Two Rivers, continue along Neshotah Park and Zlatnik Drive to 17th Street, where signs lead bicyclists through town and to Lakeshore Park.
There, they can pick up the 5½-mile Mariners Trail, which follows the Lake Michigan shoreline to Manitowoc.
Wisconsin Maritime Museum: It's open daily. Admission is $20, $13 for children 4-12. On several weekends in summer, families can spend the night on the U.S.S. Cobia. 866-724-2356.
Historic Washington House: Ed Berners' ice-cream parlor is re-created at this 1850 hotel, 1622 Jefferson St. in Two Rivers. It sells 18 kinds of sundae and offers free admission.
Woodland Dunes Nature Center: The center between Two Rivers and Manitowoc has hiking trails and offers many naturalist events. 920-793-4007.
West of the Lake Gardens: The Mariners Trail passes these lovely gardens in Manitowoc. Admission is free, and there's a bike rack.
Rahr-West Art Museum: The museum, at North Eighth and Park streets in Manitowoc, is open Tuesdays-Sundays, and admission is free.
Still Bend: The brick and cypress Bernard Schwartz House was designed in 1938 by Frank Lloyd Wright, who called it Still Bend for its site along a marshy stretch of the East Twin River in Two Rivers.
Hourlong tours are given on some days; $25, $5 for youths. Reserve in advance.
Accommodations: In Two Rivers, the Red Forest B&B has four attractive rooms in a 1907 single-style house.
Frank Lloyd Wright's 1938 Still Bend has four bedrooms.
The Lighthouse Inn is an older hotel right on Lake Michigan in Two Rivers. Lakeview rooms are best; other rooms face the parking lot and highway. It also rents bicycles.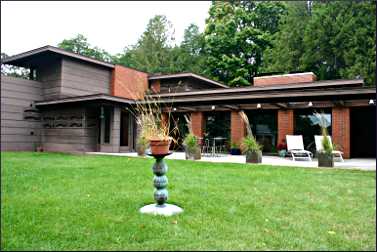 Camping: In the south part of Point Beach State Forest, the rustic Coenen Cabin sleeps 16 and the Ketchbaw Cabin sleeps 14. Each has bunks, tables and a wood-burning stove but no electricity.
Each has latrines, a fire pit and a boardwalk to the beach, and they share a water pump and eating pavilion (next to the Coenen Cabin). Guests use shower houses in the main part of the park. They're $60 each.
They can be reserved 11 months in advance, 800-372-3607. The park is at 920-794-7480.
The campground has 127 sites; some are first-come, first-served.
Dining: In Two Rivers, Kurtz's Pub on Washington Street doesn't look like much from the outside, but it's cheerful, smokeless and serves great hot-fudge sundaes and a nice selection of beers. Try the roll braten, roast pork and steamed onions on freshly baked French bread. It's been around since 1904. Closed Sundays. 920-793-1222.
In Manitowoc, the Courthouse Pub at 1001 S. Eighth St. is a convivial place and serves steaks, seafood and vegetarian specials. Closed Sunday and Monday. 920-686-1166.
Beerntsen's Confectionery, at 108 N. Eighth St. in Manitowoc, serves lunches.
S.S. Badger: In summer, the car ferry leaves Manitowoc at 2 p.m., arriving in Ludingon at 7 p.m. Reserve in advance. 800-841-4243.
Information: Manitowoc-Two Rivers tourism, 800-627-4896.
Last updated on February 1, 2022