Bayfield in winter
When snow covers this scenic Wisconsin peninsula, everyone heads for the hills.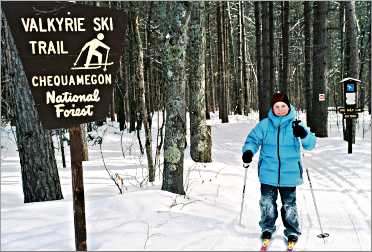 In the vacation town of Bayfield, action shifts to the woods in winter.
In summer, everyone gravitates to Lake Superior and its cruise launches, sailboats, ferries and kayaks. But when it snows, the locomotion is on inland trails.
And it does snow. Gales over the big lake deliver plenty for skiers, snowmobilers and mushers.
The first time I went to Bayfield in winter, a blizzard buried the town. But the next time, conditions were perfect.
We started our weekend on the Brownstone Trail right out of Bayfield, skiing by the light of luminaries placed by the Bayfield Regional Conservancy. The trail heads south along Chequamegon Bay, past Seagull Bay, one of the last great mom-and-pop motels.
We were staying there along with mushers, in town for the Apostle Islands Sled Dog Race, and the parking lot was filled with straw bales and husky hotels.
We drove 10 miles west the next day to watch the race from one of the peninsula's many gravel pits, dropped by the same glacier that created the inland hills prized today by skiers and berry farmers.
There's nothing quite like watching packs of howling, dancing huskies explode from a starting line, and I watched raptly with Vicki Seeger of Big Lake, Minn., who raises her own dogs with her husband, Steve.
"I just don't understand why more people don't come and watch, it's so fun," she said. "We got addicted to it. We had to sell our house on a lake to go somewhere where we could have dogs."
Seeger was cheering for her daughter, Heather Monroe of Princeton, Minn.
"Heather had been riding a sled since she was 7, but then she saved her babysitting money and said, 'I'm not going to ride anymore,' " she said. "She bought two dogs of her own and then a sled."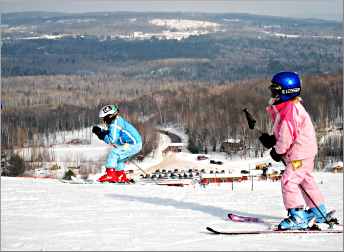 Another youngster got her start that day in the family/recreation class, and in her little fur-trimmed parka, she was even cuter than her dogs. Her mother, Mary Thiel of Bayfield's Wolfsong Adventures, helped her get ready, but then Emma Thiel was on her own, disappearing down the trail behind three huskies.
From the race, we headed for the hills ourselves, to the trails of Valhalla Recreation Area. Snowmobilers had built a big fire in the shelter, and we joined them to eat lunch.
A light snow was falling, just enough to flock the trees, as we headed onto the Valkyrie Trail's Loop C, a 10-kilometer ribbon that winds through stands of red pine and oak up to a ridge and back.
Groomed for striding only, it's suited for quiet contemplation of snow and scenery.
On the other side of County Road C, the Teuton Trail is its perkier sister. Groomed for skating as well as striding, it winds up and around gentle hills before ending in a long, exhilarating glide down.
In Washburn, we had dinner at Good Thyme restaurant. It's one of our favorites, sophisticated but completely unpretentious.
It's also a community hangout and a good place to pick up the local news; our jovial waiter cracked jokes as he brought us Thai salmon salad and saffron linguine with chicken and sun-dried tomatoes.
The next day, we skied at Mount Ashwabay, named for the three Chequamegon Bay towns of Ashland, Washburn and Bayfield.
Now owned by a non-profit coalition, it's the little ski hill that could, with 14 alpine runs, 35 kilometers of cross-country trails, six kilometers of fat-bike trails, a cozy chalet with two stone fireplaces and a heap of small-town friendliness.
"Your cross-country pass includes the T-bar, though we'll give you a ride up on a snowmobile if you want," said Cliff Grand, one of the locals who raised money to save the hill, also the summer home of Big Top Chautauqua. "Want to go up now and check it out?"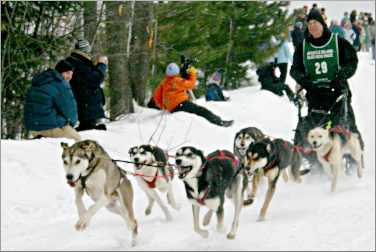 We already knew we wanted to ski there. We headed out on narrow striding trails, through snow-laden firs, as the day brightened.
Eventually, we found ourselves at the top of the alpine hill, where we drank in the panoramic view of Chequamegon Bay. All weekend, we'd seen nothing but beauty.
"It'd be fun to live here," my husband said. "We sure could get a lot of skiing in."
On the Bayfield Peninsula, everyone wants to be a local.
Trip Tips: Bayfield, Wisconsin, in winter
2023events: Feb. 18, Book Across the Bay tour from Ashland to Washburn. March, Winter Festival.
Cross-country skiing: Mount Valhalla, eight miles from Washburn on County Road C, has 20 kilometers of trails and a lodge where skiers and sledders build their own fires.
The Valkyrie Trail is groomed for striding and the Teuton Trail for striding and skating. There's a fee for parking.
Skiing: Mount Ashwabay, three miles south of Bayfield off Highway 13, has 13 downhill runs with four rope tows and a T-bar. There are also 35 kilometers of cross-country trails and six kilometers of fat-bike trails.
Snowshoeing: Wisconsin Landmark Conservancy maintains the Brownstone Trail, which starts across from Maggie's at Manypenny Avenue and Third Street, and the Big Ravine Trail, at the end of North Third Street behind the outfield fence of the baseball field.
The Iron Bridge Trail is on the other side of the ravine and starts at Washington Avenue and Broad Street.
Mushing: Wolfsong Adventures offers four-hour morning adventures in which guests handle and harness Siberian huskies and drive the sled.
Gear rental: On the south edge of Bayfield, at the intersection of Wisconsin 13 and County Road J, Howl Adventure Center rents skis, snowshoes and fat bikes. It shares a building with Adventure Club Brewing.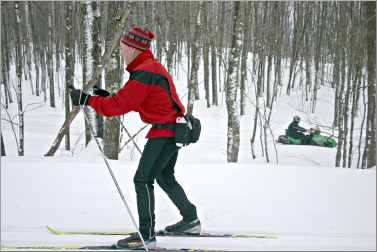 Mainland ice caves: To see if shoreline conditions allow access, call the hot line, 715-779-3397, Ext. 3. Conditions are best if it's very cold but there's not much snow or wind.
For more, see Ice caves of the Apostles.
Accommodations: There are many condos, cottages and apartment suites and inns, and prices drop in winter.
Lodgings include the Seagull Bay Motel on the edge of downtown, overlooking Chequamegon Bay and adjoining the Brownstone Trail.
It's a well-run motel with friendly proprietors, who also rent a guesthouse and cottage and a large two-story house that's good for large groups.
The Pinehurst Inn Bed & Breakfast on the south edge of town is closest to Mount Ashwabay.
It's Travel Green-certified and has five rooms in the 1885 main house, including a three-room suite with fireplace, double whirlpool and extra sofa bed, and three rooms in the 2003 Garden House, each with fireplace and whirlpool. Massages are available on site.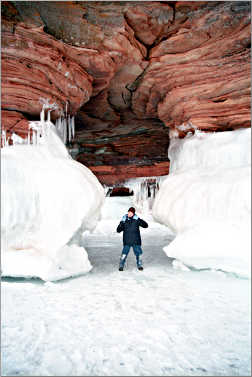 The Bayfield Inn, overlooking the marina next to the cruise-service dock, is a solid choice. Harbor's Edge Motel is just down the street, across from the ferry landing, with rooms that are a little cheaper.
The Rittenhouse Inn was Wisconsin's first B&B and one of its best-known. It rents 12 rooms in the 1890 main inn; seven in the 1908 Chateau Boutin, five blocks away; and the 1910 Arts & Crafts-style Rittenhouse Cottage, one block away.
Many rooms have whirlpools and/or fireplaces. Continental breakfast is included; a full breakfast is extra, plus tax and 20 percent gratuity.
The Artesian House B&B has a wooded setting just south of town and has three rooms, one with double whirlpool and two with extra sofa beds.
Bayfield County rents two yurts that have direct access to the ski and snowshoe trails of Mount Ashwabay and sleep six. Access is by ski or snowshoe only.
Dining: On Manypenny Avenue, the Manypenny Bistro serves large breakfasts, wood-fired pizza, gyros, Turkish döner and local whitefish.
The Rittenhouse Inn restaurant is open to the public. Reserve at 715-779-5112.
Good Thyme is a convivial bistro in the renovated 1913 Monroe Sprague house, a mile north of Washburn on Wisconsin 13. Call 715-373-5255 for reservations.
Nightlife: In Washburn, StageNorth hosts community theater, concerts, dance performances and films, 715-373-1194.
Apostle Islands National Lakeshore : The headquarters is in Bayfield at Washington Avenue and Fourth Street, 715-779-3397.
Information: Bayfield Chamber of Commerce and Visitor Bureau, 800-447-4094.
Last updated on February 5, 2022