Happy days at Maplelag
Winter is as good as it gets at a friendly cross-country ski resort in northwest Minnesota.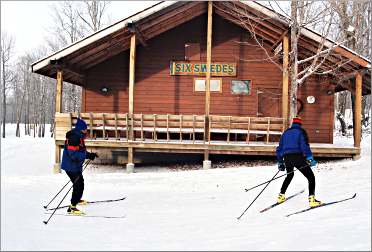 It was an early January day in western Minnesota. A biting wind was blowing off the prairie, and the mercury was sinking faster than the Titanic.
But it didn't matter. I was at Maplelag, where the world is my iceberg . . . um, oyster.
At Maplelag, no matter how inhospitable the outside world is, the lodge's stained-glass windows turn the wan rays of winter into gleaming golds and apricots. The steam billowing from the giant hot tub creates a dome of warmth amid the tundra. Bottomless cookie jars and baskets of hot fry bread keep guests fat and happy.
And the skiing, on 64 kilometers of perfectly groomed trails, always is superb.
Rising slightly at a point where prairie meets the eastern hardwood forest and northern pine forest, Maplelag's trees catch the first snow from the west.
Once under a canopy of maples, it comes under the custody of Jay Richards, who combs, cossets and grooms it as if it were the pelt of a prize poodle.
"We have to take care of it and baby it," says Richards, an avid skier and the son of Maplelag founders Jim and Mary Richards. "I have a lot of little tricks."
The skiing at Maplelag only partly explains the extreme devotion of its guests, who have voted it No. 1 family resort in North America and No. 1 overall resort in the Midwest in Cross Country Skier magazine.
I've been going to this resort north of Detroit Lakes for years, always on weekends. There's a lot of hustle and bustle then, with 200 guests beating paths between trails, coffee pot, saunas, hot tub and cabins, then gathering for meals and the Saturday-night talent show and dance.
But one year I switched tempo and came during the week for a learning vacation, bringing an Alabama-bred friend, a recent Minnesota transplant who barely had seen snow, much less skied in it.
He would learn to ski classically, and I would learn to skate, the faster but more strenuous technique using shorter skis.
We were greeted enthusiastically by Jim and Mary Richards, the personable couple who moved to this wooded bowl on the edge of the eastern hardwood forest in 1973, made maple syrup for 12 years and then devoted themselves to running a one-of-a-kind ski resort.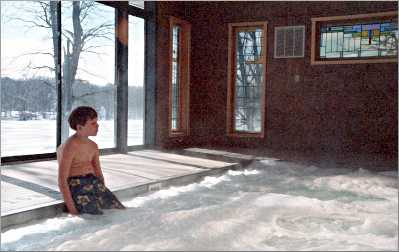 It was 6 degrees below zero, with a wind chill of 40 below, but we didn't even consider postponing the first lesson.
"It's a little windy today, but it's nice out in the woods, just like a dream," said a deadpan Jim Richards. "It's a day at the beach."
A day at a beach in Antarctica, maybe. But I'd told my friend Nathaniel all about polypropylene underwear, and explained the concepts of wicking and layering, so he was ready.
Jay Richards took us out to the Poki Loki trail and showed Nathaniel how to stride, herringbone up a hill and use his poles to propel himself along. But using a wedge to go downhill gave him some trouble.
"If you fall down, that means you're trying," Jay said diplomatically, after praising his poling technique.
The woods were brilliantly lit by the afternoon sun. When we came over a small hill on Mother North Star, I noticed an unusual peach-and-yellow glow through the trees, like a skinnier, two-toned sun.
But the real sun was to the left, and another peach glow was to the left of the sun.
"Those are sun dogs," Jay told us. "They're ice crystals that refract the light, for a rainbow effect. They're indicative of the cold."
We knew all about the cold. Nathaniel's glasses had iced over, virtually blinding him. But back at the lodge, he delivered his verdict on cross-country skiing.
"That was great," he said, grinning. "I had a good time. And now I can tell my grandkids someday that I learned to ski when it was 40 below."
For dinner, there were platters of roast chicken, scalloped corn, salad, fry bread and cream puffs drizzled with chocolate.
We sat next to Paul and Helen Bowlin of Golden Valley, who had come with their two sons, their sons' wives and their grandkids, four cheerful tykes between the ages of 1 and 6.
The family, said Paul Bowlin, had been coming to Maplelag for a decade, usually after the holidays.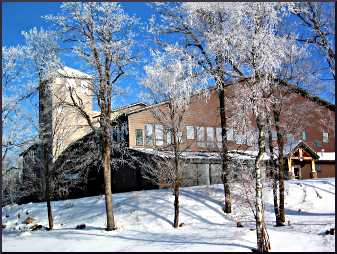 "We'd come when they were home from college, and they had to work out a lot of stress," he said. "They'd come up here and ski their legs off. Then they'd come with girlfriends, and then with fiancees, who had to pass the hole-in-the-ice test.
"Now they've got kids, and we don't want them to lose the tradition of a northern winter, even the ones in Tulsa. We're brainwashing them into thinking they're still Minnesotan."
I told Nathaniel about the fabled hole in Sugarbush Lake. If guests jump into it after baking themselves in the outdoors sauna, they can buy a T-shirt reading "I Took the Plunge."
Fortunately for Nathaniel, I've never wanted to jump in the lake myself, so I didn't expect him to. We took the heat instead, him in the steam sauna and me in the hot tub, which the Richardses say is the largest in Minnesota.
The next morning it was 15 below but windless, and after a breakfast of French toast and sausage, Nathaniel said he wanted to try some more hills. So we headed out for the rolling Bullhead Lake trail via Suicide Hill, down which Nathaniel tumbled, laughing merrily.
He fell down a long decline on the lake, too, but when I suggested he try again, sailed down with style.
Beyond the cattail marsh, we ran into Paul Bowlin, on the lookout for great gray owls, but the wildlife had relinquished the woods to mad dogs and Minnesotans.
By the time we got back, Nathaniel's eyelashes were fringed with ice, and I took a photo for him to send to his parents in Texas. Then we played two cutthroat games of ping-pong, read magazines in a sunny corner of the dining room and had lunch.
Then it was time for my lesson. Jay Richards gave me shorter skis and longer poles, took me out to the Skaters Waltz trail and tried to convey whatever magic it is that allows skaters to dance so gracefully over the untracked snow.
He exhorted me to align with my ski-toe-knee-nose-and to walk like a cowboy, pushing off into a wide glide. When I drew back, he said, I should "think like Dorothy," with my heels almost clicking.
I didn't dance, and I wasn't graceful. But I did get a few glimmers of how much fun it would be if I ever did get the hang of it.
Then we had to leave. And as we pulled away, I found that, even if I could barely skate, I was at least thinking like Dorothy: In winter, there's no place like Maplelag.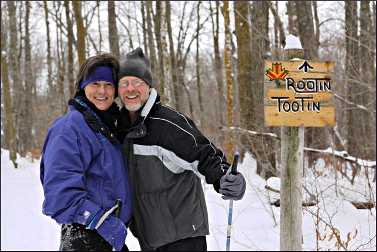 Trip Tips: Maplelag ski resort in northwest Minnesota
Getting there : It's 20 miles northeast of Detroit Lakes, four hours from the Twin Cities.
Ski conditions : Jay Richards works magic with the snow, keeping the trails in good condition through mid-March. Check the resort's web site for up-to-the-minute photos of the trails.
Accommodations : There's a wide variety, with those who reserve year-to-year occupying the choicest ones on weekends and holidays.
Tier 1 lodgings include restored pioneer cabins and a former chicken coop, which have stained-glass windows but no bathroom (guests use the ones in the main lodge).
Tier 2 lodgings have shared bathrooms down the hall, and Tier 3 lodgings, including the cabooses, have private bathrooms.
Rates include three all-you-can-eat meals a day plus snacks.
Guests bring their own sheets or sleeping bags, pillows and towels, though they can be rented.
Ski equipment in all sizes can be rented, as well as snowshoes and kick sleds for hauling small children.
Information : Maplelag, 800-654-7711.
Last updated on January 17, 2022