Ironwood the reliable
When most of the Upper Midwest is brown, cross-country skiers know where to find snow.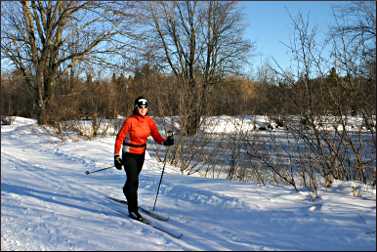 In Ironwood, there's one thing people can count on besides death and taxes.
Snow, and lots of it, is a sure thing in this former ore-mining town just over the Wisconsin-Michigan border.
Blown in over Lake Superior, the snow starts falling as soon as days cool down in late autumn and keeps falling until spring sun turns the pink-tinted piles into slush.
Its sheer quantity often exasperates locals, but it exhilarates the cross-country skiers who converge on the town like sheep to salt, desperate to hear the crunch of newfallen snow and cast their eyes over a world of white.
The first time I skied there, it was St. Patrick's Day weekend. On the southern edge of Ironwood, along the Montreal River, Active Backwoods Retreat has earned a reputation for the region's best early- and late-season skiing.
There we were, in sun and 40-degree temperatures, and the skiing was superb.
We glided along, our heads swiveling to take in the sights: an ice falls on the north face of a hill, a vertical bluff covered with paper-thin fungus and a sand quarry made artful by the voluptuous shadows of late afternoon.
When snow slights such ski meccas as Cable, Duluth and Minocqua, skiers head for Ironwood and its conjoined twin in Wisconsin, Hurley.
"You can always count on the snow here," said Scott Miller of Winona, Minn. "It's just a matter of how much farther you have to drive."
Miller said he and his friends, all from the Winona-La Crosse area, used to go to Cable, an hour closer to their homes.
Another year, in early March, I'd driven from the Cable area myself, looking for something better than the icy crust on the trails I'd hoped to ski there.
Winding my way through forest roads, past Whitecap Mountain ski hill and through Hurley's honky-tonk downtown, I crossed the Montreal River and drove to ABR.
Eric Anderson, who runs the cross-country ski area, was at the counter selling day passes.
"This has been the best year ever," he said, smiling. "Until everyone else gets snow, we do a great business."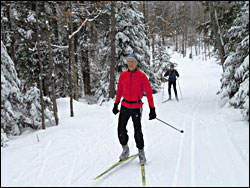 In the parking lot, Melva Cain of Burnsville, Minn., and Lee Pedersen of North St. Paul were getting ready to ski.
"We didn't get to ski at all last year, and we're not going to let that happen again," Cain said. "We're going where there's snow."
"If Mother Nature doesn't cooperate, we have to do something," Pedersen said. The two had tried to find a room in the Ironwood area but instead landed at a B&B in Manitowish Waters, 40 minutes south in the snow belt of Wisconsin.
"There was no snow there," Cain said. "So this is the place to find snow."
After skiing several loops on the rolling terrain at ABR — along the river, through open meadows, through forest and past an ice fall — I headed east of town to Wolverine, a volunteer-run system of trails just south of Big Powderhorn, one of three downhill ski slopes along the range of hills between U.S. 2 and Lake Superior.
Wolverine Ski Club organized in 1935 as a ski-jumping club and, as its Finnish founders aged, switched to cross-country skiing. Now it has a cozy chalet, with a wood stove, hot chocolate and coffee and homemade cookies.
"It's nice when outdoor winter activities can become a lifestyle, and you can count on it," said member Bruce Greenberg, who was leading a children's ski outing. "We're here for the community, we're here for everybody — recreational skiing, ski-joring, people out with their pets."
Wolverine's 54 acres also have more hills than ABR, and many fewer skiers. I saw only a few people as I skied, though conditions were very good.
And it has some lovely stretches; once, at the top of a run made shadowy and mysterious by a grove of white pine, I had to stop and just take in the view.
As the sun began to sink and I started driving back to my lodge room in Seeley, snow started to fall. By the time I was 15 minutes into Wisconsin it was blowing horizontally into my windshield, and I had to creep along the forest roads.
That Sunday morning there was snow on the trails around Cable, but none of them were groomed. For Cable, it was a case of too little, too late.
Trip Tips: Nordic skiing in Ironwood, Michigan
Getting there: In best conditions, it's 4 hours from the Twin Cities via U.S. 2 across Wisconsin from Duluth and 5½ to 6 hours from Milwaukee.
From Minneapolis and Chicago, you can get a round-trip flight to Ironwood on Denver Air Connection.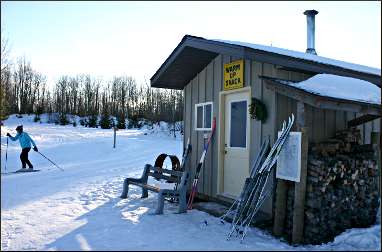 Events: Weekend after New Year's Eve, January, Sisu Ski Fest. This Finnish fest includes a 5K fun ski, a snowshoe tour and 15K and 31K races through historic mining areas, scenic bluffs and along the Montreal River.
Active Backwoods Retreat in Ironwood, Mich.:
This ski area, on the outskirts of Ironwood along the Montreal River, has the most reliable snow in the region by far, and skiing usually continues into April.
It has 60 kilometers of beautifully groomed skating and striding trails and a 4-kilometer snowshoeing loop on more than 600 acres.
To get there, turn south from U.S. 2 onto Lake Street and follow signs onto Frenchtown Road and South Range Road.
Wolverine Nordic Trails:  This volunteer-run system in the north part of town has 25 kilometers for skating and classical; they're maintained by donations to the Wolverine Ski Club ($10 is suggested).
Dogs are allowed, and there's also a snowshoe trail.
It's adjacent to the Big Powderhorn alpine area. To get there, drive a mile east of town on U.S. 2, turn north on Section 12 Road and drive 1.3 miles, turn east on Sunset Road and drive half a mile until you see the Wolverine chalet on the right, across from Lookout Lane.
At Big Powderhorn, Nordic skiers can buy a one-ride lift ticket and reach Wolverine's 7-kilometer Powderhorn Loop by skiing off Lift No. 4.
Alpine skiing: For more about alpine skiing at Big Powderhorn and the former Indianhead and Blackjack hills, now Snowriver Mountain Resort, see Ski the UP.
For more about Whitecap Mountains, just west of Ironwood and Hurley, see Cruising at Whitecap.
Accommodations: Reserve rooms for weekends as soon as possible, since there's also heavy demand from downhill skiers and snowmobilers, especially when there's little snow other places around the Upper Midwest.
ABR rents the Hilltop House, which has has three bedrooms, three baths and fireplace and sleeps up to 15. The three-bedroom, two-bath Kaartunen House has a wood-fired sauna and sleeps up to 16.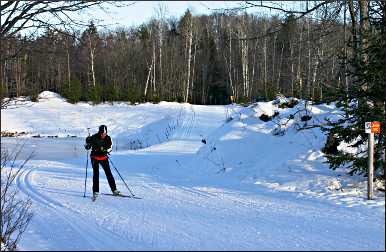 Five rustic cabins are right on the trails, accessible only by ski or snowshoe. Guests can use a wood-fired sauna with hot shower.
Right off the Wolverine Nordic trails, the pet-friendly Bear Cabin sleeps up to seven and has an electric sauna.
Black River Lodge is eight miles  north of Ironwood along Black River Road, which leads to the nearby Black River Recreation Area and its scenic five waterfalls along the river gorge. There's a pool and hot tub.
There are many franchise motels along U.S. 2, also known as Cloverland Drive.
Dining: In a historic building downtown, Old Suffolk Ale House serves steaks, chops, seafood, pasta, pizza and sandwiches. On the highway, Maplewood Steakhouse serves hearty north-woods classics.
In downtown Hurley, just across the Montreal River from downtown Ironwood, the Iron Nugget on Silver Street is friendly, has a nice atmosphere and a menu that includes gnocchi, spinach ravioli and other Italian specialties.
The pleasant Sharon's Coffee Co., in an 1888 brick building, serves breakfast, salads and sandwiches as well as hot drinks.
Craft beer: On South Lowell Street downtown, Cold Iron Brewing has a taproom and hosts live music and trivia nights.
Nightlife: The 1928 Historic Ironwood Theatre downtown is a renovated vaudeville house that showcases visiting performers.
Information: Ironwood tourism. Upper Peninsula tourism, 906-774-5480.
Last updated on December 8, 2021