Adventure in Eagle River
Around this snowy Wisconsin town, there's a trail for everyone.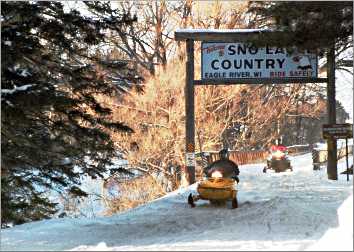 To the uninitiated, the vast expanses of forest around Eagle River, Wis., look like a lot of nothing.
It's rocky, useless land, forfeited to the government during the Depression, and hardly anyone lives there — Eagle River, pop. 1,400, is Vilas County's only city.
This empty forest, however, draws thousands, and on winter weekends, it's not so empty. Snowmobilers, skiers and snowshoers come to these woods &mndash; to the east and north lie the 657,000 square acres of Nicolet National Forest, and to the west, the 220,00 acres of Northern Highland-American Legion State Forest.
Each is veined with trails and pocked by lakes — together, Vilas and Oneida counties have the world's densest concentration of lakes.
Eagle River has the largest inland chain of freshwater lakes in the world, 28 in all, and is just below the headwaters of the Wisconsin River, the state's longest.
The lakes, however, are just scenery. It's the 500 miles of trails that make it snowmobile heaven. Eagle River calls itself the Snowmobile Capital of the World, and it's not an inflated boast.
The town has been hosting the World Championship Snowmobile Derby since 1964, and the Snowmobile Racing Hall of Fame is just down the road, in St. Germain.
Nearby Sayner is the machine's birthplace; it was invented in 1924 by a trapper who had a deformed foot and wanted to get to his trap lines faster.
It's the hub of an area that readers of Snow Goer magazine regularly vote Best Trail Riding and Best Area Catering to Families in North America.
Snowmobiles roar through Eagle River like the Chicago & Northwestern trains that once brought summer tourists from the cities, and, like the trains, disgorge their passengers into the diners that line Railroad Street.
The skiers and snowshoers are not so easy to spot, but they're there, too.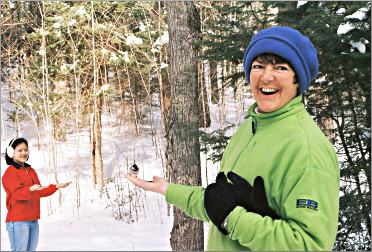 I met every kind of winter-sports enthusiast when I was there, and snow was thigh-deep in the forests. Trees for Tomorrow, an environmental-learning center at the edge of town, was filled with skiers enrolled in a clinic.
The complex of log buildings, surrounded by pines and built by the Civilian Conservation Corps in the 1930s, is arranged around a large oval, crossed by tracks on which students practice before vans take them to nearby trails.
Snowmobilers were whizzing past the renovated rail depot, where volunteers have built an ice palace since 1938, when conditions allow. In the parking lot of the depot, now the visitors' center, Paul Vangelisti of Plainfield, Ill., was waiting for his family to catch up.
"This is the best place to snowmobile in the country," he said. "That's what all the magazines say, and it's true. The trails are smooth, they're 8 feet wide, and there aren't many people." Then his daughter, Gina, and her mother, Jeannie Baxter, zoomed up.
"I'm not athletic, and I never have been," Jeannie Baxter said. "But on a snowmobile, I can be competitive; I can keep up."  She does love the rush of engine power, she said, but doesn't understand those who speed through the forest without looking around.
"It's gorgeous out there," she said. "You can stop in the middle of the trail, look up at the blue sky, maybe see an eagle. You can see the snow plopping off the trees."
In a shop, I met Lu Ann Williams of Madison. She and her husband, Gary, had invited seven friends to their cabin in Three Lakes for a weekend of snowshoeing.
"It was so beautiful out there last night; we went out at midnight, and there was a full moon," she said. "The beauty of snowshoeing is, you don't need a trail; you can go where other people can't get."
With a mischievous smile, Gary Williams added, "Motorized sports are for wussies."
The silent-sports folks never have cottoned to snowmobilers. But around Eagle River it doesn't matter who's fueled by gorp and who by gasoline, because there's room for everyone.
With so much public land and reliable snowfall, snowshoeing is particularly good here, and the forest canopy holds the snow into the spring.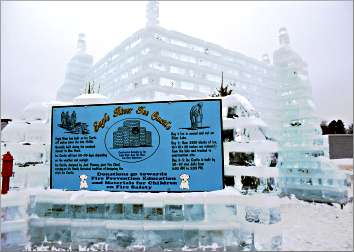 Those who don't even want to hear a snowmobile can head across the Michigan border to the 21,000 acres of Sylvania Wilderness. Part of the vast Ottawa National Forest, it's a miniature Boundary Waters Canoe Area, with 19 lakes connected by portages.
Skiing is as close as the rolling Nordmarka trails out of the scenic Eagle River Golf Course, and Anvil Lake, eight miles east of town in Nicolet National Forest.
Anvil Lake is particularly popular for the chickadees and nuthatches that roost in a balsam fir and ironwood outside the warming cabin and take sunflower seeds out of the hands of skiers.
Trail groomers bring the seeds today, carrying on a longtime tradition.
The snow usually lasts into March in Eagle River. After the snow melts, the musky fishermen will arrive — Boulder Junction, a Vilas County hamlet to the northwest, has patented the title Musky Capital of the World — followed by legions of summer visitors.
They'll make the little town hop. But with all those forests and lakes, there'll be room for everyone.
Trip Tips: Winter in Eagle River, Wisconsin
Getting there: Eagle River is half an hour's drive east of Minocqua and four hours north of Milwaukee.
Annual events: January, World Championships Snowmobile Derby.
Cross-country skiing: On the northern edge of town, Nordmarka has six miles of scenic trails.
Anvil Lake, nine miles east, has 12 miles of trails suitable for families, with another 11 at the neighboring Nicolet North Trail. They're groomed for classic and skating.
Madeline Lake, 20 miles west, just east of Woodruff, has nine miles that wind around three lakes. Razorback Ridges, 20 miles northwest, west of Sayner, has 12 miles of varied and well-maintained trails.
Trees for Tomorrow: This environmental center offers many weeklong outdoors adventures and some weekend programs, including wolf ecology.
Accommodations: There are many resorts on nearby lakes and motels in town.
Dining: Chanticleer Inn is a popular supper club.
On Railroad Street, Leif's Cafe is very popular for breakfast and lunch.
North of downtown off U.S. 45, Tribute Brewing Co. has a taproom and beer garden and brings in food trucks.
Information: Eagle River tourism, 800-359-6315.
Last updated on April 16, 2021