Golfing beyond Brainerd
Ditch the familiar and try a new course in lakes country between Menahga and McGregor.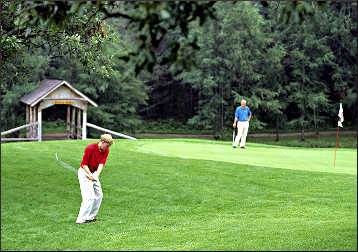 Played all the usual suspects around the Brainerd Lakes? Throw your clubs in the car and drive a little farther north, west and east, where you'll find half a dozen more great golf courses.
Minnesota National Golf Course is brand-spanking new and determined to be taken seriously.
Located north of McGregor, halfway between the northern edge of the Brainerd Lakes and Duluth, the course stretches a breathtaking 7,200 yards from the back tees, making it one of the longest in the state.
The clubhouse has the amenities of the finest country clubs, including a full-service restaurant. The Joel Goldstrand-designed course is only in its third year and will continue to improve.
You may ask, "Why here?" but this is not the place for serious thoughts. Just have fun.
Rates for 2010 are $79/$69 (cart included), or you can walk the par-33 nine-hole course for $18. Mention the BOGO deal when you reserve a tee time and play Giants Ridge for nothing.
Long Bow Golf Club, just north of Walker, was designed by Dan Helbling and Mike Morley, who created The Preserve in Nisswa. The course parallels Minnesota 371 north of Leech Lake on a very pretty piece of real estate, with birch forests and cattail-laden wetlands.
Priced right at $40/$35 plus cart, this course gives you a good reason to spend the weekend in Walker.
Also in Walker is Tianna Country Club. Tianna is a classic from the 1920s, when golf was somewhere down the list after walleyes and even eelpout.
A second nine was added in 1967, and even if you don't play, the course is worth a visit to soak up a significant piece of Minnesota history.
If you do play, you won't be disappointed with this locals' favorite. The classic styling still holds up very well with mounded greens and thread-the-needle approaches. It's priced at $58, including cart.
Ridgewood Golf Course in Longville is a pleasant surprise. The view as you drive up is quite pasture-like, but the 18-hole course quickly darts into some woodlands and has stretches of water that add both character and challenge.
The club has a good local following, and the pasture you saw is a nifty little nine-hole course that is perfect for the kids. Greens fees all season are $30 plus cart.
Traveling west from Brainerd, The Vintage at Staples is worth a visit. Tucked into an elbow of the Crow Wing River, the Vintage is yet another example of golf as a community experience.
The original "Terrace" course had sand greens, spotty fairways and a unique sense of camaraderie. Redesigned by Joel Goldstrand, the Vintage has added a quality golf experience without losing the family feel.
In 2010, you pay $29/$27 plus cart to play as much as you want.
A little farther west is Blueberry Pines Golf Club near Menahga. This is another Goldstrand-designed course that is better than you think.
In an area where one would expect most of the play to come from Park Rapids, this course is good enough to draw from throughout central Minnesota.
The restaurant and lounge attract locals year-round. Mid-season greens fees are $55, including cart.
Last updated on June 2, 2010