Goin' on a treasure hunt
We jump on the geocaching bandwagon and get hooked.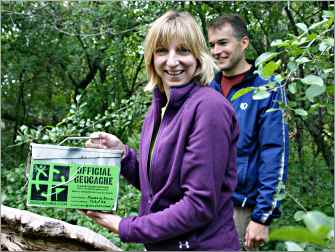 If ever there was a game for our times, it's geocaching.
Why worry about the lost billions on Wall Street when there's treasure everywhere, under fallen logs, in the crooks of trees, on the girders of bridges? Why think about the future when you can be out in the woods channeling Long John Silver, Indiana Jones and the Hardy Boys?
Anyone who enjoyed childhood will like this modern-day party game, enabled by a Tom Swiftian gadget that flashes numbers beamed out of the sky.
In less than a decade, geocaches — small containers bearing various toys or trinkets and a log book — have popped up all over the world.
There are hundreds of them within five miles of my house in Minneapolis, which makes them nearly as ubiquitous as coffee shops.
To join the game, you simply get GPS coordinates and go looking. Some caches require seekers to solve a puzzle or follow clues, and a few are underwater or in tricky spots.
But most are in parks or on other public land, which means seekers enjoy the scenery along the way.
At first, individuals planted and maintained the caches. Now, towns all over the Upper Midwest have recognized geocaching as a rare win-win: Hide new caches, throw a festival, make tourists run around to see all your attractions and give them prizes.
It's also an ingenious way to get children to reconnect with nature, without taking away their electronics.
West Bend, a town of 28,000 north of Milwaukee, already has claimed the title Geocaching Capital of the Midwest and throws a  Cache Ba$h in August.
The western Minnesota town of Fergus Falls holds the GeoFest Midwest in late September.
On the Missouri River in Iowa, the Western Historic Trails Center in Council Bluffs holds Geocache the Bluffs in October, putting cachers on the trail of Lewis and Clark.
In Iowa's Amana Colonies, the historical society offers GPS adventures all summer, with units for tourists to borrow,
The Upper Mississippi River National Wildlife & Fish Refuge offers Mystery Geocaching, which involves a lot of wildlife sightings and nature trails, even rewards, but no actual caches.
Minnesota state parks maintains caches in each of its 72 parks and offers frequent geocaching introductions and other programs, with units supplied.
I went out geocaching for the first time one August with my friends Deb and Lauren, who have racked up and logged dozens of finds at Geocaching.com, where membership is free.
On the site, members list caches they plant, usually with descriptions and sometimes with clues, and seekers can post comments.
Walking around Cedar Lake in Minneapolis, we found four caches, and pretty soon I learned to watch for likely spots. We'd walked by one tree hollow right off the path — GPS units only lead you to the vicinity, and then you're on your own — and offhandedly remarked that it would be a good site; sure enough, the cache was there.
"It gets so that you're in a park and you're thinking, there's gotto be a cache here somewhere, dang it,' " said Deb, who always searches with a bag of fun little gewgaws she and Lauren have collected at garage sales.
One of the caches we found contained a Travel Bug, a traveling toy with a metal dog tag and a number that tracks its progress. It was Little KKAMs' Teddy Bear, a bug that asked finders to photograph it on a teddy bear of their own and also to please "describe where Teddy Bear Bug was found, so we can give the little KKAMS a geography lesson."
Deb, who has sent off a Travel Bug of her own that she calls Creepy Monkey, took the teddy-bear bug, and in September, we carried it on a trip to South Dakota with the Minnesota Rovers Outdoors Club.
Our first stop along the way was on the grounds of a visitors center devoted to a famous person (locations withheld so as to not spoil the surprise). It was a microcache, and our friend Melissa was first to see it, a capsule wired to a tiny bird's nest on a branch. A message was rolled up inside: "Show kindness to another."
"Aww, that's the coolest cache ever," she said.
The second cache was under a spruce tree, in a city park by a lake. This one was in a plastic sherbet container wrapped in camouflage tape, and it contained a fishing bobber, a Minnesota Twins schedule, three fabric patches and a log book.
The last find had been only two days before, and we could see that many finders, like us, had been on the way to somewhere else: "On my way to 25-year class reunion," wrote one man that month.
The third cache was on a bridge in a small town, and in our search we came upon a prehistoric-looking baby snapping turtle, the size of a 50-cent coin. If it hadn't been real, it would've fit perfectly in the cache, which was a Travel Bug hostel.
Deb took out the Travel Bug, a Matchbox-size Jeep, and put in the one she'd found on Cedar Lake. Then she took notes about the area — the turtle, mud swallows' nests on the bridge, wild grapes growing nearby — to send to the little KKAMs.
"You want to take the Travel Bug to a place that's not going to get stuck there for the winter," she said. "My sister and brother-in-law were upset because someone took the Travel Bug they found in Mexico to the mountains of Colorado and it sat there all winter. They like to watch it travel."
We read the log book, too. It was a new cache, and the first-to-find — "FTF!" — was logged in June, followed by the second-to-find, or STF, on the same day. Generally, the first finder gets to take home an especially nice prize.
"People die to get first-to-find," Deb said. "They love it."
On the trail of the next cache, Deb misread the parking coordinates, and we walked fruitlessly along a lake and through a town park. Eventually, she and some of the others gave up and went downtown to look for a cache there.
I stayed on the trail, driving to the opposite shore of the lake with two other Rovers, where our GPS unit finally led us toward a gazebo. From there, we could see an "elephant trail" through the grasses to woods, where we found an ammo box tucked under an enormous fallen tree. A-ha!
It only takes a little taste of geocaching to get hooked. We've just bought our own GPS unit, $130; fancy ones can be expensive, but basic units cost little more than $100, less for used ones.
If you don't want to buy a unit yet and you don't have a handy geocacher friend, join a club: the Minnesota Geocaching Association, the Wisconsin Geocaching Association, the Geocachers of Northeastern Illinois, the Iowa Geocachers Organization or the Northern Michigan Geocachers.
It's a good way to meet people, too, since most clubs hold geocaching social events all year.
Last updated on April 12, 2011