Don't be a dope in the woods
Even if you feel at home in the outdoors, a mistake can be disastrous.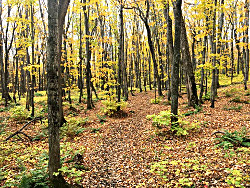 During the pandemic, everyone wanted to spend time outside.
Which was great, unless you're inexperienced and in a remote or unfamiliar place.
In the northwestern corner of Michigan's Upper Peninsula, Porcupine Mountains Wilderness State Park was packed with visitors, and many weren't prepared — in the 10 weeks before Labor Day, rangers had to answer 30 search-and-rescue calls, five times as many as in the previous year.
Some people underestimated the length and difficulty of trails. Others committed the typical rookie mistakes of overloading backpacks and wearing brand-new boots.
In this region, we don't have mountains to fall off or deserts where we might run out of water. We think we know our surroundings, so we fail to take even the most basic steps to protect ourselves.
Even those of us who — ahem! — think we're experienced and are lulled by our relatively benign surroundings.
Once, my husband and I nearly got caught on a remote stretch of Wisconsin's Ice Age National Scenic Trail. It was mid-October, and late in the day when we reached what we thought was the halfway point on a five-mile hike.
But either the map was wrong or we'd misread it, because soon, we realized we were running out of daylight. In the dark, we'd be lost — the trail was covered by a thick layer of fallen leaves and marked only by yellow blazes on trees.
We ended up running the last few miles, arriving at our car with only five minutes of daylight to spare.
I don't think we would have died, but we would have spent a very miserable night in the woods.
We'd made nearly every mistake in the book: No one knew where we were. We hadn't brought a headlamp or any other light.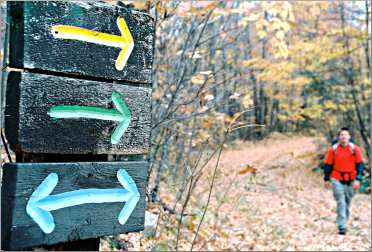 We had no food or water. We didn't have warm clothes. We had no emergency blanket, lighter, knife or compass. We were complete idiots.
At a minimum, hikers should carry water, snacks and a map, and they should always tell someone where they're going and when they expect to be back. If there's a register at the trailhead, sign it.
It's also smart to carry a compass and a small LED light, among the National Park Service's list of 10 essentials to bring on a hike.
Then, fill a fanny pack with a lightweight survival kit, as suggested by Backpacker magazine: an emergency blanket, two fire starters (a cheap butane lighter is best), signaling device (a whistle, if nothing else), knife or razor blade and a square of heavy-duty aluminum foil for making a cup or cookpot.
It also suggests making a candle out of the red wax around Babybel cheese (a great snack to stick into your fanny pack).
You could also carry a small tablet with wilderness first aid tips and other information.
If you do get lost, says the magazine, sit down, drink some water and think things through. Then note your location and surrounding landmarks carefully, and retrace your steps to the last point where you knew you were on route.
Don't follow the closest creek downstream until it meets a river, thinking rivers always lead to civilization — that's a myth, according to Backpacker.
If that doesn't work, try to find shelter, stay warm and dry and wait for rescue.
Above all, don't let yourself get wet, because moisture conducts cold rapidly. The best clothing item? It's not warm gloves, thick socks, a warm hat or a thick parka, but a waterproof and breathable rain suit.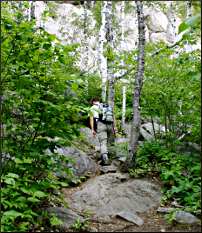 In news accounts, you'll often read of paddlers and hikers who died of "exposure." That's hypothermia, in which the body temperature drops, affecting the ability to move, think and act rationally.
It's the fourth most-common cause of death in the wilderness, according to Backpacker. (Falling is the No. 1 cause, followed by drowning and heart attack.)
Frigid Lake Superior can cause hypothermia in half an hour. Hypothermia is a risk even in temperatures above 55 degrees, especially if it's windy and raining and if the victim is tired and thirsty.
How do you prevent it? Easy — by carrying water and food, wearing appropriate clothing (on large bodies of water, a wetsuit) and not getting lost or separated from friends.
Think you already know what you need to survive? Rate your survival IQ with the magazine's 36-question survival quiz ; you may be surprised.
And if you're a novice hiker, go on a guided hike. If you're a novice paddler, go on a guided excursion. Large bodies of water, especially mercurial Lake Superior, can be very dangerous for paddlers, even experienced ones.
Last updated on October 14, 2020