Trek to Timm's Hill
The highest point in Wisconsin is the gateway to a forest full of trails.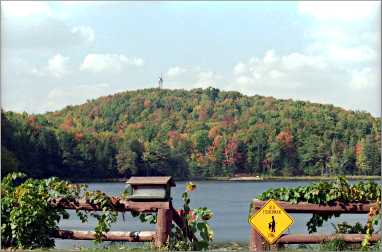 Even if it weren't official, Timm's Hill would be the high point of any Wisconsin hiking trip.
Timm's Hill, a big pile of rock and gravel deposited by the last glacier, is Wisconsin's highest point at 1,952 feet above sea level. I went hiking there expecting, well, a big pile with a nice view.
Which it was. It also turned out to be in the middle of an intriguing pocket of forest, settled by Swedes, Finns and Germans stubborn enough to handle the rocks sprinkled over the hills like salt on a pretzel.
They were folks who liked to be outside, hiking, sliding and skiing, and it's thanks to them this area now is a trove of trails.
It's a little hard to describe where it is: past Ladysmith, north of Wausau, not as far as Tomahawk. I got there from U.S. 8, then Wisconsin 86, turning onto County Road C and Rustic Road 62 and stopping at a pretty little resort called High Point Village.
Timm's Hill turned out to be just across the lake from the High Point chalet, and proprietor Lyle Blomberg turned out to be the man, who, with the local ski club, punched through Timm's Hill National Trail, which winds 10 miles to the south.
There, it connects with 30 kilometers of skiing and hiking trails around Rib Lake and a 60-mile segment of the Ice Age Trail, which follows the route of the last glacier across Wisconsin.
A stone's throw from the resort, Timm's Hill Trail heads straight up, to a county park with an observation tower on the peak.
I climbed it and soon was on the top of Wisconsin, listening to the whistle of the wind and looking out over tiers of color-splotched hills, the farthest ones disappearing in the haze.
Then I drove down County Road C to pick up the trail, a wide path strewn with scarlet maple leaves. A primeval ravine plunged down one side, hemlocks rising from its damp floor.
The trail wound south, marked by red blazes, to a marshy meadow and Bare Naked Creek, an ironic name in that the water was completely sheathed in a green-algae skin.
In a clearing, I turned left at a deer stand, passed several piles of logged pines and went over the 1904 Blomberg trestle bridge and on to Stone Lake. A trail sign said "Water & Beach," but I found only a boat landing and well water from a spigot.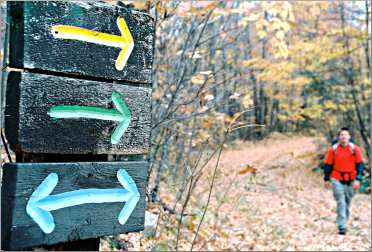 I flushed a wild turkey on the way back and wondered, not for the first time, why hunters think turkeys are so wily. I watched this one for a long time as it ran through the forest, pumping its neck and making a racket in the dry leaves.
I had dinner a few miles farther south in Rib Lake at Camp 28, a motel and restaurant that pay tribute to a logging camp that operated there from 1881 to 1948. Then I headed back toward Ogema and my inn.
Over freshly baked carrot cake, Joyce and Jim Summers told me about the various characters who populated the area, including Fred Smith, the eccentric ex-lumberjack who created the 203 folk-art figures in the Wisconsin Concrete Park, in nearby Phillips.
They talked of skiing amid trees frosted with snow and of the shed filled with sleds for the sport they like even better, sliding.
One reason this area has a low profile, they say, is that the land never passes out of the families who own it and thus is rarely available.
"We don't want this to be a Dells or a Minocqua," Joyce Summers said. "We don't want to be bumping elbows on the trails. We like the peace and quiet."
The next day, I went back to my spot on County Road C and walked north through a corridor of trees. The trail went up and down, skirting four wilderness lakes, visible through branches of balsam and spruce. I marveled at the absence of people.
Timm's Hill is in no danger of becoming another Dells. But to a certain kind of tourist, it'll still be a high point.
Trip Tips: Timm's Hill Trail in northern Wisconsin
Getting there: It's a little more than an hour's drive north of Wausau.
Accommodations: High Point Village, across Bass Lake from the state's high point, rents four attractive chalet cabins with loft and full kitchen. There's a cafe on the premises that sells pastries, soup and panini.
Its helpful owners, Lyle and Kathy Blomberg, are active in trail development,
Camp 28 Saloon, Bunkhouse and Cook Shanty in Rib Lake has motel rooms and is the closest place to eat.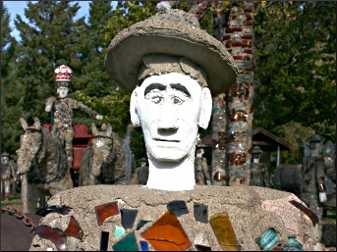 Events: The Timm's Hill Trudge, a 3½- or 7-mile snowshoe race/walk, is held the first Saturday in March.
In Rib Lake, Ice Age Days is the second weekend of August. There's a parade, carnival and car show, and tourists can have their photos taken with Ugh the Ice Man, Rib Lake's 8-foot wood mascot.
Timm's Hill Trail: It's 10 miles between Timm's Hill County Park and Rusch Preserve on County Road C, where it connects with the Ice Age National Scenic Trail.
Rib Lake Ski Trail: The 25 miles of trails between Rusch Preserve and Rib Lake incorporate a section of the Ice Age Trail.
Ice Age National Scenic Trail: For maps of trail segments, call 800-227-0046.
ATV and snowmobile trail: The gravel Pine Line Rail Trail winds 26 miles, from Prentice to Medford.
Wisconsin Concrete Park: The outdoor sculpture environment built by tavern owner and former lumberjack Fred Smith is open daily along Wisconsin 13 in Phillips, 20 miles from Ogema.
It attracts visitors from all over the world. There's a visitors' center and art gallery on the grounds.
For more, see Road trip: Wisconsin's concrete art.
Last updated on November 27, 2019