Cruising around Excelsior
On the Twin Cities' fringe, a historic lake-resort town still draws day-trippers.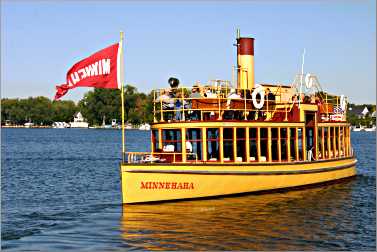 On the western fringes of the Twin Cities, the wealthy have staked out Lake Minnetonka.
Nearly all of its 125 miles of shoreline are privately owned, and the summer cottages built by vacationing flour millers and businessmen — Pillsbury, Northrop, Bell, Loring, Peavey — have morphed into mansions.
But on the southeast corner of the sprawling lake, one town retains vestiges of the Victorian age, when steamboats ferried vacationers around the lake and day-trippers arrived on electric streetcars.
Excelsior was the last stop of the St. Paul & Minneapolis Suburban Electric Railway, and people came to have fun: gambling in the casino, dancing in the pavilion and picnicking on the Commons, where children rode water toboggans into the lake.
The casino is gone, but Excelsior Commons still is the best public place on the lake, with sand beach, baseball diamond and a bandshell where the Minnesota Orchestra plays on the Fourth of July.
After lying on the bottom of the lake for more than 50 years, the 1906 steamboat Minnehaha rose to take tourists on excursions and to Wayzata for free Wednesday-night concerts.
The 1896 Excelsior Streetcar runs up and down Water Street from Lyman Park.
In the little downtown, bistros, boutiques and a salon spa bring in well-heeled shoppers, but Excelsior still feels like a small town.
Until 1822, only the Dakota knew about this big lake. Then, the 14-year-old son of the Fort Snelling commander and a runaway drummer boy paddled a canoe up Minnehaha Creek and right into Gray's Bay. They were the vanguard of a wave of tourists that never stopped.
Stagecoaches began to run from St. Anthony Falls in 1855 and were met by the first ferry boats. Trains reached the lake in 1867; one left St. Paul at 4:30 a.m., carrying sportsmen who wanted to hunt and fish "in the wilds of Minneapolis."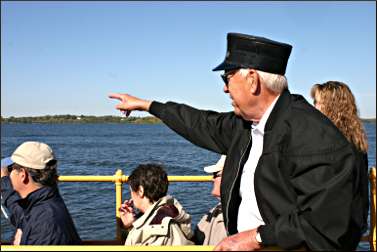 In 1882, James J. Hill built the grand Lafayette Hotel and ran his railroad to its door. Wealthy Southerners flocked to the lake to escape the summer heat, settling into big resort hotels.
By the turn of the century, the rich had begun to vacation elsewhere.
Day-trippers, however, had begun to come by the thousands on streetcars, which connected to passenger steamboats that ferried them around the lake and to Big Island, where an amusement park operated from 1907 to 1911.
After 1925, they came to ride the roller coaster at the new Excelsior Amusement Park. In the 1940s and '50s, thousands went there to see Miss Minnesota pageants, and in 1962, the Beach Boys drew huge crowds.
In 1964, the Rolling Stones made their Minnesota debut in the park's Danceland ballroom, though they drew only 283 people.
Then, in 1973, the amusement park and the street-car line closed. Automobiles took the place of streetcars, and sprawling suburbia began to surround Excelsior, pop. 2,400.
But in 1980, the steamboat Minnehaha was raised from the lake near Big Island, where it was scuttled in 1926, restored by Minnesota Transportation Museum volunteers and finally returned to service in 1996.
The boat lost its dock space in 2019 and is looking for a new launch site.
When they're not working on the boat's finicky boiler, volunteers chat with passengers, telling the story of the lake and the boat and pointing out big houses built by famous people, among them railroad baron James J. Hill.
Hill, who built the biggest house in St. Paul as well as the biggest hotel on Lake Minnetonka, had a love-hate relationship with Wayzata, which wanted the right-of-way to the lake.
During a 15-year feud, he moved the rail depot outside village limits, saying, "Let them walk a mile for the next 20 years."
The townspeople had their own saying: "Twixt hill and hell, there's just one letter; were Hill in Hell, we'd feel much better."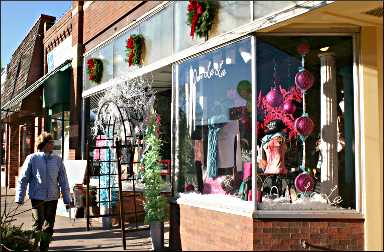 But in 1906, Hill built a better depot downtown, and now, the town celebrates J.J. Hill Days every September. The Minnehaha docked in front of the depot, from which passengers can walk to the shops of Wayzata, Excelsior's one-time rival.
Railroad tracks still separate the town from the water, but the shoppers along Lake Street have a beautiful view of the lake and passing sailboats.
Pleasant as Wayzata is, however, it still feels like a suburb. Only Excelsior, somehow, has retained the feel of a small town.
It's still a tourist destination. Weekenders can stay in an 1858 rooming house, now a handsome inn. The Old Log Theater, founded in 1940 and the nation's oldest continuously operating professional theater, puts on seven shows a week at its log complex near downtown.
Known for screwball comedy, its alumni include Nick Nolte and Loni Anderson, whose photos adorn the lobby walls.
Mick Jagger also makes a cameo in town history. According to local lore, one of the Rolling Stones' most famous songs was conceived in Excelsior in 1964.
Jagger was at the soda fountain of Bacon Drugstore, the story goes, and couldn't get a drink made the way he wanted. Local character Jimmy Hutmaker, known as Mr. Jimmy, was next to him and said, "You know, you can't always get what you want."
In summer, visitors easily can spend a whole day riding the Minnehaha and hanging out on Excelsior Commons, which has a nice sand beach, tennis courts, baseball diamond and bandshell.
The 15½-mile Lake Minnetonka Regional bicycle trail goes right through town and connects to the trails of Carver Park Reserve, six miles to the west. Nearly everyone stops for ice cream at Licks, at the end of Water Street.
Excelsior may be surrounded by suburbia. But it hasn't lost its character.
Trip Tips: Exploring Excelsior, Minnesota
Getting there: It's half an hour from Minneapolis. From downtown, take I-394 west, then go south on Minnesota 100 and east on 7 to Excelsior. Oak Street, then turn right onto Water Street.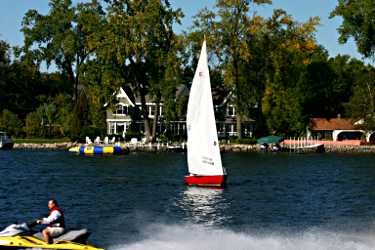 Steamboat Minnehaha: The boat still is looking for a new home.
Excelsior Streetcar: It runs from May through Labor Day on Thursdays, Saturdays, Sundays and holidays, and Thursday afternoons only from mid-September through October.
2023 events: June 10-11, Art on the Lake. July 4, Fourth of July on Excelsior Commons, an all-day party with a free sunset concert and fireworks (it's a lot of fun, but don't get caught in the traffic jam after the fireworks). Sept. 15-17, Apple Days. November, Christkindlsmarkt.
Dining: On Water Street, 318 Cafe serves soups, salads, sandwiches and rustic pizzas and turns into a wine bar with live music in the evening. Coalition serves classic American dishes with seasonal ingredients. Red Sauce Rebellion specializes in farm-to-table Italian and has a patio.
On Third Street, the Suburban is a sports bar that serves fancy burgers and pizzas. Down the street, the Excelsior Brewing Co. taproom is open Tuesday through Sunday.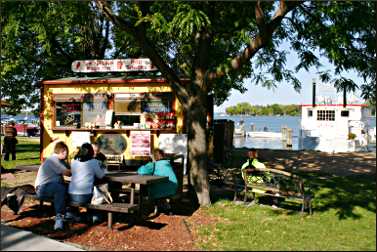 On Excelsior Boulevard, Adele's Frozen Custard serves excellent ice cream and also hot dogs and sandwiches.
Old Log Theater: Shows are offered year-round. There's also a restaurant, Cast & Cru. Call 952-474-5951 or reserve online.
Bicycling: The 15½-mile crushed-limestone Lake Minnetonka Regional Trail runs through Excelsior.
From the trailhead in Hopkins (just north of Main Street, on the west side of Eighth Avenue), it's 9½ miles to Excelsior, and from there 5½ miles to Victoria, passing Carver Park Reserve, which has 8½ miles of paved trails.
The Hopkins trailhead from the Depot Coffeehouse is easily reached from Minneapolis via the Midtown Greenway and the Cedar Lake Trail.
Accommodations: The Guest House on Water Street, next to shops, is an 1858 Italianate Victorian with five rooms and two small rooms that can be added to a larger room.
Information: Excelsior-Lake Minnetonka tourism, 952-474-6461.
Last updated on January 31, 2022