Waupaca's Chain O' Lakes
In a historic Yankee town in central Wisconsin, visitors travel by water and by land.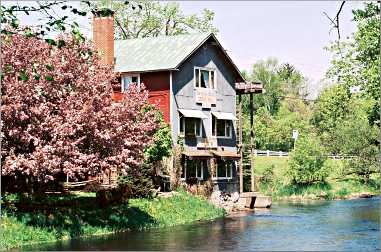 In the middle of Wisconsin, the village of Rural is just far enough off the beaten path.
Founded by Yankees in the 1850s, it was the halfway point on the Stevens Point-Berlin trade route and once had a mill, an inn and a dry goods store.
But when it was bypassed by the railroad in 1870, the village eased into a slow, genteel decline.
Nearby, the 22 spring-fed lakes of the Waupaca Chain O' Lakes flourished, drawing big-city vacationers, but Rural stayed a quaint backwater on the Crystal River.
Then people began restoring the Greek Revival houses that lined the narrow, twisting river.
Today, Rural is a historic district. Reached only by small county roads and cloaked by hardwoods, its collection of white-frame, New England-style houses has the look of a movie set.
"It's one of two intact villages in Wisconsin; it looks just like it did in 1852," says Lois Sorenson, who, with her husband, Gene, turned the 1853-54 farmhouse built by Scottish emigrant Andrew Potts into the Crystal River Inn B&B.
She and other villagers, she says, cherish the old houses: "If you throw water on the floor and it doesn't roll downhill, what fun is that?"
In summer and fall, Rural again is a crossroads for travelers. In specially made small canoes, tourists by the hundreds float from Long Lake into the shallow but fast-moving Crystal River, often providing entertainment for the residents of Rural.
"Some of 'em get serious about it, but the canoes don't maneuver as well as the regular ones," says Gene Sorenson. "You'll see them jammed up in the trees or rocks."
When I was there one May, it was a little early for canoeing-few can stay dry in the tippy boats-but the bicycling was superb. One of Wisconsin's Rustic Roads-chosen for their timelessness as well as beauty-starts in Rural, and another starts a mile to the west.
Rustic Road 24 is so narrow it may as well be a bike path. Going through a corridor of red pines, it passes Jeanette White's 1854 coach house on Emmons Creek, with a front-yard flea market of cream separators, birdhouses and potbellied stoves-"I get one idea, and one thing leads to another," White says-and then Pleasant Valley Cemetery.
Drumlins dot the soybean fields; the last glacier reached its southernmost point here, dumping rubble into oval mounds and creating kettle lakes that became the Waupaca chain.
Part of the Ice Age Trail National Scenic Trail runs through Hartman Creek State Park, which includes biking trails and a pretty swimming beach on Hartman Lake.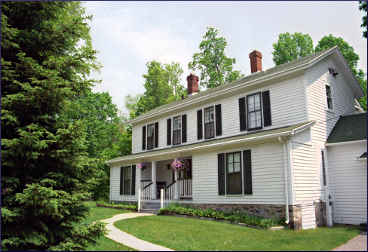 From the park, Rustic Road 23 returns bicyclists to Rural, crossing the Crystal River on stone bridges.
I branched off on Whispering Pine Road into the heart of the lakes area, which retains an old-fashioned look.
The Indian Crossing Casino, a bright-white 1920s dance hall with orange trim, sits on Columbia Lake next to Ding's Dock, from which motorboats tow canoes to the mouth of the Crystal River.
Cottages and artists' studios line the back lanes into King and past the lakeside Wisconsin Veteran's Home, built in 1887 for Union veterans.
In the basement, there's a bowling alley designed for veterans in wheelchairs; on Saturdays, they can watch water-ski shows just outside on Rainbow Lake.
From King, Smith Road heads past rocky, hardscrabble farms to Parfreyville, where only a white-frame church and town hall hint at Yankee roots. Along County Road K in Little Hope, the Red Mill sits alongside the Crystal River.
The 1855 mill ground grain for more than a century and now houses an antiques and gift shop.
Its grounds are the big draw: With its wooden covered bridge, flowering trees, white-steepled chapel, split-timber fence and gazebo, it's a calendar page come to life.
Wanda Nye of Menomonee Falls, Wis., had been there only a short while before she decided to fetch her drawing pad and pastels from her car.
"What more could I add?" she said of the tableau before her. "It's beautiful."
At the height of summer, the lakes area is busy. Still, it's not as busy as areas that are closer to interstates and big cities. The water still is lined by the original cottages, not condo resorts, and pontoon boats far outnumber wave runners.
Eighteen of the lakes are no-wake; water-skiing is allowed on four lakes, but only in designated lanes and during specified hours.
Tourists can get a good look at the lakes from the decks of the Chief Waupaca, a real sternwheeler that offers 1½-hour narrated cruises through eight of the lakes.
When I took a midweek cruise, we could see turtles sunning on rocks and herons stalking insects. Our young captain took us from Taylor Lake, the westernmost lake, into Rainbow Lake and past a Jesuit retreat villa on land bought from Gen. William Tecumseh Sherman, whose son was a Jesuit priest.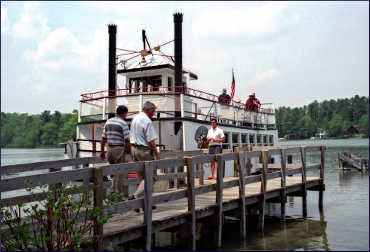 The village of King has many roots in the Civil War; it's named for Charles King, a Milwaukee native who served in the Civil War as a teenager and spent more than 70 years in uniform, becoming a brigadier general in World War I.
Civil War encampments often are held on the grounds of the Veterans Home.
In Sunset Lake, we circled Williams Island, where movie-star swimmer Esther Williams once owned a cabin, and passed a magnificent stand of white pine and a sturgeon spawning ground .
The smallest lake, the captain said, used to be called Hog Hole, "for the monster-size pike that used to fight here like hogs."
At Lime Kiln Lake, which farmers used to dredge for fertilizer, we had to turn around at County Road Q. We could see the barnlike Indian Crossing Casino across the road.
Glenn Miller, Louis Armstrong and the Beach Boys once played there, our captain said, and bands still play there for dances on summer weekends.
The Waupaca-Rural area today caters to vacationers with modern expectations. But its connection to the past never has faded.
Trip Tips: Rural and the Waupaca Chain O' Lakes
Getting there: It's about 35 minutes west of Appleton.
Events: June, Strawberry Fest. August, Arts on the Square. October, Chain O'Lakes Blues Fest.
In nearby Iola, the popular Iola Old Car Show is in July.
Cruises: Narrated 1½-hour tours on the Chief Waupaca sternwheeler or Lady of the Lakes launch leave Clear Water Harbor restaurant, just past King on County Road QQ.
Canoeing and tubing: Ding's Dock offers weekday canoe rental from its dock on County Road Q. They take about three hours. It also offers tubing from the launch on Parfreyville Road. 715-258-2612.
Miles Paddled reports on the 4.75-mile paddle from Rural to Little Hope, which lends itself to an easy self-shuttle by bicycle.
Outfitters: In Waupaca, Adventure Outfitters rents kayaks, canoes and stand-up paddleboards as well as bicycles. It also offers night Glow Tours on glow-in-the-dark SUPs.
Swimming: Hartman Creek State Park has a 300-foot sand beach. Park admission is free for bicyclists; vehicle permits are $8, $11 for nonresidents. However, bicyclists are supposed to have the Wisconsin state-trail pass, $5 daily, $25 annual.
There's also a beach on Shadow Lake in Waupaca's South Park.
Water-ski shows: From mid-June to mid-July, the Chain Skiers perform at 6:30 p.m. Saturdays in front of the Wisconsin Veterans Home on Rainbow Lake.
Accommodations: Crystal River Inn B&B is right in Rural, on the river, and has five rooms with private bath, two with shared bath. It also rents two cottages, one with two suites.
Also on the Crystal River, Apple Tree Inn B&B has five rooms.
Many lake cottages can be rented by the week.
Camping: Hartman Creek State Park has showers and 79 sites that can be reserved and 22 that are first-come, first-served. There's also a tepee. 715-258-2372.
Waupaca S'more Fun Campground is north of Little Hope on Old Taylor Lake and has a pool and store. It has seven air-conditioned camper cabins and a yurt.
Dining: Clear Water Harbor, where the Chief Waupaca docks, has a nice deck for dining.
Nightlife: Clear Water Harbor hosts live entertainment Friday and Saturday nights and Sunday afternoon.
Information: Waupaca tourism, 888-417-4040.
Last updated on January 31, 2022