Trail mix in St. Croix Falls
For hikers, bicyclists and paddlers, this river town is a crossroads.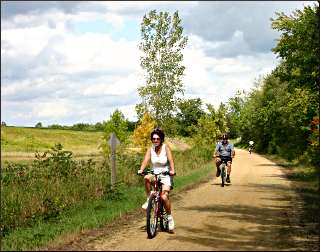 In western Wisconsin, St. Croix Falls is a destination for people who want to go places.
It's the western terminus of the 1,000-mile Ice Age National Scenic Trail, which traces the last glacier as it began to melt and retreat northward, leaving a marvelously lumpy patchwork of rock, rubble and river gorges.
It's the southern trailhead of the 48-mile Gandy Dancer State Trail, a scenic crushed-limestone bicycle trail named for the rail workers who rhythmically swung pickaxes and hammers made by the Gandy Tool Co.
And it's the headquarters of the 252-mile St. Croix National Scenic Riverway, with a visitors center that helps paddlers plan trips from the Namekagon to the St. Croix's confluence with the Mississippi.
There are another 12 trails in Interstate State Park, which became Wisconsin's first state park in 1900 and is the start of the Ice Age National Scenic Trail.
Gliding on the Gandy Dancer
One weekend, we headed north on the crushed-limestone trail, riding to Luck via Centuria and Milltown.
The trail parallels Wisconsin 35, but we saw it only twice between towns; trees lining the trail have grown so tall they create a pleasing tunnel effect, with branches that arch over the trail.
The next morning, we rode the other way on the trail, past the Polk County Information Center and up to Interstate State Park.
From its riverfront picnic grounds, we watched the Taylors Falls Princess paddlewheeler chug by with a load of tourists.
Hiking the Ice Age Trail
From the park, the first seven miles of the Ice Age National Scenic Trail head down the hill and into town, over Wellness Esker, up through Riegel Park and back down to Lions Park on the river.
I walked it once years ago but got lost on the Mindy Creek section, near a neighborhood of new homes.
Today, that's one of the best-marked and most scenic sections, next to the ¾-mile Zillmer Point loop, named for the Milwaukee lawyer who founded the Ice Age Park and Trail Foundation, now the Ice Age Trail Alliance, in 1958.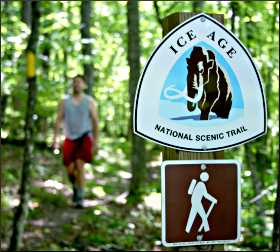 Near the end of Day Road, we easily found the beginning of the Mindy Creek trail and began following the yellow blazes and white Ice Age signs into a dark and rocky ravine, emerging to a meadow with outcroppings of volcanic rock and a view of Minnesota over the treetops.
From there, we descended through private woods — thank you, Mr. or Ms. Landowner — to Wisconsin 35 and Lions Park, from which the Indianhead section heads north.
We walked on it for half a mile, which is how we discovered what has to be one of the sweetest campsites ever, a clearing right on the river with its own little sand beach, picnic table, tent pad, fire ring and vault toilet.
Someday, we'll come back to paddle the canoe route, too. Winter also is a good time to hit the trails; there's skiing at Interstate State Park and nearby Balsam Branch and snowmobiling on the Gandy Dancer.
Exploring around town
Another weekend, we went to St. Croix Falls to hike and bike, but a storm quashed our plans.
Luckily, St. Croix Falls also has shops and wineries to visit.
North of town, we checked out Chateau St. Croix, a winery that proprietors Troy and Laura Chamberlin built to replicate the atmosphere of vineyards in Europe and especially Germany's Rhine Valley, where they lived while Troy served in the U.S. Air Force.
With its classical statuary, peaked roofs and stone-look facade, it's an unusual but welcome sight in the rolling St. Croix countryside.
While we were there, a wedding party of young people was running in and out of the tasting room, designed to look like a 16th-century English hunting lodge.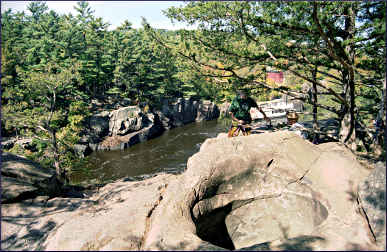 At the door, the bride waited next to a knight in shining armor, and around a chess table, a foursome of older folks in high-backed carved chairs was having a great time sipping wine and people-watching.
History in the park
By then, the sun had come out, but it was too late to hit the trails. So instead, we drove to the Ice Age Interpretive Center in Interstate State Park and walked the Pothole Trail, where whirlpools laced with sand and gravel drilled cylindrical holes in solid rock.
Then we went down to Lake O' the Dalles, where longtime re-enactor Dennis Hoffa of nearby Danbury had become Jacques for the evening program "Voyageur Stories."
Paddling up to the shore in a canoe, Jacques explained that the year was 1800, when French-Canadian voyageurs paddled bales of beaver pelts and trade goods on the rivers between Montreal and the St. Croix, often lugging 180-pound packs over portages.
"You people will have Lewis and Clark and think they are great, and they were," he said. "However, the fur traders did that every year. It was nothing special, just our life."
Rain or shine, there's always something to do in St. Croix Falls.
Trip Tips: Hiking around St. Croix Falls, Wisconsin
Getting there: It's an hour east of the Twin Cities, across from Taylors Falls, Minn.
Events: May, Earth Arts Spring Art Tour. July, Wannigan Days. October, AutumnFest.
Dining: In downtown St. Croix Falls, the Vegetarian serves Indian food.
St. Croix Festival Theatre: It stages plays and hosts concerts year-round.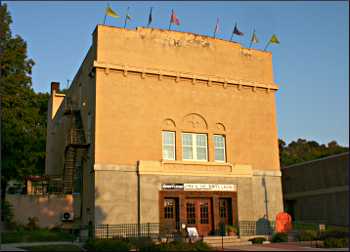 Interstate State Park: In late October, it holds Halloween Fun in the Park, with games, contests, crafts and refreshments. The annual Candlelight Night in winter includes skiing, hiking and/or snowshoeing on three different trails.
Vehicle permits are $8 daily for residents, $30 annual and $11/$38 for nonresidents.
Ice Age Trail: Get maps and information from the Polk County Information Center, at the intersection of U.S. 8 and Wisconsin 35.
Bicycling: Bicyclists can now ride straight on to the Gandy Dancer State Trail from the Polk County Information Center, which sells trail passes, $5 daily, $25 yearly (they're good on all of Wisconsin's state bike trails as well as ski trails).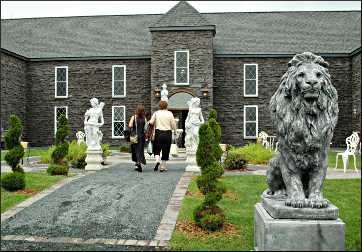 The western trailhead of the lovely Stower Seven Lakes State Trail is six miles south, near Dresser. For more, see Savoring the Seven Lakes.
Canoeing: Eric's Canoe Rental rents canoes and kayaks for the two- to three-hour trip to Osceola.
Wineries: Chateau St. Croix Winery & Vineyard is off Wisconsin 87 north of town.
Dancing Dragonfly Winery is off U.S. 8 east of town. It offers walking tours and tastings.
St. Croix River Visitor Center: The St. Croix National Scenic Riverway has a handsome center on the north edge of downtown that has paddling information and shows the 18-minute movie "St. Croix: A Northwoods Journey."
The center is open daily from Memorial Day to mid-October and weekdays the rest of the year.
Skiing: East of St. Croix Falls, the Balsam Branch trails have 11 kilometers groomed for classical and skate skiing. From U.S. 8, turn south on 150th Street, then east on 120th Avenue. There are also 20 kilometers of trails in Interstate State Park.
Information: St. Croix Falls-Taylor Falls tourism. Polk County tourism, 715-483-1410.
Last updated on January 15, 2022