The door to Door County
A longtime gateway, Sturgeon Bay also is a great getaway.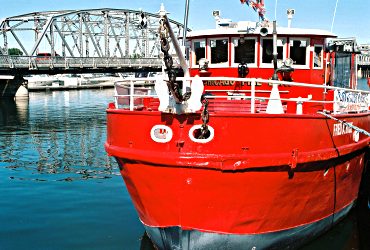 It would be natural, for a tourist, to arrive in Sturgeon Bay and just keep going. It would also be a mistake.
The rest of Door County has all the tourist trappings. But Sturgeon Bay has appeal of its own.
"Most people want to go farther up on Door County, for all the shops and such," says Bill Munroe, a volunteer at the Door County Maritime Museum. "But this is a working town. We like it down here. We like it very much."
Tourism always has gone hand-in-hand with industry in the town, where a waterway separates the high-profile northern Door from the agricultural southern Door.
The first summer resort opened in 1879, across from stone quarries at the mouth of the fish-shaped bay. In 1882, the Sturgeon Bay Ship Canal lengthened the long bay into a shortcut to Lake Michigan, and shipbuilding companies grew with the increased traffic.
At the peak of World War II, nearly 7,000 workers at four shipbuilders were launching a new ship every five days.
Now, the town has just two — Palmer Johnson, which builds luxury yachts, and Bay Shipbuilding, now making double-hulled oil barges to replace such single-hulled carriers as the Exxon Valdez.
In the Maritime Museum, "A Job Well Done" tells how the city boomed during the war, and other exhibits tell dramatic stories of Great Lakes seafaring over the years.
Today, Sturgeon Bay is geared mainly toward tourism. Boats carry tourists instead of cargo, the rail line now is a bicycle trail, and mansions have been turned into inns.
Two state parks flank the town, one renowned for its rocky shoreline and one for its sand beaches.
So it's fun to be a tourist in Sturgeon Bay.
Cruising a canal
One Memorial Day weekend, I hit all the main sights, starting with Big Red, an 1882 fog-signal building that glows fire-engine red in early evening, when I walked to it along the canal pierhead.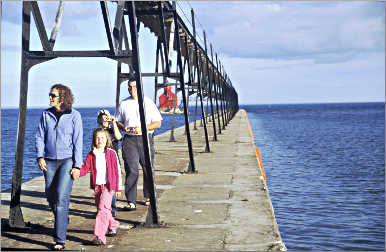 With the 1899 lighthouse tower behind it, the canal station on Lake Michigan is a two-fer for lighthouse fans, and there's a third lighthouse at the other end of town, on Green Bay's Sherwood Point.
That lighthouse I saw on a cruise aboard a 1937 former Chicago fireboat, also painted fire-engine red. With its wisecracking captain, we went under the Michigan Street lift bridge.
Chugging along, we passed Potawatomi State Park and then the 1883 lighthouse on Sherwood Point.
Leathem Smith, the Sturgeon Bay shipyard owner who invented the self-unloader for cargo boats, drowned off the point in 1946 after the hull of his yacht swamped in a squall. Turns out that a bulkhead had been removed so the previous owner's father, President Franklin Roosevelt, could move around better in his wheelchair.
Heading back down the bay, past Sunset Park and the giant gantry above Bay Shipbuilding, we went under the lift bridge again and entered the ship canal.
It made Sturgeon Bay a busy port, but now it's used mainly by sport fishermen, yachts and the Coast Guard.
Hiking in the dunes
From the canal station, Rustic Roads 77 and 9 follow the lakefront to Whitefish Dunes State Park, where long sand beaches curve around Whitefish Bay.
I followed the Red Trail above the dunes and then into a meadow, through an unusual mix of reindeer moss, prairie wildflowers, juniper and ferns — the result of a sand-dunes ecosystem in boreal-forest conditions.
Near the visitors center, the loop dipped into thick beech-maple forest and, joining the Brachiopod Trail, followed cedar forest along rocky shoreline. A dwarf lake iris bloomed at forest's edge, and dozens of columbines grew from rocks that were studded with fossils.
On the Green Bay side of town, Potawatomi State Park occupies the headlands on the west side of Sturgeon Bay.
From the top of the observation tower, 225 feet above the water, I could see Sherwood Point Lighthouse and boats puttering around Sawyer Harbor, site of the first resort.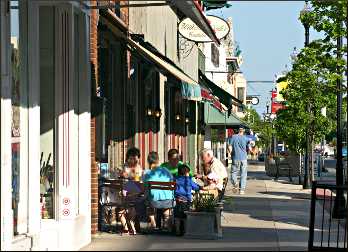 From the base of the tower, I walked the first miles of the 1,000-mile Ice Age National Scenic Trail, which shares part of the park's spectacular, 3½-mile Tower Trail before it heads west toward Minnesota.
There's a third place to hike right in town, on the trails of Crossroads at Big Creek, a nature preserve.
Five miles of trails fan out from the learning center; I walked along a shady, cedar-lined creek, through prairie meadow and on to a small astronomical observatory.
The weather was lovely, so there was no reason to be sedentary. But if I'd felt like it, I could have stayed within a three-block radius of my downtown inn and had a great time.
I could walk a block to the shops, restaurants and coffeehouses of Third Avenue and a block to the bayfront and the bridge; the Maritime Museum and Door County Cruises dock are just across the water.
Downtown, I had dinner, shopped on Third Avenue and checked out the booths at that weekend's Market Square Fine Art Fair. I would have checked out the many gift shops on Jefferson Street, if not for the great weather.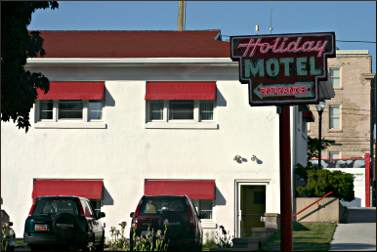 I did get "bridged" on my visit to Sturgeon Bay. Just as I drove up to the 1930 rolling-lift bascule Michigan Street Steel Bridge, the bells started ringing and the arms lowered.
So, I had to wait. Of course, I could have taken the highway bridge and bypassed town. But now that I know more about Sturgeon Bay, my days of rushing through are over.
Trip Tips: Sturgeon Bay, Wisconsin
Getting there: From the west, take Interstate 94 and Wisconsin 29 to Green Bay but don't follow 29 into town; instead, take U.S. 41 north two miles, then Interstate 43 around Green Bay to Wisconsin 57.
2023 events: Feb. 17-18, Fire & Ice. March 11, St. Patrick's Day parade. May 6, Shipyard Tours.
May 27-28, Fine Art Fair. June 9-11, Spring Door County Lighthouse Festival. Mid-June to mid-August, free Wednesday-evening concerts in Martin Park.
July 4, Sturgeon Bay Celebrates in Sunset Park. Aug. 4-6, Classic Wooden Boat Show & Festival. Sept. 16, Harvest Festival & Street Art Auction. Sept. 29-Oct. 1, Fall Door County Lighthouse Festival. Oct. 28, Thrills & Chills. Nov. 17-19, Christmas by the Bay.
Accommodations: The 1952 Holiday Music Motel, a block closer to the lift bridge, is that rare bird: a small, nonfranchise motel that's quite nice as well as inexpensive.
The owners sold the motel in 2007 to a group of music lovers and musicians, including Jackson Browne, who organize the annual Steel Bridge SongFest, proceeds from which support the preservation of the bridge.
Now it has a music studio and rooms decorated by musicians. The breakfast area evokes a 1950s dinner.
Stone Harbor is a sprawling resort and convention center along the bayfront, two blocks from downtown. Westwood Shores Waterfront Resort is three miles north of town.
Downtown, the historic Inn at Cedar Crossing has nine rooms and a restaurant.
There are several members of the Wisconsin B&B Association in and around Sturgeon Bay, some on Lake Michigan or Green Bay, including the White Lace Inn.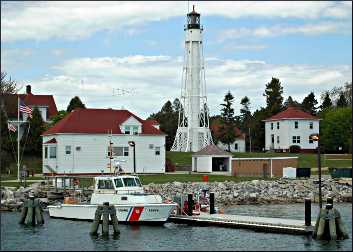 Camping: Potawatomi State Park on Green Bay has campsites.
The park also has a disabled-accessible cabin that sleeps six and has a kitchen, bath and air conditioning, $30. To reserve, call 920-746-2890.
North of town, in Carlsville, Harbour Village Campground & Water Park has a large pool with two long slides, tennis courts, a skate park and planned activities.
Dining: On the west side of town, the cheerful Bluefront Cafe serves a nice variety of dishes — ribeyes and polenta lasagna, coq au vin and fish tacos — as well as such specials as curry-braised lamb shank with couscous. It's at 86 W. Maple St., 920-743-9218.
Downtown, Crate serves seafood, sushi and steaks. Trattoria Dal Santo offers good Italian food as well as entrees like Norwegian salmon and whiskey-glazed tenderloin.
Starboard Brewing serves its own craft beers with cheeses and cured meats. The Inn at Cedar Crossing has a wide-ranging menu of comfort food at reasonable prices.
On the other side of the bridge, up the hill on Green Bay Road, Scaturo's is a nice family restaurant with an impressive bakery and fish boils on weekend evenings; there's a covered patio in back.
Nightlife: The Third Avenue Playhouse schedules plays and events.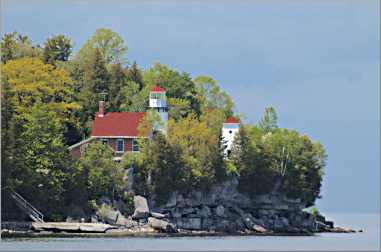 Cruises: The Chicago Fireboat has returned to Chicago.
Door County Maritime Museum: It's next to the lift bridge and open daily. 920-743-5958.
Door County Historical Museum: The small museum at Michigan Street and North Fourth Avenue is free and worth a visit.
Parks: Both Potawatomi and Whitefish Dunes state parks can be visited on a daily pass, $8 for residents, $11 for nonresidents. The first weekend in June is the statewide open house, so admission is free.
Whitefish Dunes State Park is for day use only. Watch for the Sand Sculpture Contest in July and Candlelight Beach Walk in August.
At the camp store in Potawatomi State Park, DC Bikes rents canoes, kayaks and bicycles, 920-746-8663.
Crossroads at Big Creek is at the junction of Wisconsin 42/57 and County Road TT, or Michigan Street. Admission is free.
Bicycling: The crushed-limestone Ahnapee Trail runs 31 miles from Sturgeon Bay to Casco (east of Green Bay). From a parking lot on Neenah Avenue, two miles south of its junction with Wisconsin 42/57, the trail heads into the countryside through a wildlife refuge.
Information: Sturgeon Bay tourism, 800-301-6695.
Last updated on January 19, 2022