Duluth's twin in Wisconsin
Scratch the surface of Superior and see it sparkle.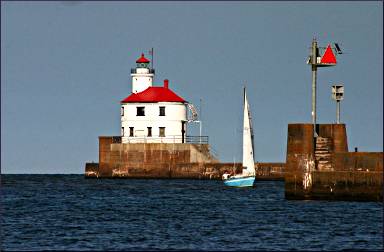 To most people, Superior, Wis., is nothing more than a series of traffic lights to endure on the fast track to the Apostle Islands or Upper Peninsula.
It's sprawling, ugly and utterly devoid of interest.
Or is it?
Like Duluth, Superior is a working-class town. Both grew up at the foot of the big lake, Superior on the flats east of the St. Louis River and Duluth on the hillsides to the northwest.
Superior had the only natural entry into the harbor and grew faster, until Duluth got the first rail line and dug a harbor entry of its own.
Then antipathy grew between the Twin Ports, with each side calling the other "cliff dwellers" or "swamp jumpers."
Connected by bridges, both towns grew into prosperous cities, flourishing on shipping, mining, logging and manufacturing until the late 1960s, when both towns slid into a postindustrial funk.
Only one pulled itself out, turning its shabby lakefront into a tourist attraction.
It wasn't Superior. Superior stayed rooted in the 1950s, at least on the surface. Today, the retro look of its downtown is one of its quirkier charms. Superior has many charms, but you have to look for them.
"Superior is laid out like a Kmart," says historian Tony Dierckins of Duluth, author of many books about the Twin Ports. "There are things you want there, but you can't tell by looking."
If you do look, you'll find Superior Municipal Forest, the third-largest in the nation, honeycombed with scenic cross-country skiing and hiking trails along St. Louis Bay.
At the end of Tower Avenue, the deceptively plain Anchor Bar is a dive even a teetotaler could love; go two blocks more and you'll find Earth Rider Brewery and its tied-house, the Cedar Lounge.
Wisconsin Point is the more serene sister of Duluth's Park Point, and the S.S. Meteor whaleback on Barker's Island is the much-cooler cousin of the S.S. William Irvin off Canal Park.
Though they're joined at the hip, now-glamorous Duluth and still-frumpy Superior seem far apart. Some would like to close the gap: "My T-shirt says, 'It's Just a Bridge, Get Over It,' " says Karin Kraemer.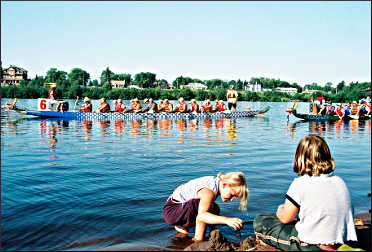 But Superior is becoming less frumpy. Kraemer helped open the Red Mug Espresso Bar in the North End Arts Gallery in the old 1890 city hall at Broadway and Hammond.
Next door, the old police station houses arts studios. On the next block, Thirsty Pagan Brewing serves up craft beer, pizza and live music.
At the far end of Tower Avenue, Earth Rider Brewery maintains one of the Twin Ports' busiest concert schedules.
In late August, the Lake Superior Dragon Boat Festival draws thousands to Barker's Island, also one of the venues for the Duluth-Superior Pride Festival over Labor Day weekend. Barker's Island also has a sand beach on the bay, flanked by boardwalks lined with a beautiful prairie wildflower restoration.
Across from Barker's Island, the paved, five-mile Osaugie Trail takes bicyclists along the bay and past the massive Burlington Northern terminal, where the Edmund Fitzgerald filled its hold with taconite for the last time.
Home of a hero
Now that I know where to look, I stop at favorite spots in Superior instead of Duluth when I'm heading for northern Wisconsin. And one February, my friend Jean and I made Superior our main destination.
Our first stop was across from Barker's Island, the Bong Veterans Historical Center.
It tells the story of Richard Bong, the "Ace of Aces" who was a farm boy in nearby Poplar when he first saw an airplane, bringing mail to President Calvin Coolidge at his "summer White House" in Superior's Central High School.
The center's elegant glass walls overlook a harbor from which six shipbuilders launched 168 vessels between 1941 and 1945, and trains full of Iron Range ore ran 24 hours a day on nine rail lines.
But Superior was in the limelight during the war for another reason: It was the hometown of Maj. Richard Bong, the modest son of Swedish immigrants who broke Eddie Rickenbacker's World War I record of 27 kills and finally was forced to retire after completing 207 missions and downing 40 enemy planes.
He was an international hero, and his 1945 marriage to Superior sweetheart Marge Vattendahl was covered in newspapers worldwide.
When he died six months later while testing the first Lockheed jet fighter, on the same day the Enola Gay dropped the atomic bomb on Hiroshima, the lead headline in the Los Angeles Times was "MAJOR BONG KILLED!"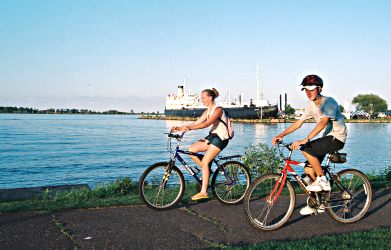 Below it, a much smaller headline read "War's End Speeded as Powerful New Atomic Bomb Rains Death, Destruction on Japan."
A duplicate of Bong's famous P-38 Lightning fighter, a portrait of Marge on its nose, sits on the floor of the museum. Newsreel clips, films and wall exhibits take visitors from Pearl Harbor to VJ Day.
From the Bong Heritage Center, we followed U.S. 2 for half an hour until we came to the Afterhours Ski Trail in Brule River State Forest, just outside Brule.
The Brule Valley Ski Club was holding its annual candlelight ski, and for an hour we glided alongside the flickering lanterns, returning to the warming shelter for hot chocolate.
Beeline to a dive
Back in Superior, we followed Tower Avenue north until the streetscape grew dark and desolate. Finally, we saw a squat concrete-block building sitting by itself: the fabled Anchor Bar and Grill.
"Whoa, this looks like 'Enter at Your Own Risk,' " Jean said.
But we pushed open the door and passed into an unusually congenial world in which tattooed bikers, college students and skiers mingle amid a jumble of marine relics-old life buoys, Coast Guard recruiting banners, harbor lights, harpoons, an ancient scuba helmet, even a bare-breasted mannequin wearing a gas mask.
John Wilking of St. Paul, a former UW-Superior student, was there with his brother, Joseph. They'd arrived at 5 p.m. and worked their way up to the bar's choicest table, the one with barber chairs.
"Sometimes I like to sit in the stools up front and watch people come in," Wilking said. "Maybe two women like you, they'll walk in, look around and walk right back out. But it has good energy. You see people here from 21 to their 70s; it's safe."
After they left, we grabbed the barber chairs, plugging the jukebox and swiveling to look around as we ate the famously juicy burgers and perfect fries and drank craft beers from a list that may be the best in town.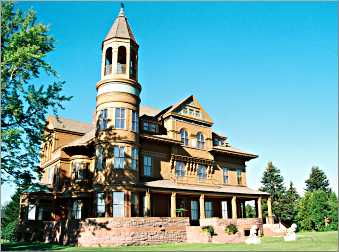 A lumber baron's mansion
The next day, we drove back to the harbor, where Fairlawn Mansion overlooks Barker's Island.
The 42-room Queen Anne home was built in 1891 by Martin Pattison, a lumber baron from Michigan who made his real money mining veins of iron ore he discovered himself in the Vermillion Range near Ely, Minn.
His house was the first grand residence in the Twin Ports, and he lavished $150,000 on Guatemalan mahogany, English glazed tile, Mexican onyx fireplaces and white-birch woodwork covered with 22-karat gold.
"When it was built, it was in the news every day," said Jason Nummi, our tour guide. "It was a big affair."
But Martin Pattison was no Chester Congdon, the upright son of a Methodist minister who built Duluth's grand residence, 39-room Glensheen, between 1905 and 1908.
Pattison had a skeleton in his closet, and she came back to haunt him while he was serving as mayor of Superior.
He'd abandoned a wife and children in Michigan and changed his name before marrying Grace Frink, whose grandmother's family pioneered iron-ore companies on the Marquette Range. The other wife was news to Grace.
"Then they had separate bedrooms," Nummi said. "After that, she looked really cranky in photos."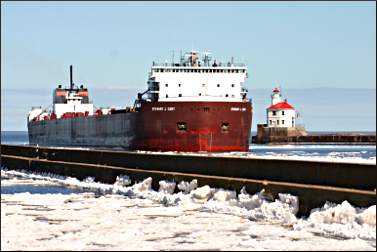 After Martin's death in 1918, a year after he donated the 660 acres to the south that became Pattison State Park, home of the fourth-highest waterfall east of the Rockies, Grace Pattison donated the house for use as an orphanage.
For the next 42 years, it served nearly 2,000 children, and an exhibit upstairs contains reminiscences-some bitter, some grateful, some philosophical-from those who once were "those kids" from the orphanage.
Then the house was to be torn down, according to Grace Pattison's deed. But the county historical society found a loophole and, thanks to the heirs, moved in.
Adventure on the trail
From Fairlawn, Jean and I drove back along Belknap Street, also U.S. 2, past the campus of UW-Superior, where politician-actor Arnold Schwarzenegger earned a B.A. in 1979, with an emphasis on the international marketing of fitness and business administration.
We'd never seen a photo of Schwarzenegger on skis, but he would have gotten a good workout if he'd ever skied at Superior Municipal Forest, our destination.
The wooded forest along St. Louis Bay has 26 kilometers of ski trails, and we started with a spin through pine forest on the Purple Trail, where we saw two deer, shaggy in their winter coats.
Then we took the more challenging Yellow Loop onto Dwight's Point peninsula, skiing down the first screamer hill but using a bypass on the second.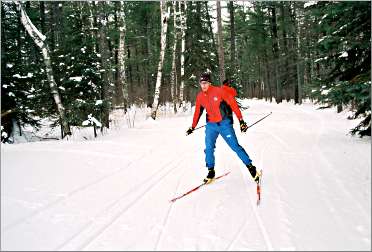 At Cedar Point, we skied right onto a frozen cove, from which we could see the Bong Bridge and grain terminals off in the distance. A fawn peeked at us through the cedars, then ambled toward us to nibble on brush.
Like parts of Superior, the city forest is a real discovery. From now on, I'll pay more attention when I drive through Superior. It may be homely, but it harbors hidden treasures.
Trip Tips: Superior, Wisconsin
2022 events: Jan. 28-29, Lake Superior Ice Festival. Aug. 26-27, Lake Superior Dragon Boat Festival. Labor Day weekend, [Duluth-Superior Pride Festival] (https://www.duluthsuperiorpride.com/) on Tower Avenue and Barker's Island and Great Northern Classic Rodeo at Head of the Lakes Fairgrounds.
Mid-June to mid-August, Porchfest on Thursday evenings.
Bayside Sounds concerts are held in parks around town at 6 p.m. Wednesdays from mid-July through August.
Nightlife: Earth Rider Brewery hosts a busy schedule of concerts.
Accommodations: On the harbor, Barker's Island Inn is best located. The Holiday Inn Express is across the highway.
The best bet might be one of dozens of Airbnb homes.
Dining: In the old Soo Line Depot off Wisconsin 35, Thirsty Pagan Brewing is a good place to drink craft beer, eat pizza and listen to live music, offered nearly every day of the week.
On the far northern end of Tower Avenue, the Anchor Bar is an atmospheric classic, known for its big, juicy hamburgers and cheap beer. It's definitely a dive, but parents often take their children there during the day for an inexpensive meal out.
Two blocks farther, Earth Rider Brewery serves its beer at the Cedar Lounge.
At Broadway and Hammond, the Spirit Room serves tapas as well as craft beer and spirits.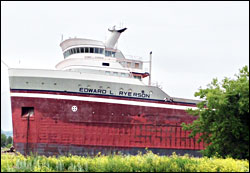 Bong Veterans Historical Center: It's open daily from mid-May to mid-October and Tuesday-Saturday in winter. Admission is $10, $8 for students and $7 for children 6-12.
Fairlawn Mansion: The mansion is open for tours daily. Admission is $12, $6 for students 6-17.
S.S. Meteor Whaleback Ship Museum: Launched in 1896 and retired in 1969, the boat is the world's last whaleback and was made at the old McDougall shipyard on St. Louis Bay.
It's open for guided tours at its Barker's Island berth from mid-May to mid-October. Admission is $12, $6 for students 6-17.
Bicycling: The paved Osaugie Trail starts just west of Barker's Island and heads five miles along the harbor.
At the edge of town, bicyclists can turn left onto Moccasin Mike Road, speed limit 25 mph, and ride 4½ miles to the light station at the end of Wisconsin Point.
Superior Municipal Forest: Along the St. Louis River, the Superior Parks and Recreation Department maintains 26 kilometers of ski trails for skating and striding; the 10-kilometer Yellow Loop, for advanced skiers, is on the Dwight's Point peninsula and is very scenic.
There's a warming shelter at the trailhead, 28th Street and Wyoming Avenue, where the $5 daily trail pass is sold. There's a map at  (click on departments, then parks); for snow conditions, call 715-394-0299.
Mont du Lac Resort: This downhill area on the St. Louis River, on the south edge of the Duluth area and just east of Jay Cooke State Park, has nine skiing and snowboarding runs and five snow-tubing chutes with a handle tow.
In other seasons, there's disc golf and camping. It serves pub fare and craft beer in its Base Lodge and rents a variety of cabins.
Afterhours Ski Trail in Brule River State Forest: It's a half-hour east of Superior, just off U.S. 2 before the town of Brule; watch for the sign. There are 22.5 kilometers of classic- and skate-skiing trails, a 2.2-kilometer classic-only trail and a heated shelter.
The Brule Valley Ski Club hosts a lovely candlelight ski on two miles of trails in February. A Wisconsin state-trail pass is required, $5 daily, $25 annual, and can be bought on-site.
Wisconsin Point: It's the world's longest freshwater sandbar along with Minnesota Point, also known as Park Point. It's lined by woods and secluded beaches on the Lake Superior side; on the eastern harbor side, Allouez Bay is good for bird-watching.
A narrow road leads to the Superior entry of the harbor, where boat-watchers can watch 1,000-footers heading for the Burlington Northern ore terminal.
Information: Douglas County tourism, 800-942-5313.
Last updated on January 26, 2022