Discovering Two Harbors
This Lake Superior port town is all about trains, boats and automobiles.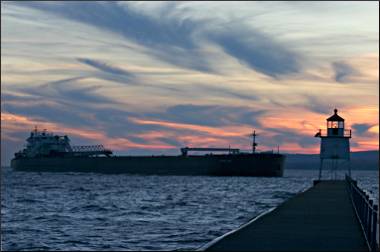 Most people know Two Harbors only by its spine, Minnesota 61, where a long gantlet of gas stations and fast-food joints tries to reel in tourists speeding up the North Shore.
Yes, Two Harbors is the last place to get a Big Mac before Canada. But there are better reasons to stop there.
Most tourists never see the massive ore docks, just a stone's throw from a picturesque breakwall, boat launch and walking trail. Or the North Shore's last working lighthouse, a 1892 brick beacon that glows flame-red in the afternoon sun.
There's a real shipwreck across Agate Bay, frequented by scuba divers. The schooner Ely became part of the west breakwall, next to the ore docks, after it went down in an 1896 gale.
That was the year the Edna G. went into service. The coal-powered tug was the St. Bernard of the North Shore and assisted in hundreds of local mishaps and World War I, until she was retired and made into a museum.
The tug sits across from the docks, at a spot once known as Hell's Four Acres, a whiskey-soaked oasis that belonged to the town's first white settler until the railroad paid him a fortune to sell it.
Today, it's covered with wildflowers, and tourists walk over it to see the Edna G. and watch ore boats loading.
Two Harbors always has been in motion. Tourists whizzing by in automobiles move its economy these days.
But the town grew around the bay, where trains rumbled down from the Iron Range to meet a steady stream of ore boats sent by John D. Rockefeller, Marshall Field and other far-off tycoons.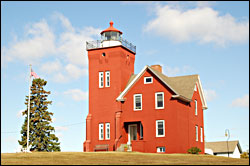 Its most legendary home-grown character was famous for continuous motion: John Beargrease, who delivered the U.S. mail between Two Harbors and Grand Marais in all weather conditions, traveling by dog sled, rowboat and on foot.
His trail became a highway. After it was paved, in 1924, Two Harbors became an automotive center.
The trains still come down to Agate Bay, as they have since 1884, and 1,000-foot ore boats still sidle into the small bay to get taconite pellets and take them to the steel mills in the East.
Ore Dock No. 1 once was the world's largest loading dock.
If you're lucky, you'll see a train pull onto the dock and release its dusty red contents into chutes that drop the ore directly into bins on the boat. It takes only minutes; Two Harbors holds the world record for fastest loading.
The Lake County Historical Society preserves the past at four museums, three on the waterfront.
Volunteers show visitors around the little Edna G., which was at her best when disaster struck. She rescued 13 men from the wrecked Niagara in 1904 and 24 from the Edenborn during the big storm of 1905.
For nearly a century, she pulled boats off reefs and broke through ice, often damaging herself.
One of the few wrecks in which she wasn't involved was right in Agate Bay, when an 1896 gale drove the Ely into the breakwall. A fisherman's sailboat rescued the 11-man crew.
The 1910 Depot now is a museum that allows visitors to glimpse the town's colorful past through photos: of legendary musher John Beargrease with his wife; a moose team pulling a sleigh; miners during the Lake Vermilion gold rush of 1865-68.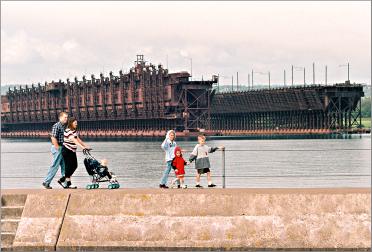 Two massive black locomotives stand outside the depot-the Mallet 229, a 1943 monster that weighs more than 1 million pounds, has 36 wheels and is one of the largest locomotives in existence, and the diminutive 1883 Three Spot, which looks like The Little Engine That Could.
A few blocks away, the 3M Museum occupies the building in which the company was founded in 1902.
The founders — a Two Harbors attorney, a doctor, a meat cutter and two railroad executives — thought they had found corundum, a hard abrasive, at a site near the Baptism River.
But it was anorthosite, a lower-grade mineral worth little except on sandpaper. So they made sandpaper, and eventually other abrasives and adhesives, and the company grew into a blue-chip behemoth.
"A lot of people think St. Paul is where it started, but this is where it started, in the sticks," volunteer Eldon Platcek told us when we were there. Scotch tape, he said, may have been named for a complaint directed at manager William McKnight: "Tell that Scotch to put more glue on his tape."
And it was the historical society who restored the 1892 red-brick lighthouse, operating it as the Lighthouse B&B so it can pay for its own upkeep.
It's a working lighthouse, the oldest continually operating on the North Shore, with a beam electronically controlled from Duluth.
Now, hundreds of guests, or volunteer "lighthouse keepers," take care of the details, raising and lowering the flag, checking the light, weeding the garden, filling the birdfeeder and entering completed duties in a leatherbound journal, as real keepers did a century ago.
When they're finished, they retire to spare but tasteful rooms furnished with quilts, wrought-iron beds and steamer trunks.
The lighthouse is surrounded by land that the Duluth, Missabe and Iron Range Railway Co. sold to a private developer in 2002. The city eventually acquired most of the land, but five acres still is privately held, and a developer wants to build 24 townhomes there.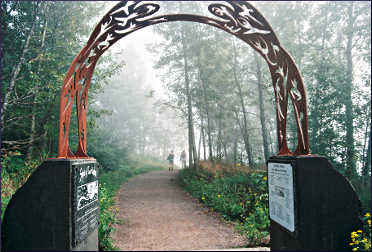 For now, Lighthouse Point still is a magical place, with a cedar and spruce forest that's often shrouded in fog. The volunteer-built Sonju Trail winds through it, lined with wildflowers and raspberries and home to deer.
Hikers can follow the trail to Burlington Bay, home to the popular municipal campground and one of the North Shore's rare sandy beaches.
Unlike Agate Bay, it's a good place to look for agates, as is Flood Bay, a mile north.
There are many scenic spots farther north, drawing tourists like a magnet. But people who get to know Two Harbors don't whiz by any more.
Trip Tips: Two Harbors, Minnesota
2023 events: July 6-9, Heritage Days. Aug. 4-6 and 11-13, Day Out With Thomas the Tank Engine at the Depot.
Boat-watching: Agate Bay receives an average of about one boat a day. Check Harbor Lookout for estimated arrival times.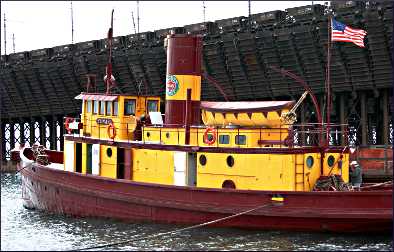 Museums: The Lake County Historical Society sells tickets at the Depot for the museums it runs.
They're the lighthouse, the Lake County Historical Museum in the depot and the 3M Museum, which tells how its founders surmounted a rocky start in Two Harbors, when it took two shares of 3M stock to buy a shot of whiskey, to become a blue-chip behemoth.
The Depot and the lighthouse open in late April or early May; 3M Museum opens Memorial Day weekend. There are no longer tours on the Edna G., which needs repairs. 218-834-4898.
North Shore Scenic Railroad: The 26-mile run to and from Two Harbors leaves Duluth at 10 a.m., arrives in Two Harbors from noon to 12:30 p.m. and returns to Duluth between 4 and 5 p.m., on Saturdays in June and Fridays-Sundays through the third weekend in October.
Passengers can spend the night in Two Harbors Friday and return on the Saturday train. Book early, especially for fall weekends.
For more, see The Lighthouse Express.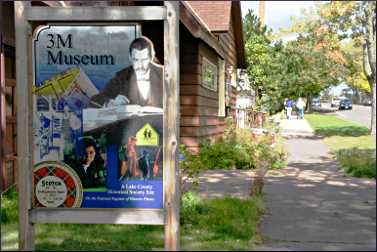 Accommodations: The Lighthouse B&B has three spare but tasteful rooms. They share one bathroom, and there's a half-bath in the basement. The Skiff House, on the grounds adjoining the visitors center, has its own bathroom and hot tub. The inn is run by volunteers from the historical society.
Three miles north of Two Harbors on Minnesota's North Shore, the Northern Rail Traincar B&B, across the Stewart River from Betty's Pies, has 17 attractive rooms and a condo in 10 boxcars, connected by a hallway lined with vintage train photos and covered by a domed roof.
Superior Shores, one mile north of town, is a large complex of hotel rooms, studios, suites and townhouses, with two outdoor pools, one indoor pool, two saunas, a whirlpool, tennis courts, and restaurant with patio.
The townhouses are on the lake; the other units aren't, but most have views.
The municipal Burlington Bay Campground has 102 sites with hook-ups and 10 tent sites. 218-834-2021.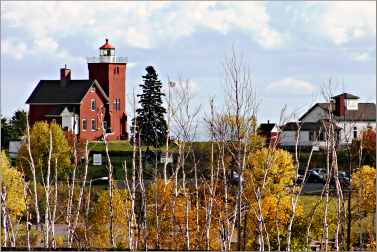 Dining: Thanks partly to the popularity of Castle Danger brewery, the old downtown is coming back to life. Near the taproom and museum, Louise's Place Cafe is open for breakfast and lunch and serves sandwiches, burritos, salads, soup and desserts. Madeira Bistro serves sandwiches, salads and soups.
For great craft beer, go to the taproom of Castle Danger Brewery. It doesn't serve food, but you can bring your own.
On the highway, the Vanilla Bean is very popular for coffee, baked goods or lunch.
At Superior Shores resort just east of town, the Silver Creek Chophouse is a pleasant place to eat. Its deck overlooks a commons with a fish-boil area and a little bridge that carries guests over wetlands to a long beach.
Betty's Pies, a mile farther east, is a well-known eatery that serves breakfast, lunch and dinner as well as pie.
Go another eight miles and you'll find the Rustic Inn, which many people think has better pies as well as good food.
Hiking: The Superior Hiking Trail Association office and store now is in the old downtown, a block from Castle Danger Brewing. The store is open Thursdays and Fridays from mid-May through October and the first Saturdays of the month from June to September. 218-834-2700.
Skiing: The 10 kilometers of the Erkki Harju Ski Trail includes a very nice, easy three-kilometer loop that's lighted. Donations help the local ski club maintain it. From Minnesota 61, turn onto County Road 2; it's less than a mile.
Golf: The 18-hole Lakeview National includes scenic overlooks and challenging elevation changes. 218-834-2664.
Information: Two Harbors tourism, 800-777-7384.
Last updated on January 15, 2022