Floating Missouri
In the down-home Ozarks, explore paddle rivers and picturesque springs.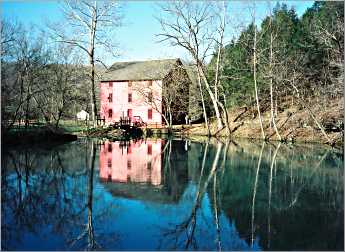 After a long, hard winter, the sight of blooming forsythia can be intoxicating. And a butterfly? That must be just a fleeting dream.
My daughter spotted those things plus a robin soon after we arrived in Missouri for spring break, and they were enough to make her giddy with excitement.
"Oh, I like this place," she cried. "I like the way it looks, the warm spring air, the way it smells. And oh, look, some nice spring grass!"
Missouri is a good place to be thankful for small favors. It's far enough south for dogwood to bloom in March and trees to keep leaves into November.
It's old enough to have been the jumping-off point for Lewis and Clark and the beginning of the Santa Fe and Oregon trails. It's a former slave state where Civil War battlefields testify to a contentious past.
Yet we came for the great outdoors rather than history. South of the Missouri River, between the two big cities on the state's east and west flanks, lies a region of rivers and blue-green springs, forests and parks, caves and high ridges.
This is the Ozarks, home of the hillbilly but also of early environmentalists. The Ozark National Scenic Riverways was the first protected river system in the nation.
It has 134 miles of clear, spring-fed "float streams," and Mark Twain National Forest covers huge swaths of the hilly countryside, part of more than 2 million acres of public lands.
From Kansas City, we drove southeast, stopping to stretch our legs at Ha Ha Tonka State Park, at the southernmost finger of Lake of the Ozarks.
We're far from the crowds at the stone ruins of a castle-style mansion, started in 1905 by a Kansas City businessman and destroyed by fire in 1942. It's hushed, like an abbey, with the only sound the murmur of wind through cedars.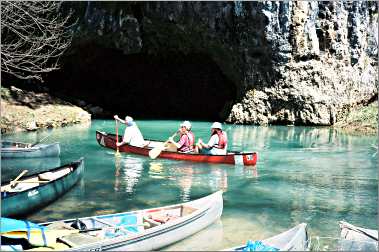 The land is hilly on the drive south, though hardly the mysterious and remote land of Ozark legend. Hardwoods and pines frame little farms where cattle graze on green meadows.
Yet this flinty soil is barely fertile, and early settlers had to hunt, fish and do odd jobs to supplement farm income. From this hardscabble lifestyle was born the hillbilly.
We met one farther on in even less fruitful terrain. South-central Missouri was ferociously logged at the same time subsistence farmers were overgrazing cattle.
Eventually, rains washed topsoil off the hillsides, leaving locals with a depleted landscape and no source of income except, many years later, from an unexpected source: Tourists, who come to the scenic river corridors and wildlife areas established on land that reverted back to the state.
In the town of Eminence, near the juncture of the Current and Jacks Fork rivers, that meant the Ozark National Scenic Riverway, created in 1964.
Today, the two rivers draw hordes of canoeists, who can camp on the gravel bars that washed into the rivers on the heels of the topsoil.
We found out about hillbillies from Gary Smith, who told us he'd been running a canoe livery near Eminence for 32 years and considers himself "as hillbilly as you can get"-though his business keeps him working too hard to fit the stereotype.
"It's unique to run across the stereotype, but they are there," he said as he hauled us toward Akers Ferry in his truck. "If a man's happy huntin', fishin' and just gettin' by, he don't want to work. I used to do that. Then the want-tos got me workin' all the time."
At Pulltite, we picked up a canoe, and a gaunt yellow dog slunk toward us to lick our hands.
"That's a typical Ozark running hound," Smith said, looking at it fondly. "Some men keep 10 or 20 dogs and hunt every night. They'll sit on the hilltop and listen to the dogs; each one's got a distinctive voice."
Smith looked surprised when we asked what the men do then.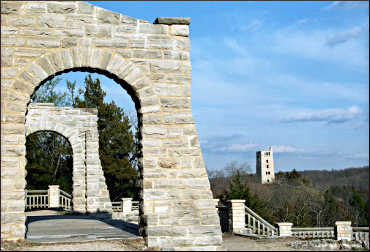 "They don't do anything; they just sit up and listen," he said. "The man with the dog who runs the longest gets all the braggin' rights; then he can brag and blow all he wants. It's pretty great to hear some of these old-timers tell the tales they tell.
"I have a lot of fun with 'em," Smith added. " 'Course, I egg 'em on a little bit when the tourists come."
We shoved off at Akers and paddled downstream on the Current's green waters, weaving a slalom course around boulders, shallows and the dreaded Ozark rootwads.
Occasional crosswinds sprang up, twirling us like the seed helicopters wafting out of nearby oaks, and I wondered why Missourians call these "float" streams.
Along the shore, redbuds were starting to add color to the landscape, and a bee buzzed past. Pocked bluffs appeared, and soon we were at Cave Spring.
We paddled into the gloom of the cave, then pulled up on the bank, where a troop of Boy Scouts from Kansas City were eating lunch.
When we paddled into Pulltite, the coon hound was there to greet us. We gave him leftover pizza and drove back up to Missouri 19.
The terrain around this highway, one of the most scenic in Missouri, is where we found the hidden hollows and secluded springs of the true Ozarks.
Alley Spring off the Jacks Fork is such a place; its 81 million gallons a day once powered the magenta Alley Roller Mill, linchpin of a little town that sat in this bucolic, bluff-fringed bowl until floods drove residents away in 1924.
Nearby Eminence was on the Current River until it was burned by the bushwhackers who overran the area during the Civil War; now it's on the Jacks Fork and is the hub for canoeing and tubing, with restaurants, B&Bs and canoe liveries.
Round Spring, which puts out a mere 26 million gallons daily, is on the Current just north; we gazed at its still blue waters in a basin left by a collapsed cave roof. We walked over a creek to Round Spring Cave, set into a wooded hillside, but it was closed.
Missouri 19 north follows a ridge high above the riverways, with spectacular views of forested valleys. Taum Sauk Mountain, Missouri's highest point at 1,772 feet, is not far away.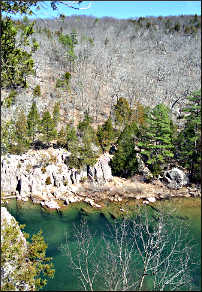 It's amid a cluster of state parks that celebrate the various geologic curiosities of the region, including elephantine granite boulders and canyonlike gorges known as shut-ins (for more, see On the rocks in the Ozarks ).
There are more caves and another canoeing region around Steelville, farther north, but the landscape had flattened by the time we reached Hermann on the south side of the Missouri River, and we thought we'd left the Ozarks.
Then we met Jack Haney at this tourist town's information center. He looked picture-perfect German in his felt loden hat, red vest and curled white moustache.
But then we heard his hearty Ozark laugh and saw the hillbilly boot he was carving, next to the pipe with a hillbilly figure on its stem, drinking moonshine from the still on its bowl.
Jack, it turned out, owns more than 100 stills, has a bootlegger brother-in-law and once ran a still museum.
"The Ozarks start here, yes, ma'am," he said, blue eyes twinkling. "Just call me Whiskey Jack."
Trip Trips: Floating in Missouri's Ozarks
Getting there : Eminence is three hours south of St. Louis.
When to go : April, May, September and October are the best time to go. On weekends and in summer, which can be hot and humid, crowds of city dwellers come with coolers full of beer and often become rowdy.
Accommodations : There are many places to stay in Eminence.
Canoeing : Ozark National Scenic Riverways lists outfitters on the Jacks Fork, Upper Curent and Lower Current rivers.
Last updated on July 10, 2017