Kayak klatch
Paddling festivals on Lake Superior and Lake Michigan are good places to mingle and learn.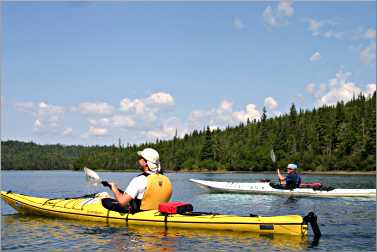 If you're interested in sea kayaking and ready to jump in, kayaking festivals are a good place to improve skills and meet other kayakers. Programs include classes, seminars, demos, on-water tours and, often, races.
Sign up as early as possible for the best selection of classes and tours. Youths get discounts. Below are some of the best festivals.
Memorial Day weekend, Western Michigan Coastal Kayakers Association Symposium near Muskegon, Mich . This symposium on Big Blue Lake is held at YMCA Camp Pendaloun and offers an extensive schedule of courses and clinics for beginners and intermediate kayakers, including youths. Some kayaks are available to rent.
July, Door County Sea Kayak Symposium near Ellison Bay, Wis. This big festival, sponsored by Rutabaga in Madison, is based at the Rowleys Bay Resort on the Lake Michigan side of the peninsula. Passes include some meals.
July, Great Lakes Sea Kayak Symposium in Grand Marais, Mich . This symposium, the oldest on the Great Lakes, is held on the eastern edge of Pictured Rocks National Lakeshore.
August, Ladies of the Lake Kayak Symposium in Munising, Mich . This festival for women includes instructional courses, clinics, programs and tours.
October, Gales Storm Gathering in Marquette and Sault Ste. Marie, Mich . The instruction at this symposium on Lake Superior is for intermediate and advanced kayakers who want to improve their skills in challenging conditions.
Last updated on February 2, 2022